Here's my personal experience using a 75% layout mechanical keyboard.
I've been on a quest to find the best small form factor keyboard that's also practical and I've finally settled for the 75 percent keyboard layout.
It's the best no-compromise form factor and I've been using one for the past couple of years.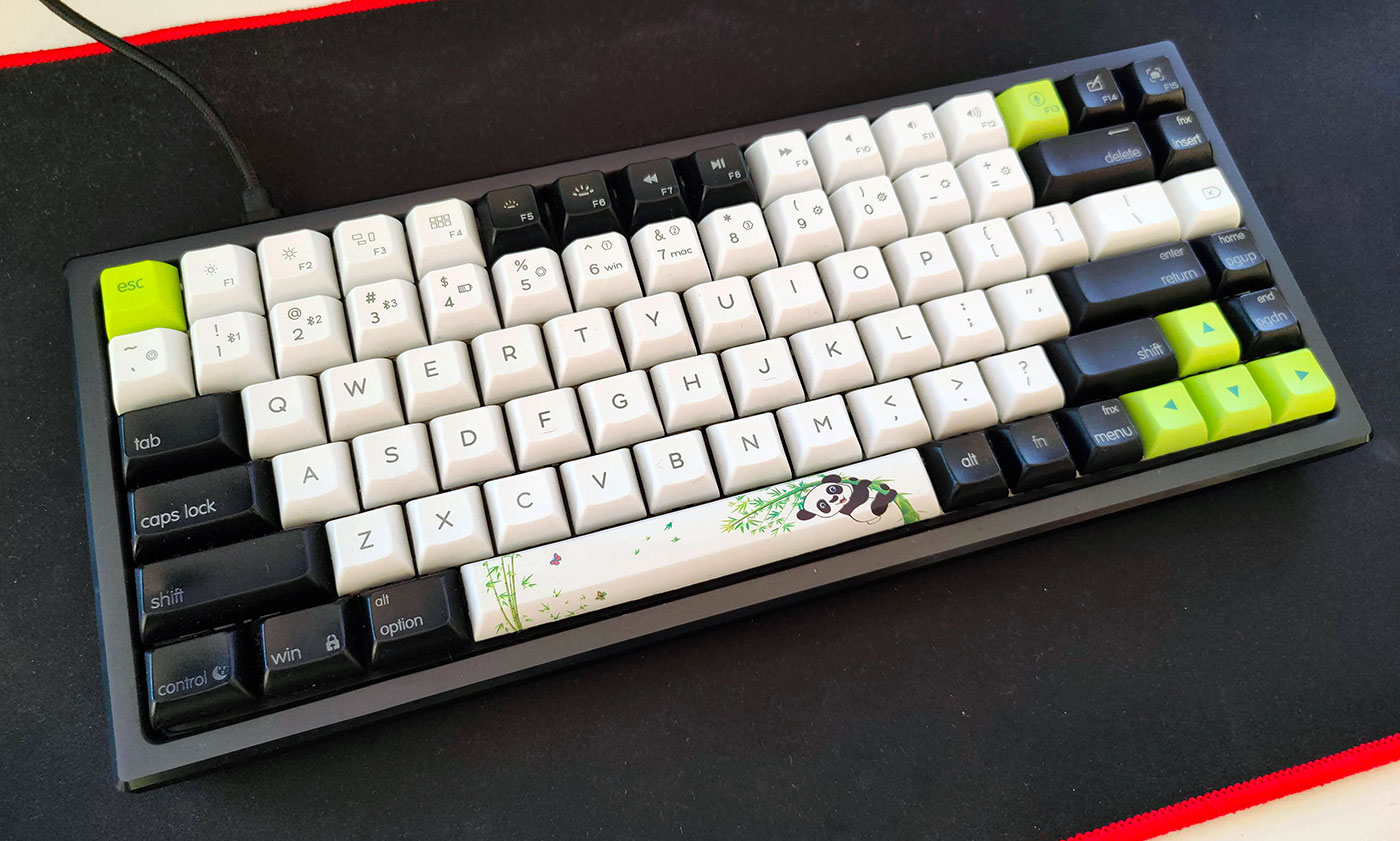 One of my recent passions is the mechanical keyboard hobby. I've watched Youtube videos non-stop last year, fascinated by the smooth voice of Taeha Types. After a lot of research, I finally decided to buy the Epomaker AK84S. I've crowdfunded this model on Kickstarter and I don't regret doing it.
This model checked all my boxes: compact, mechanical, silent switches, hot-swappable, illuminated, function row, arrow keys, and wireless connectivity options.
Initially, I looked for a TKL version, since I didn't seek the smallest footprint necessarily. The other features were more important, so I didn't have a problem with this 75% layout when the opportunity presented itself.
After almost two years of use, I can tell you everything you need to know from a user's perspective about this niche layout.
75% Layout Keyboard: What's The Deal With This Form Factor
First, this is still a niche layout. The more common formats are full size (100%), TKL (80%), and for enthusiasts, the 60% layout. I don't think I could live with a 60% layout, without function and arrow keys clusters. It's just too extreme.
The good news is that the 75% form factor is getting traction. It's pretty easy to find this form factor from smaller brands, but for now, I couldn't find a 75% model from a major brand like Corsair or Razer. This could change, depending on what people will buy in the future.
75% Layout FAQ
What is a 75% layout keyboard?
The 75% layout is a smaller form factor keyboard that is missing the Numpad and some of the keys from the blocks on top of the Numpad and arrow keys.
What are the Dimensions of a 75% keyboard?
My compact 75% Epomaker model is 32.5 cm or 12.8 inches in width. For comparison, a full-size keyboard is 43 cm long or 17 inches.
How Many Keys Does a 75 Keyboard Have?
In total, there are 84 keys in a 75-keyboard layout. The most notable omission is the numeric block, which is missing completely from the picture. In addition, some keys such as Home / End or Page Up / Page Down are accessed only via the Fn key. Luckily it's easy enough to remap keys (there are tons of free utilities that do it).

Overall, essential groups like the function and arrow keys are still present on the 75 % layout, but you may find them to be more cramped than in a TKL or full-size layout keyboard. Most people find this layout the best compromise between size and functionality. I certainly do.
75% Keyboard vs TKL: Which Is the Best Keyboard Layout?
That depends on what you want: the lowest possible space taken on your desk (award goes to 75 percent layout) or the same layout as a full-size keyboard, minus the numeric pad (chose tenkeyless for that).

For me, the 75% layout is the smallest possible keyboard style that doesn't sacrifice important keys that I'm constantly using when I work or play. I can't go smaller than 75% for my main keyboard. And that's why for me the answer to the 75 keyboard vs tenkeyless question is of course the 75%, which I've been using for the past couple of years.
Want more FAQs? Don't forget to check out our dedicated section.
Depending on the model, some manufacturers chose to group all keys, without any spaces. Compared to TKL, the keyboard is about 2U shorter, which makes it similar to the 65% layout.
You can see it's still a niche format because while not impossible, it is pretty hard to find an ISO layout. US (ANSI) is the norm for 75% keyboard market.
Also, most of the models are mechanical. This is a good thing because you'll be able to change the keycaps with whatever you wish, so they can match other language layouts too (AZERTY, QWERTZ), not just QWERTY.
How Hard Is It to Adapt Coming from a Larger Keyboard?
I can tell you that I was able to get up to my (low) speed of ~ 60 wpm in just a few days. Since there's no weirdness when it comes to keys size, as long as you place your fingers on the F and J keys you'll find keys positions to be where you'd expect them to be.
What's Not So Great About the 75% Layout
I say I got up to speed with typing very fast. What I got accustomed to after a much longer period are the crammed function keys, with no spaces between the normal three groups of four keys each, and the arrow keys which are not spaced from the keys around.
Not every 75% layout model implements this cramped layout, but they're a bit taller and wider. Do you want space? It's got to go somewhere.
This is probably my biggest complaint to date about the 75% keyboards. All these years of training your muscle memory will create some frustration if you're pressing the wrong function key and the no-gaps arrow cluster is even more annoying. Gaps in the key rows are not only aesthetically more pleasing but also work a lot better in practice.
Why Not TKL?
Other than that I'm still a fan of the 75% layout since it frees up so much space on my desk. My OCD is also happy because I can have the keyboard placed perfectly centered in front of me, with the mouse right to its side, easy to reach.
This shorter distance between the natural position of the hand on the keyboard and the mouse itself is something that makes me seriously consider if going for a larger TKL model is worth it. I'm still debating, but I'll probably stick with my current keyboard for a long time.
What about you? Have you tried smaller keyboards? Which layout do you prefer and why?
Make sure you check out one of the best 75% layouts out there: the ASUS ROG Azoth mechanical keyboard I've recently reviewed.