The ASUS ROG Azoth mechanical keyboard is as close as you can get today to a custom mechanical keyboard experience without the downsides.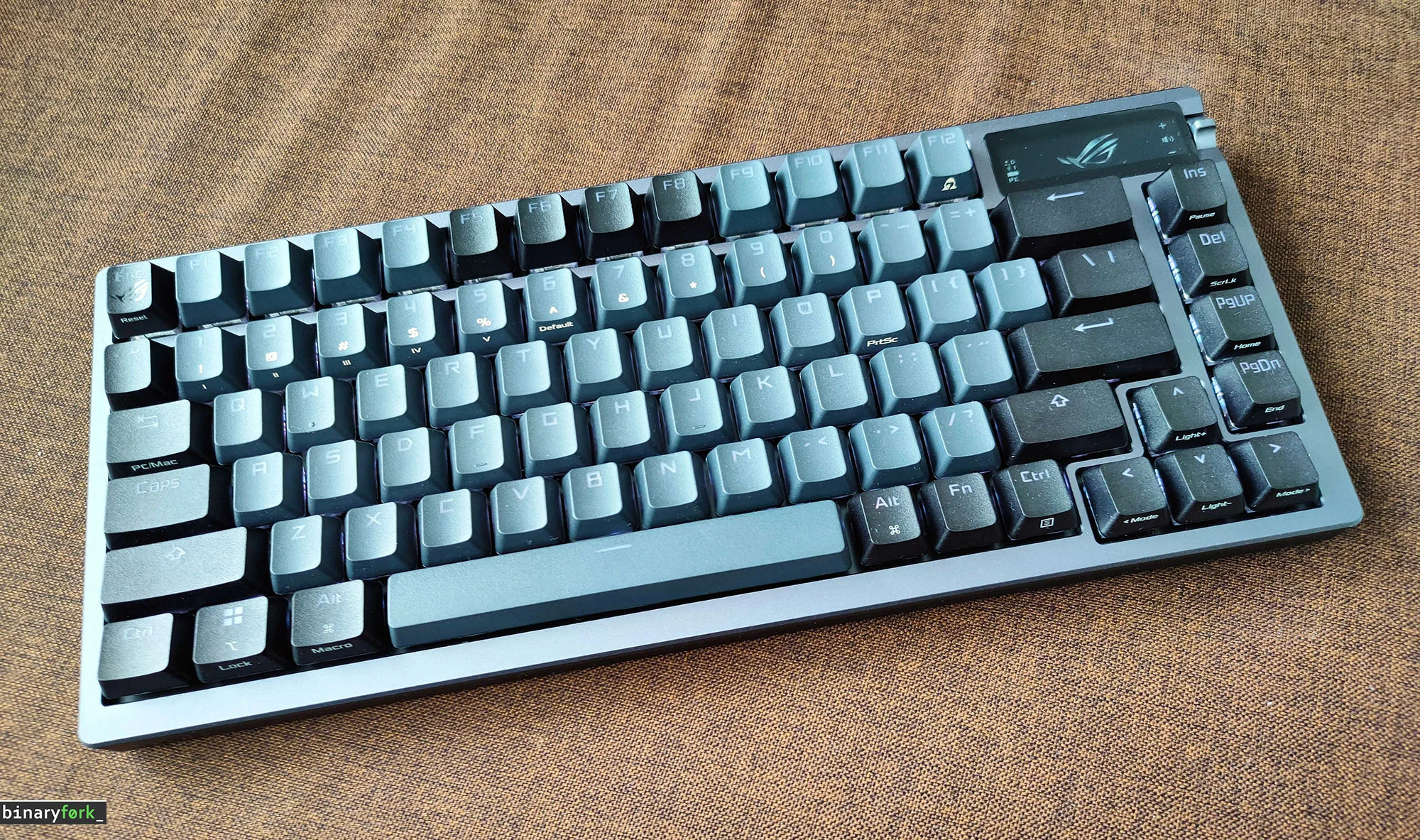 Yes, ASUS ROG Azoth is like a custom mech without having the pay the price, without the time needed to pick the parts, without the waiting period, without being involved in group buys, and without having to do any assembly yourself, not unless you want to.
Does the ASUS ROG Azoth sound too good to be true? Maybe, depending on your expectations. I personally read about it before receiving it for review from ASUS. I expected a nice keyboard, better than last year's ASUS ROG Strix Flare II Animate, but I didn't expect it to win me over as soon as I took it out of the box.
I immediately said I want it. I'm not making this up.
My reaction may have to do with the fact that it weighs about the same as the Animate, but it's denser, much denser, because of the 75% layout (which you know I like). It feels very solid because it is. This keyboard won't slide around your desk, that's for sure, even with the feet raised up, as they're rubberized underneath.
Fun fact about the origins of the Azoth word. This is for historians. Azoth was believed to be a universal medicinal remedy and was also another word for mercury/quicksilver, believed at the time to be at the base of all metals.
My first impression didn't fade after starting to use it, which is always an indication of a good product. Have I caught your attention? Continue reading my ASUS ROG Azoth Review to find out if this is your next keyboard buy. I'm pretty sure it is for me.
ASUS ROG Azoth Specifications
Let's get the technical specifications out of the way first:
Model
ASUS ROG Azoth
Format
Custom 75%
Color
Gunmetal
Case
Metal top, plastic bottom
Switch options
Factory-lubed ROG NX Switches (Linear Red, Tactile Brown, Clicky Blue) with ROG keyboard stabilizers
PCB
Hot-swappable
Keycaps
PBT double-shot keycaps with shine-through legends
Polling rate
Up to 1000 Hz via USB and RF 2.4G
Anti-Ghosting
N Key Rollover (NKRO)
Lighting
OLED display
Per key RGB with north-facing LEDs
Dimensions
326 x 136 x 40 mm
12.83 x 5.35 x 1.57 inches
Weight
1186 grams (2.61 lbs) without cable
Cable
Braided, 2 meters, removable
Connectivity
USB 2.0 (TypeC on the keyboard to TypeA on the PC end)
Bluetooth 5.1 (supports three paired devices)
RF 2.4GHz SpeedNova
OS Support
PC, Mac
Battery life
2000+ hours when connected to 2.4GHz RF with RGB and OLED screen off
Other
Gasket mount, three-layer dampening foam, three-way control knob, three tilt angles
Accessories
switch opener, keycap puller, switch puller, lube station, brush, Krytox GPL-205-GD0 lube, spare 3x ROG NX Switches, stabilizer mat, 2.4GHz USB dongle Type-A, USB extender, USB cable
And here's a summary of the good and the bad, in case you're in a hurry:
The Good
Solid build that feels "expensive".
It sounds and feels very good when typing out of the box.
Offset arrow keys are easier to find without looking.
Useful and easy-to-use three-way control knob.
Hot-swappable PCB.
Shine through PBT keycaps that will last for longer without visible wear.
Three connectivity modes.
Can be used without installing the ASUS Armoury Crate software.
Profile changes can be saved to internal memory.
Tons of accessories are included in the box.
First Mac-compatible ROG keyboard.
The Bad
The bottom case is made from plastic, but it's only an aesthetic issue.
The exposed switch housing is another aesthetic issue.
The gasket mount is too stiff due to several layers of sound dampening.
The OLED screen is gimmicky and has no real added value, plus its low resolution. The screen bezel is also too thick.
Crammed function keys because of the OLED screen.
Childish font legends.
You will need to remap keys, but it's fairly to do.
ROG Azoth Main Features: Who Is It For?
Until you flip the keyboard over you see the ROG Azoth as a keyboard designed for mech enthusiasts with a high-quality and modern look. Once you flip it over you'll notice its gamery roots, but since you're not going to use it this way I think the design will not be an issue for most people.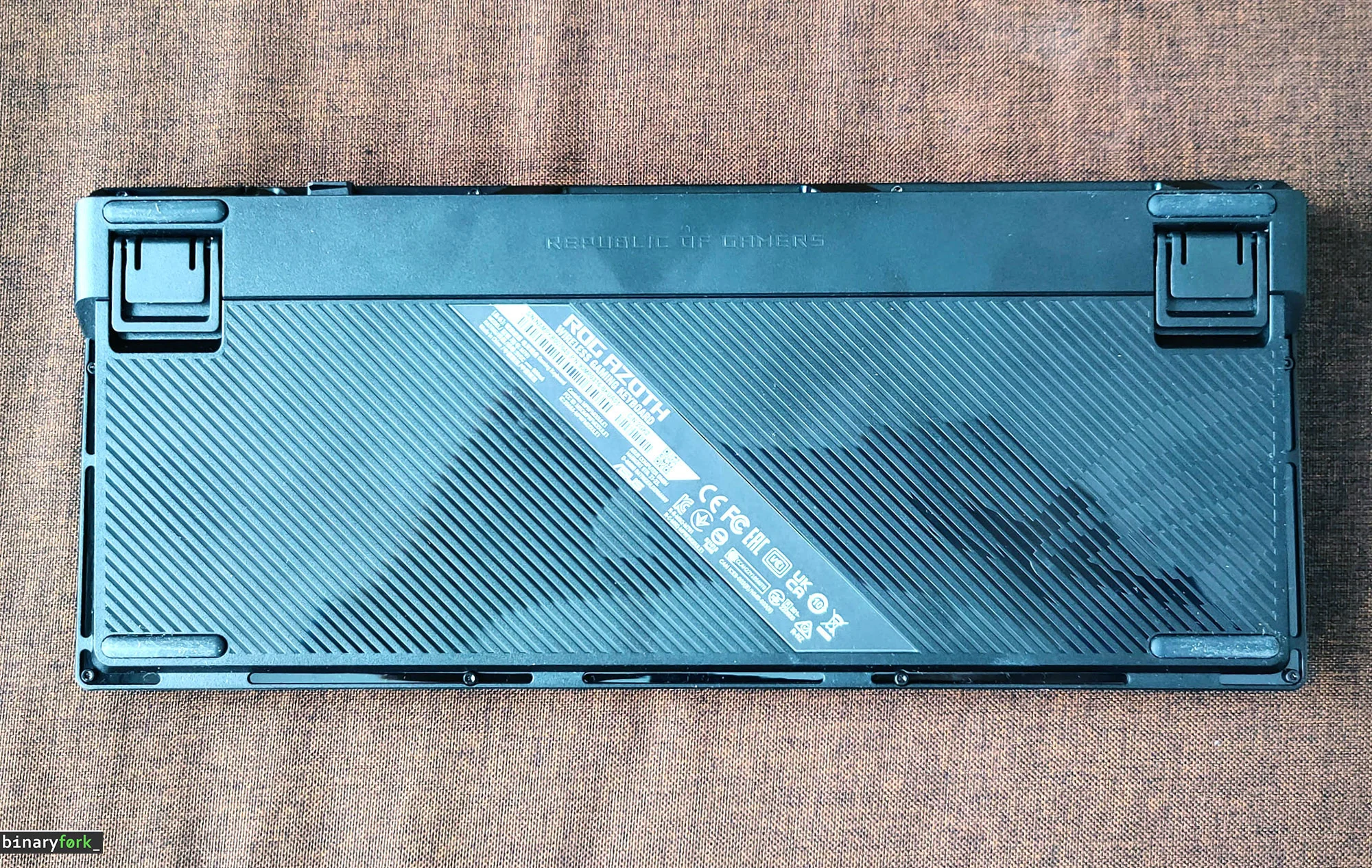 Personally, I find the ROG gamer aesthetic one of the best in the biz. It's also pretty consistent, with no awful and great designs, like you can see with the Lenovo Legion series for example. My problem is that I don't like gamer-centric designs. I'm a ThinkPad dude at my core, or at most a minimalist industrial look lover.
But I digress. The ASUS ROG Azoth is a prebuilt keyboard that ticks most of the boxes of a custom mechanical keyboard: quality build, tons of dampening layers, gasket mount for cushy typing, hot-swappable switches, and great thocky sound.
On top of them, the ROG Azoth adds an OLED screen, a three-way knob, and wireless connectivity via Bluetooth, or a low latency 2.4GHz SpeedNova radio dongle.
Design and Build Quality
The ROG Azoth is very well put together. There's no rattle, no vibration when typing, and no flex no matter how hard you try to bend the frame. That's despite the plastic bottom which ASUS says it's meant to facilitate the transmission and reception of radio waves. I assume it's also a cost-saving measure. Maybe the next-gen will be all metal. I'm just saying, ASUS.
The keys layout is a 75% one, but with a few twists: the functions row has no space between key groups. That's in order to accommodate the OLED display. This messes with my muscle memory big time. Also, the arrow keys are shifted to the right and lowered a bit. This makes it easier to find them.
Aesthetically, from the top, the ROG Azoth looks pretty clean, but with a distinctive look. If you're worried you'll get a generic-looking keyboard don't be. It's not the case with the ROG Azoth.
Because ASUS includes a lot of dampening layers to improve the sound signature the keyboard frame is pretty tall, even in the lowest configuration. It's not as thick as some custom keyboards, so I don't think a wristpad is needed to type comfortably for extended periods of time.
If you find the lower position too low and you prefer typing at an angle, you can use the feet at the bottom to select between two positions. The highest one is ridiculously angled for me, but I could see myself using the intermediate level.

At the top-right frame of the case, you'll also find the PC/Mac toggle, the Wireless/Wired/Bluetooth switch, and the ROG SpeedNova RF receiver, which is easy to store in a magnetically secured slot when not in use.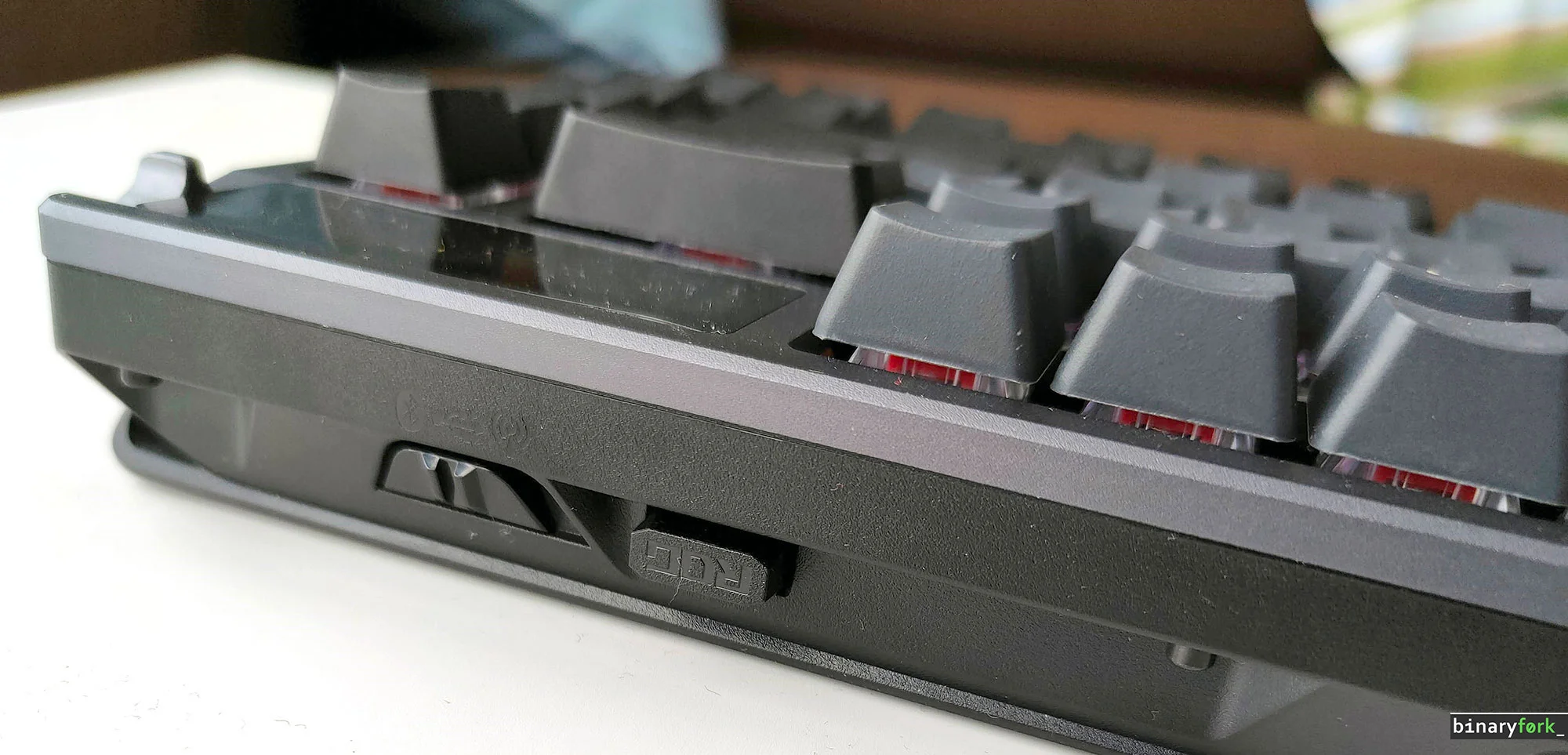 The Three-Way Control Knob is Pretty Good
On the top right, touching the OLED screen, there's a three-way control knob with another button hidden on the side. You press the hidden button to change modes. The default modes are:
Adjust system volume
Change media track
Adjust keyboard brightness
Adjust OLED brightness
Switch lighting effects
Through the Armoury Crate software you can enable, and disable these modes and add custom ones.
Once a mode is enabled the knob can be switched up and down to adjust the volume, for example, one step at a time. You can also press on the knob to mute, for example in volume mode, or Play/Pause in media mode.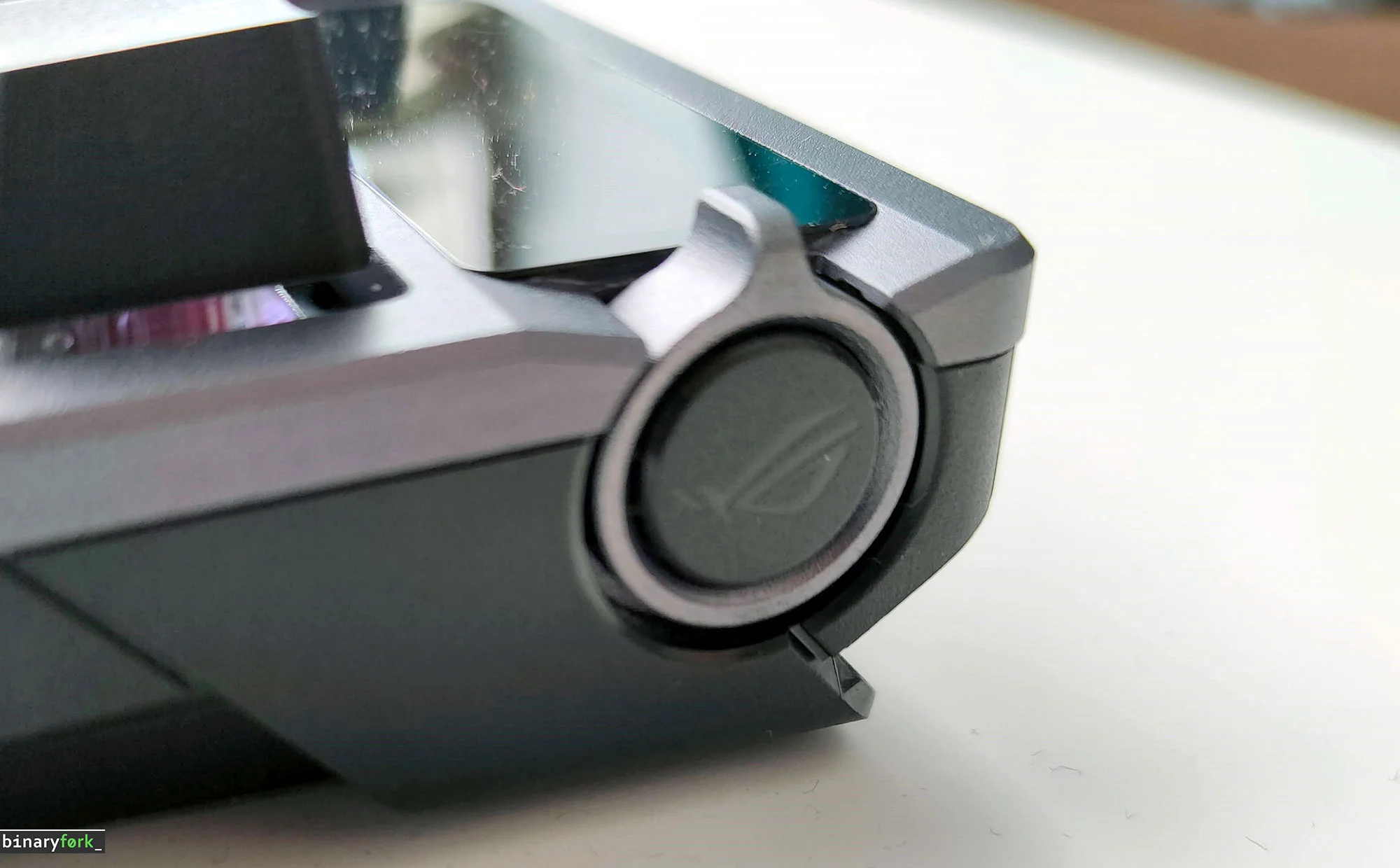 Overall, it's a good implementation, but I like the rotary dial from the Animate keyboard more. That takes a lot more space though.
The Tiny OLED screen
I think this keyboard would benefit from not having an OLED screen. It's just a gimmick as far as I'm concerned. Because of its location, it messes with the function keys, which are now shifted to the left and crammed together, instead of being grouped and spaced out, as you see on a normal layout or tenkeyless keyboard.
Also, the OLED screen takes up space that would've been used for other keys. The lack of a dedicated PrintScreen key is the biggest drawback for me.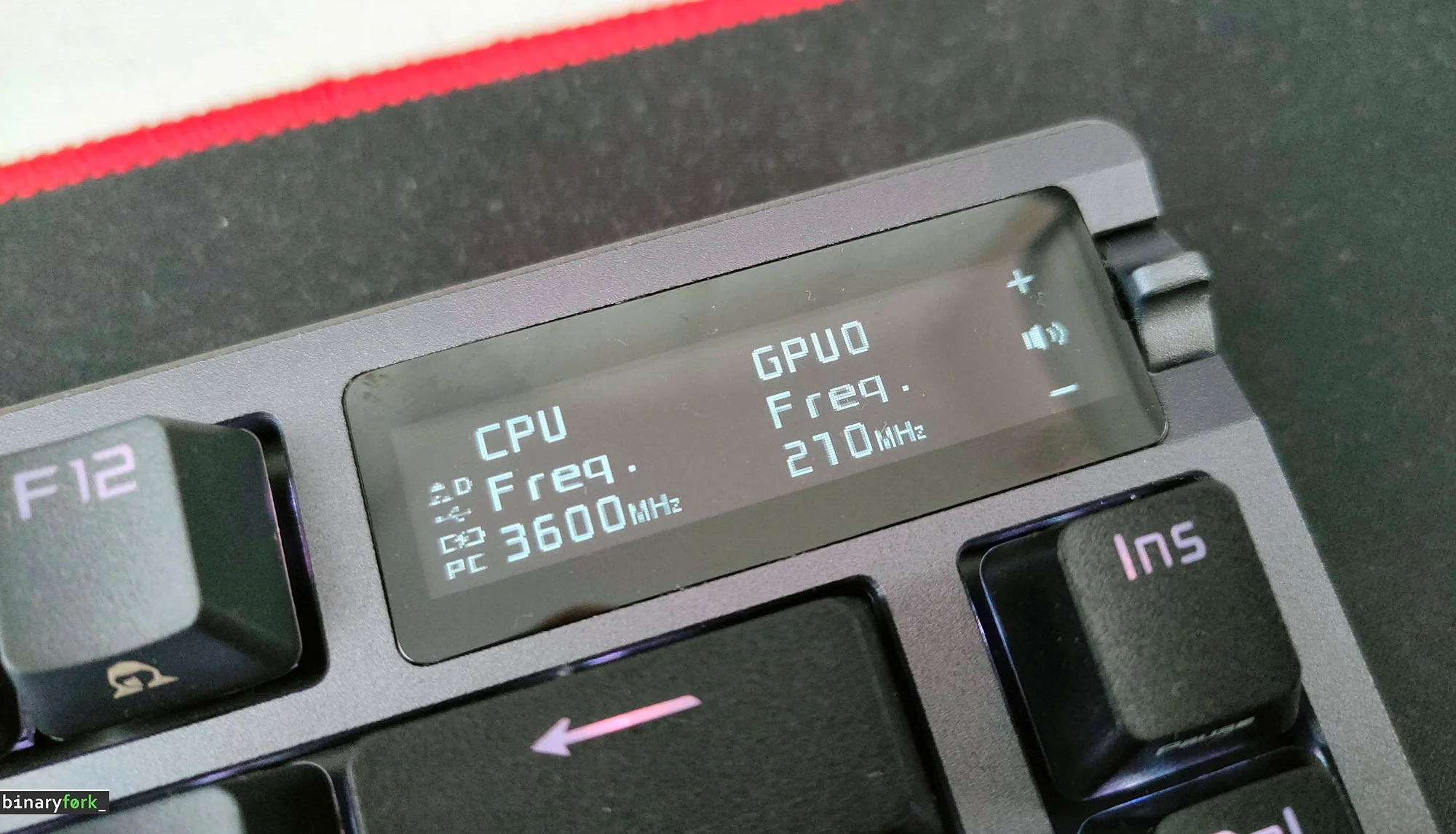 Also, looking at screens surrounding us today, this feels like a panel from another era. It's black and white, really low resolution, and has a huge bezel that makes it even smaller than it could be.
Not only that but most of the screen is taken by the animations. The useful part of the interface is found on the left and right sides. Pressing the Caps Lock will show a tiny indicator that's easy to miss. It's not as small as the indicator for battery level, connectivity, current user profile, and PC/Mac mode. You see where I'm going with this.
I've also noticed some problems with the OLED screen. They're bugs that need to be addressed by ASUS. For example, the OLED screen brightness control doesn't seem to work at all. Coupled with the fact the screen doesn't turn off when the keyboard is connected via USB it makes me wonder if this will cause long-term OLED burn-in problems.
ROG Azoth Comes with Tons of Accessories
The keyboard comes with more accessories than you can think of. They're neatly stored inside a separate box. Here's what you get:
Braided USB-C to USB-A cable.
Switch puller
Keycap puller
Switch opener
Small plexiglass lube station.
Lube brush
High-quality Krytox GPL-205-GD0 lube
3x ROG Switches
Stabilizer mat
USB extender for the RF receiver.
This is the most comprehensive accessories box I've seen on a mechanical keyboard. These alone would cost you at least a few dozen dollars if bought separately.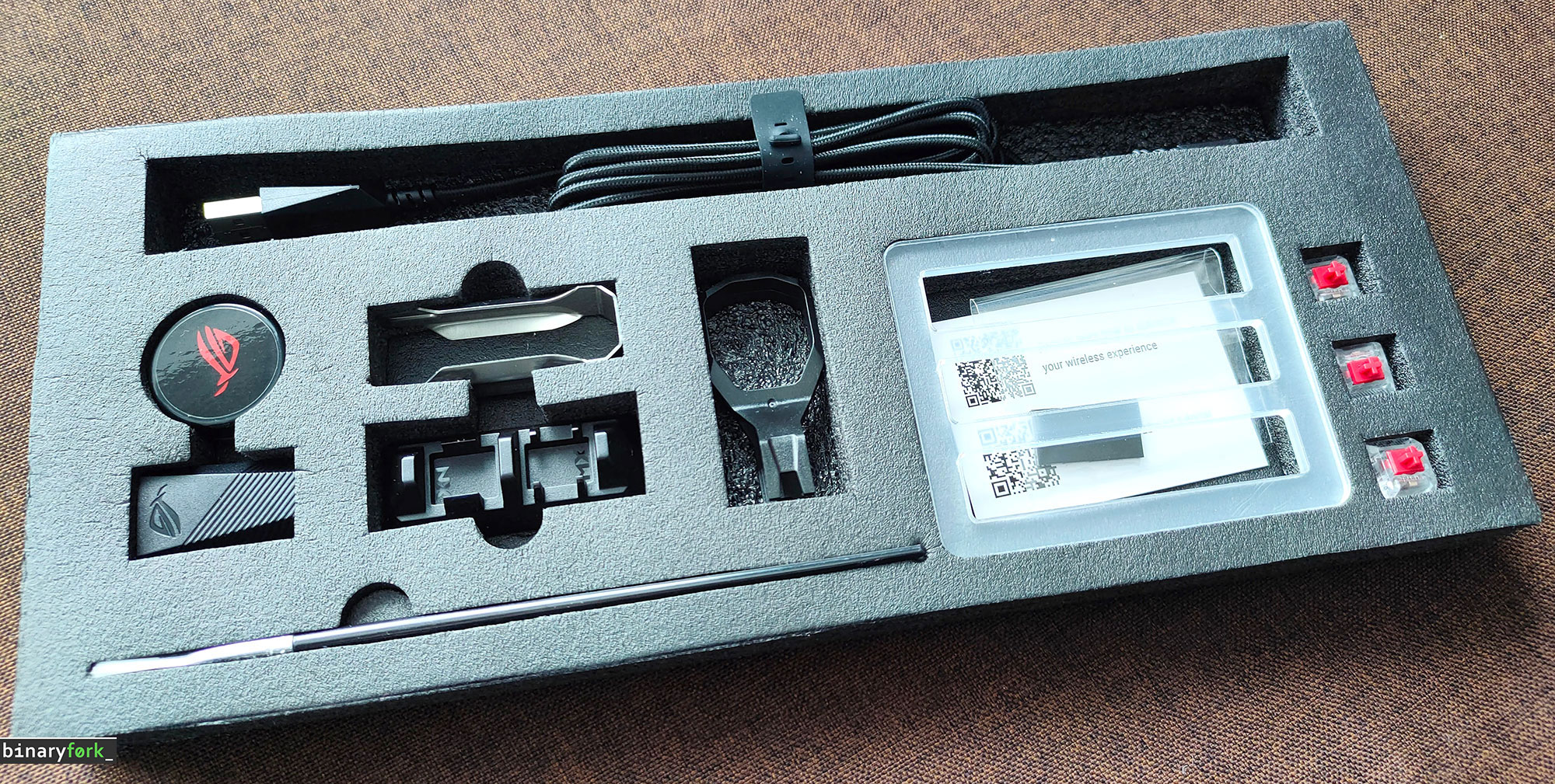 Some of them are high quality (lube, switch opener), some of them not so much (all the pullers, lube "station"), but for most people, these should be just fine.
How It Types, How it Sounds
This is really hard to describe in words, as you can imagine. I really like the out-of-the-box typing sound. It feels very good to my ears and my partner confirmed it's not as annoying as my Epomaker model, one that uses similar Red switches that I've painstakingly lubed myself.
I think that with thicker PBT keycaps it could sound even better. Now it feels just a bit hollow sometimes. There is no ping, echo, or metallic noise, and that's very good in my book. I also do like the solid sound the stabilized keys make. ASUS did a good job with the stabs. If you don't like them, you can replace them anyway.
Anyway, here's a recording of me typing on the ROG Azoth:
And here's my daily-driver Epomaker AK84S, for comparison.
Battery Life is Great
I've used the keyboard on Bluetooth for about a week and it dropped from 100% to 78%. That's with the keyboard illumination and OLED brightness set to 50%. With them off ASUS says you'll get about 2000 hours of use on one charge.
I don't have the time to check this claim, but from what I've seen I'd say it's pretty accurate.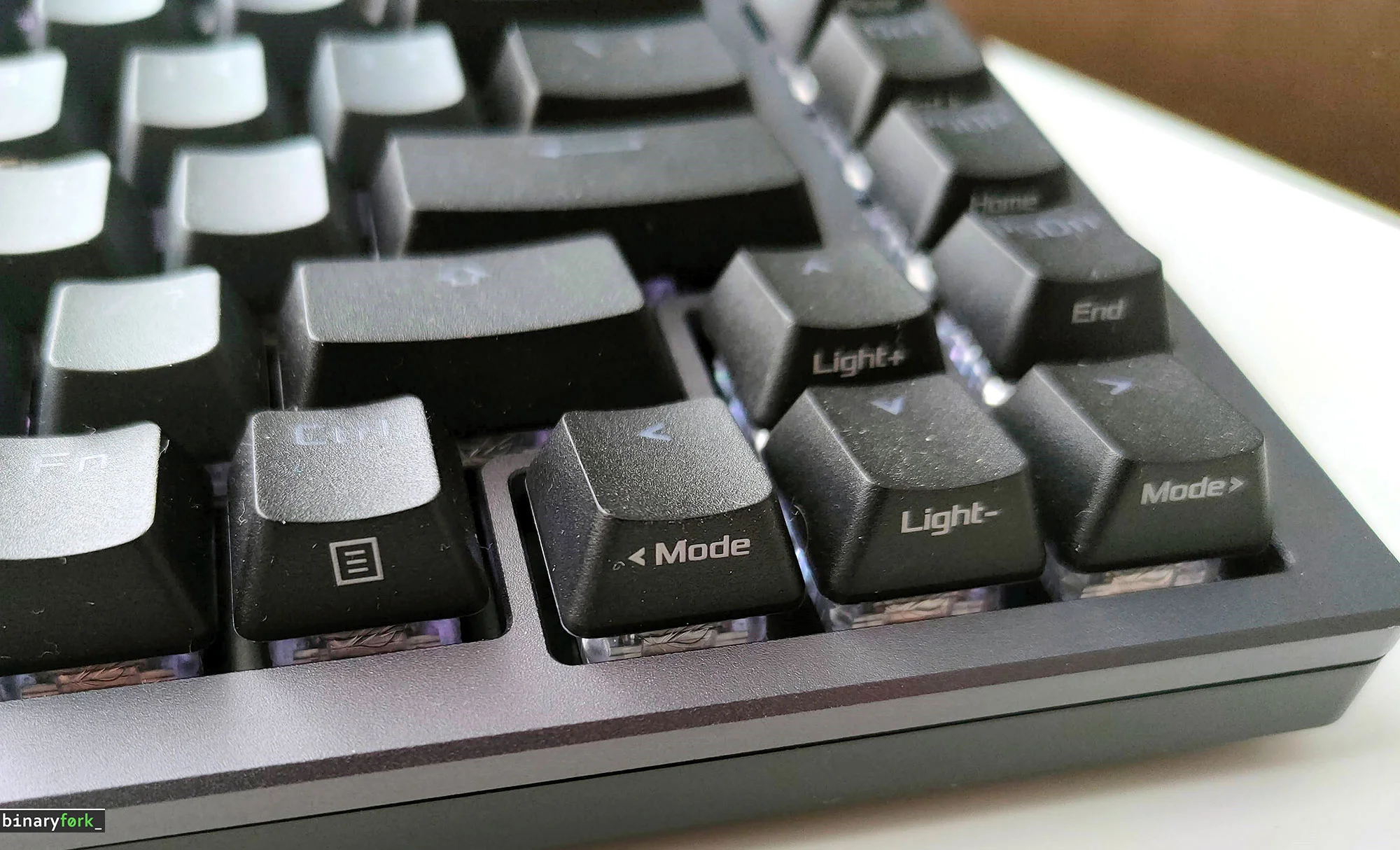 The Armoury Crate Software: Why Do We Have to Meet Again?
I won't insist on the Armoury Crate app, which I furiously reviewed last year. It's still as bad, feels sluggish, and installs tons of services that always run in the background. It doesn't age like the wine I guess.
The good news is that you don't have to install it. It's really good news, as GHelper, the only alternative, doesn't work with ASUS keyboards, at least for now.
The first few days I used the ROG Azoth without it and I didn't feel the need to customize anything. Basic RGB settings and brightness controls are available via the Fn keys, but if you want to get the most out of this keyboard you'll need the Armoury Crate.
The app is used to:
Remap keys.
Control RGB lighting in detail.
Change the control knob functionality.
Change the OLED screen animation, modes. Once connected via USB it opens up options for a music visualizer and system stats display (temps, frequencies, and so on).
Change battery power-saving options.
Update keyboard firmware.
Change the 6 user profiles that can then be saved directly into the keyboard's internal memory.
I've included a gallery of screenshots from the Armoury Crate companion app with the section dedicated to the ROG Azoth keyboard: key control (remap pretty much any key, even record macros, no tutorial needed, despite the lack of dedicated macro keys), control knob functionality, AURA lighting effects, OLED screen animation, music spectral analyzer mode animations, and system information configurator.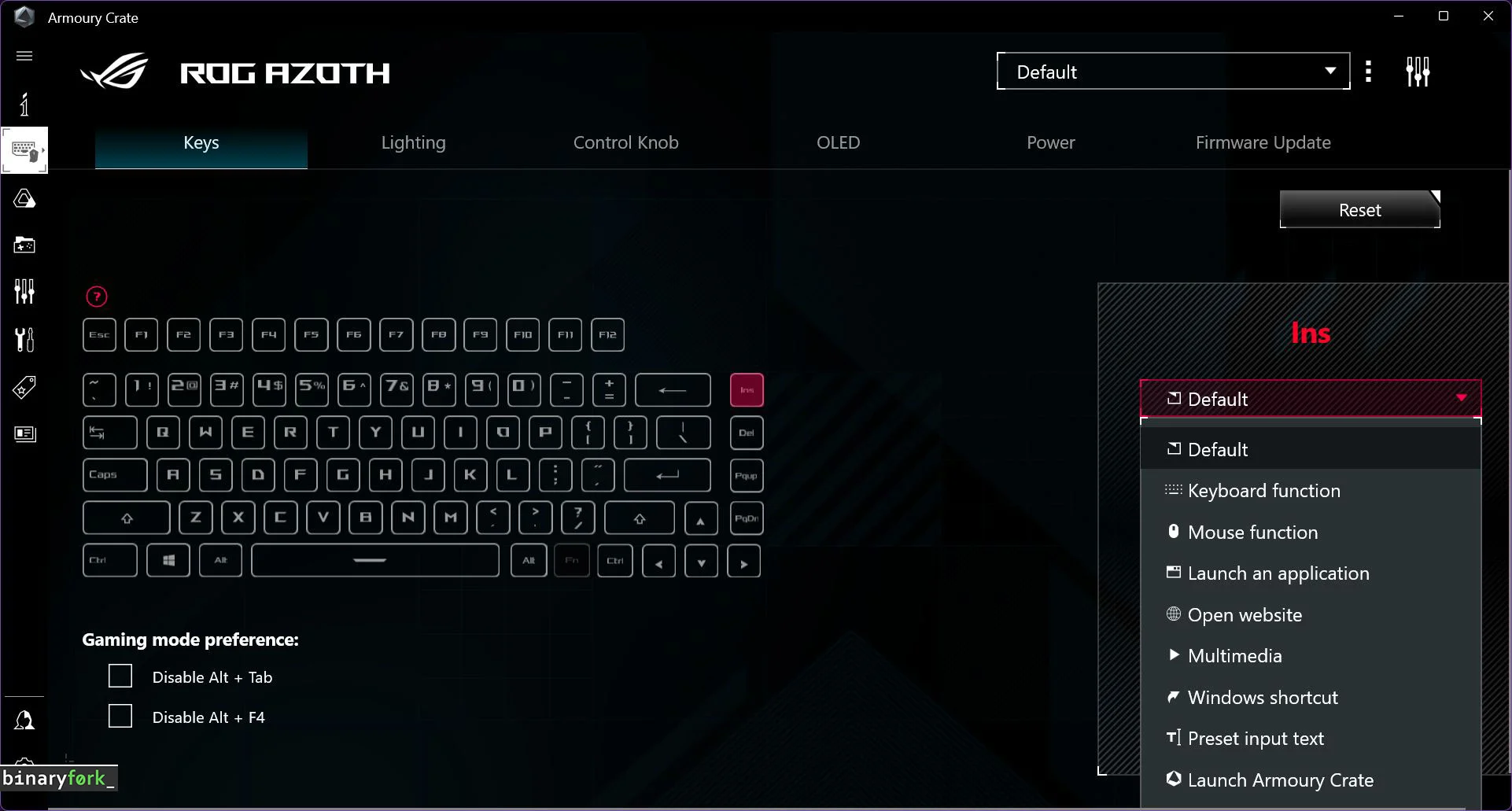 Price and Availability
To me, pricing was a surprise, a nice one. ASUS asks $250 for the ROG Azoth, and this is a very competitive price for a mechanical gaming keyboard this good and well-built.
$250 is still a large amount to pay for a keyboard, but consider the sheer number of accessories included in the box.
Some of them are not high quality, especially the switch and keycap puller, but if you were to pay for them separately they would add up to the total cost.
Even without the accessories, I think the ASUS ROG Azoth is worth the asking price. It's just so well made.
How ASUS Can Make the ROG Azoth II Even Better
I can't help myself so I want to tell you my own ideas of what ASUS can do to improve the second iteration of this keyboard. It will probably be called something else entirely, but I'll call it ROG Azoth II. 
Anyway, here's what I would like changed or improved in the future:
Full metal body – I think a small plastic area at the back would be enough for the radio waves to pass through without problems.
Deeper housing – I want this for two reasons: to hide the switch housing entirely and to allow for more gasket travel, as in the current form typing still feels too stiff, no matter how hard you press.
Nicer font legend – This kills me every time when I see an ASUS gaming keyboard. I suggest they use the font Inter. Pretty much anything is better than the current legend font.
The OLED screen – I would widen the keyboard a tiny bit and make the display vertical, then place it next to the current Ins, Del, PgUp, PgDn keys. This way ASUS can keep the knob and have the function keys groups nicely separated. The interface could also be better optimized. The OLED screen needs to be a higher resolution too, Retina class.
My Final Thoughts on the ASUS ROG Azoth
The ASUS ROG Azoth is a truly impressive prebuilt mechanical keyboard. It's not perfect, by any means, but it ticks a lot of my boxes when it comes to mechanical keyboards.
The purist in me also looks at the Keychron Q series. There are more formats to choose from. The Q series also has a cleaner look that I appreciate, while also being a bit cheaper. They're missing the wireless connectivity provided by the ROG Azoth and the keycaps are not shining through, two things I want in my next mech.
Choosing a mech is never easy, but as it stands right now the ASUS ROG Azoth is a better buy for me. I'm definitely going to buy one for myself soon.
Also read: Mechanical Keyboard FAQ
There you have it: if you fancy a mechanical keyboard that will last you a long time, a mech you can customize later with your own switches and keycaps, this is one of the products to consider. You don't have to do any of these things, but you could if you wanted to.
You could spend a few days lubing the switches, as I did last year. I don't regret doing it, but I also wouldn't do it again. That's why I appreciate the factory lube job done by ASUS for the ROG Azoth.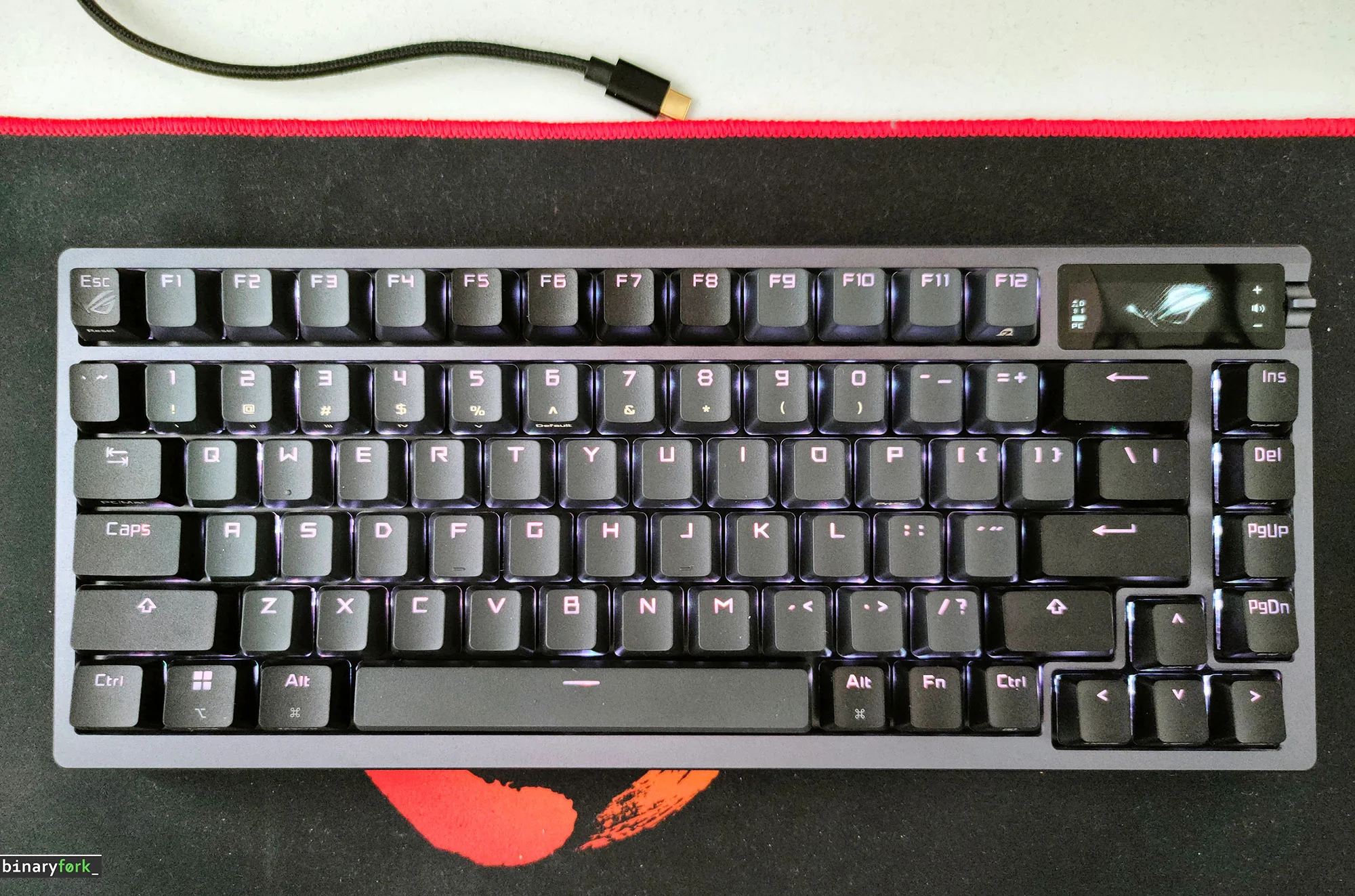 TLDR: I don't think you can find a better built and at the same time fully featured prebuilt mechanical keyboard than the ASUS ROG Azoth, not at this price at least.
Let's end with a question: what do you want from your next mechanical keyboard?