I've changed at least 5 keyboards in the past 10 years, but I'm using the same Logitech MMO gaming mouse for productivity because I couldn't find anything better all this time.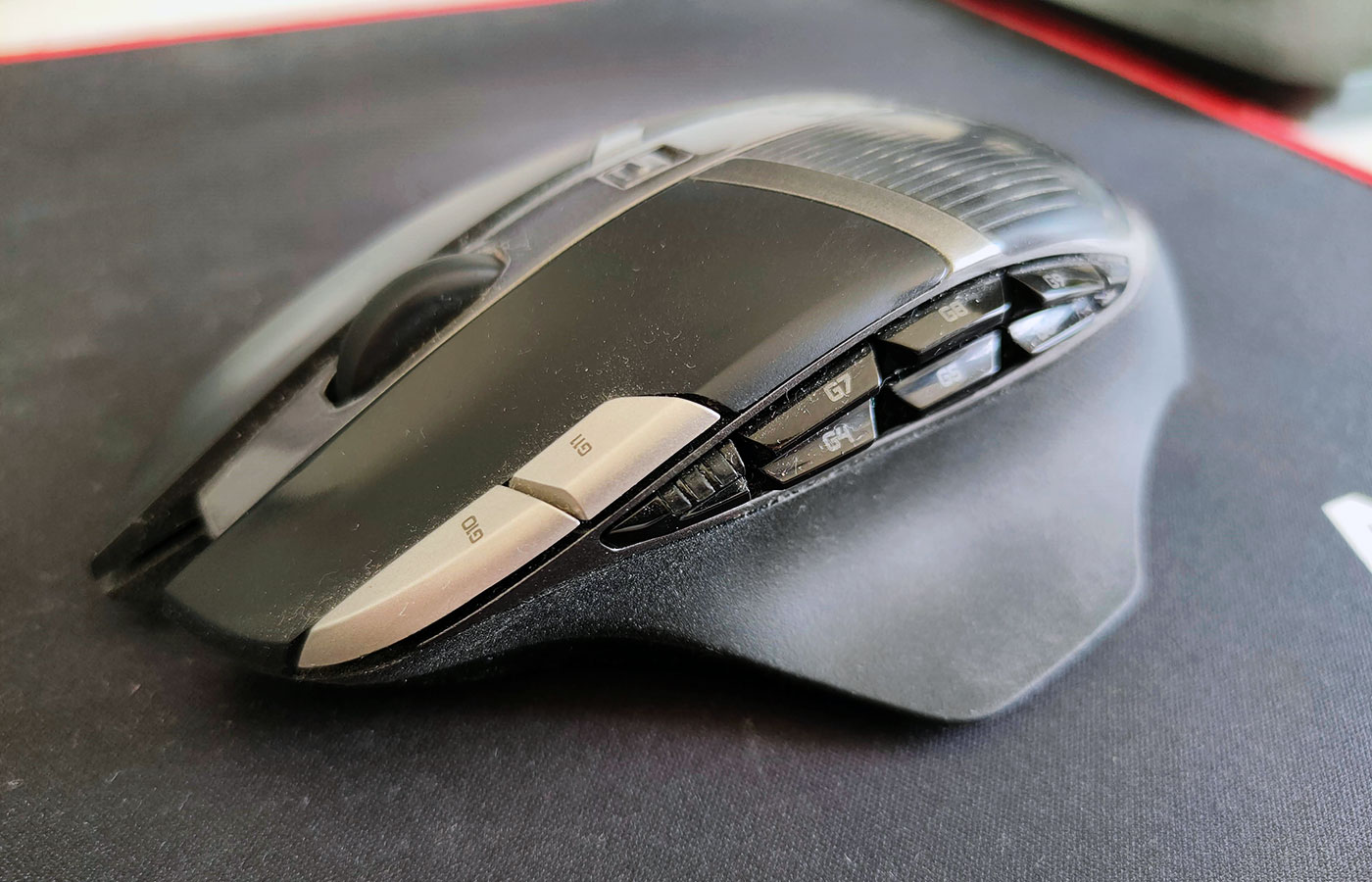 If you read my articles you may get the (wrong) impression that I'm focused on productivity. I actually don't like to work. That's why I need to be smart about how I work.
I'm not a "work on my laptop from anywhere" type of guy. I love having multiple monitors when I need to work with large documents. It helps me be more productive.
Working on a laptop is annoying for me. Constantly Alt Tabbing on my laptop is a chore.
The fact I have the memory of a goldfish doesn't help either, so I need to have everything in front of my face when I work.
Add the fact that I use quite a few virtual desktops in Windows, so I need a way to perform the most common actions faster. The problem was solved when I got as a present the Logitech G602 gaming mouse.
Why?
Because having a few programmable buttons at my fingertips means I can switch virtual spaces in a few dozen milliseconds. I didn't time myself, but it feels really fast. My fingers are already on top of the buttons. I just have to press on them.
An MMO gaming mouse is like a dual-clutch automatic, faster than anything on the market. It's even faster than keyboard shortcuts because you don't have to move your hands at all.
First, What is an MMO Mouse?
An MMO mouse is a type of mouse that comes with extra customizable buttons meant to be remapped for use in Massive Multiplayer Online games, hence the MMO in the name.
MMO gaming mice excel in games where there are tons of shortcuts for various actions. They work in all games, of course, and are also good for work. An MMO mouse will save you time, especially in programs where you can take advantage of the extra buttons and remap them to the most performed actions.
In total, there are 11 buttons on my Logitech G602. It may seem much, but one is the left click, another is the right click and the third one is the middle click because you can press on the scroll wheel, so it counts as a button.
This means there are actually 8 buttons. Subtract the sensitivity change buttons, which I use constantly and I'm left with 6 configurable buttons.
Now, the middle-click functionality of the scroll wheel started to function intermittently in the first few months of using the mouse. I got a replacement for Logitech (they also allowed me to keep the original so big thanks for that) and that one also started to exhibit problems with the middle click not long after I started using it (I take the thanks back).
Long story short, because I want to use the middle click function I had it remapped to one of the side buttons.
Here's my current buttons configuration:
Back browser button (default action)
Forward browser button (default action)
Sensitivity up one step (default action)
Sensitivity down one step (default action)
Middle-click (remapped)
Undo close tab – Ctrl + Shift + T (remapped)
Switch to the left virtual desktop (remapped)
Switch to the right virtual desktop (remapped)
What would you change? If your MMO mouse has more buttons what other functions would you map on the extra keys?
My Experience With Using an MMO Mouse for Work
There are tons of MMO gaming mice out there (check Amazon), some with a ridiculous amount of buttons. I don't think I could use a mouse with 20 buttons, but your mileage may vary.
I say that because from my experience that it took me a few good weeks to train my muscle memory for the Logitech G602, but once the neural pathways were imprinted in my brain I can tell you that I loved using this mouse for work. I still do.
Switching desktops is ridiculously fast. I also love that I can use the middle click functionality without also scrolling, which happens more often than not when you click on the scroll wheel on most mice.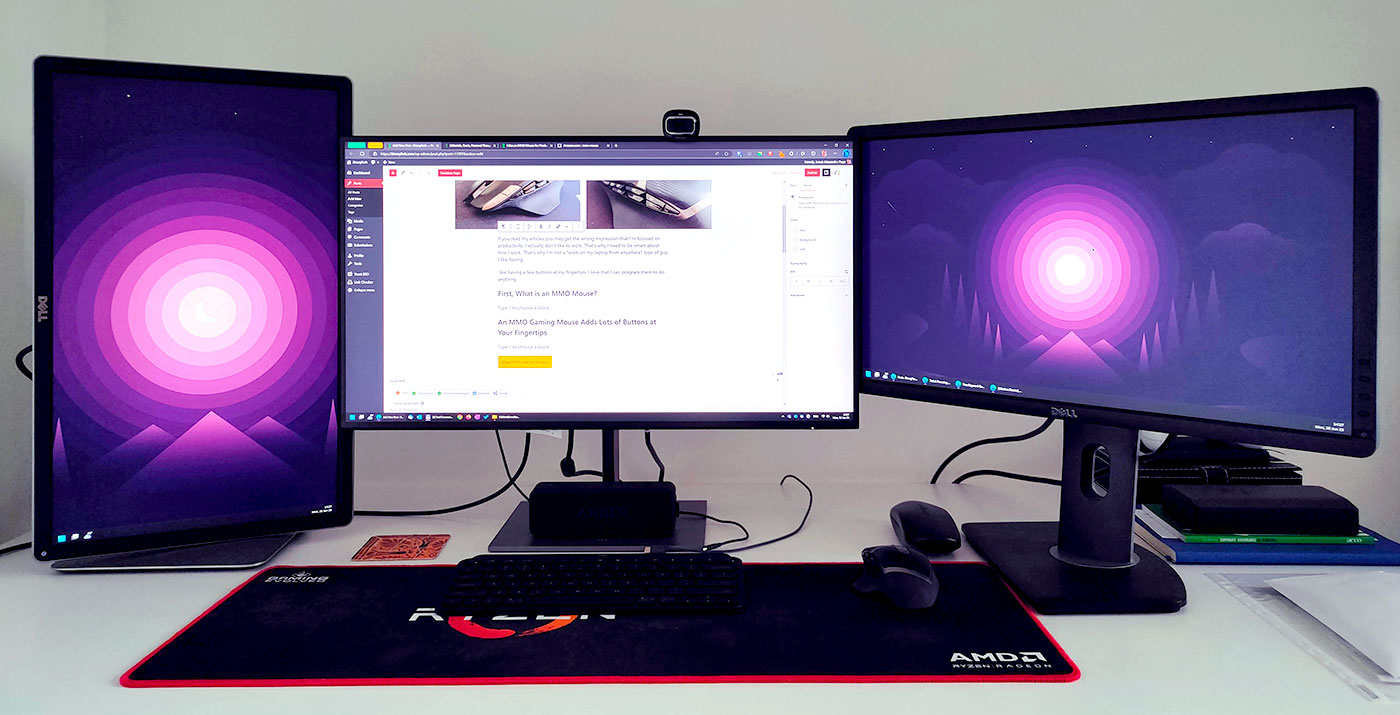 And if I close a tab by mistake I can bring it up again, and instead of the Ctrl + Shift + T I only need to press one button.
These are actions I do a couple hundred times every day. I suspect I gain at least a few minutes this way. That's every day, so long term I have more time for other more pleasant tasks.
I definitely think investing in an MMO mouse is going to pay off rather quickly. Prices for MMO mice differ wildly, but as a general rule, brand names like Razer, Logitech, and Corsair tend to cost more and I'm not sure they're always worth the premium.
What About Gaming on an MMO Mouse?
Weirdly, I haven't used my mouse for what it was designed, which is MMO games. I could use the Logitech software to create profiles for the games I play and assign extra buttons for specific combos, but I don't feel the need to do it.
And by "feel the need" I mean I'm lazy, but also I game for pleasure, in the little time I have, not competitively. What's the point then, right?
Being an amateur gamer I don't think I need a better sensor or something wireless faster than 500 Hz. I did feel the change from a 60 Hz screen when I got my 240 Hz QHD ROG laptop last year, but I definitely attribute that to the screen, which better tasks advantage of what my mouse was already capable of.
I'm not really qualified to review gaming mice. So, in conclusion, this MMO mouse is OK for regular gamers. Should you buy in? No, because you can't buy it new, begin too old. Find something newer. There are tons of options.
What Will I Choose as My Next Mouse?
Even if the G602 mouse dies, I have another identical one for backup. It's rock solid, besides an early problem that manifested with the middle click.
I will surely need to find a replacement at some point, and I'm eyeing the formidable Logitech MX Master 3S with silent click buttons, but I'm afraid I won't like the lack of buttons. But I think the second scroll wheel is cool. We'll see what I decide.
For now, I keep looking for a new and improved MMO gaming mouse. If you have a recommendation don't hesitate to drop me a suggestion. Also, have you tried using an MMO gaming mouse for productivity? I'm curious to hear your impressions.