Edge is the default browser app in Windows 11.
Fortunately, you can change the default browser to the one you prefer.
Unfortunately, Microsoft made it more difficult to change default apps.
---
One of the things that annoy me about Microsoft is that for every few steps forward there's always a step back somewhere. I've already told you that I like Windows 11, but there are also a lot of things that are not so great.
One of the annoyances is the "new" way of selecting default apps. Most people don't use Microsoft's own apps for Mail, Maps, Music, Photos, and Browser, so it's understandable that you would want to select another default app to open these files or tasks.
This is how you select default apps in Windows 10: you just selected the task then from the overlay menu you had to select another app already installed. Pretty straightforward.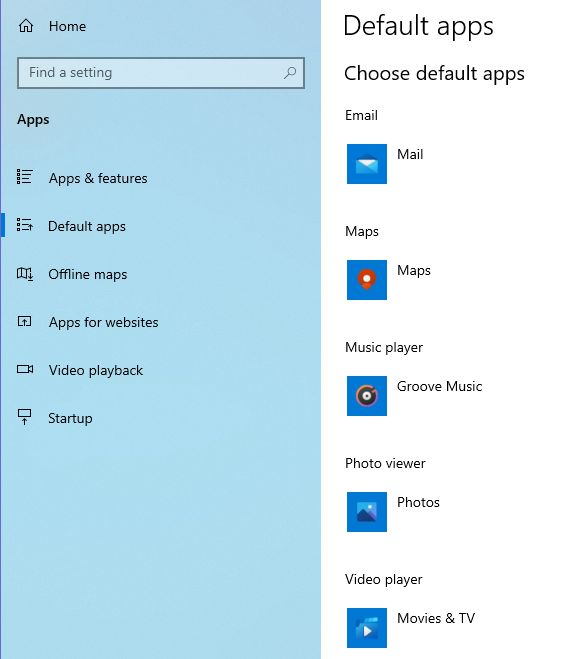 In Windows 11, Microsoft made it unnecessarily difficult to change default apps for various file extensions and link types. It's not impossible to change your preferred default browser, but it's a bit harder to do so, for no reason other than to somehow magically make you abandon the task and use Edge instead.
Fear not, I'm here to help you change your default browser (and other apps) in Windows 11.
How to Select Default Browser in Windows 11
1. Open the Start menu and type Settings to open the Settings app.
2. Navigate to Apps, then select Default apps.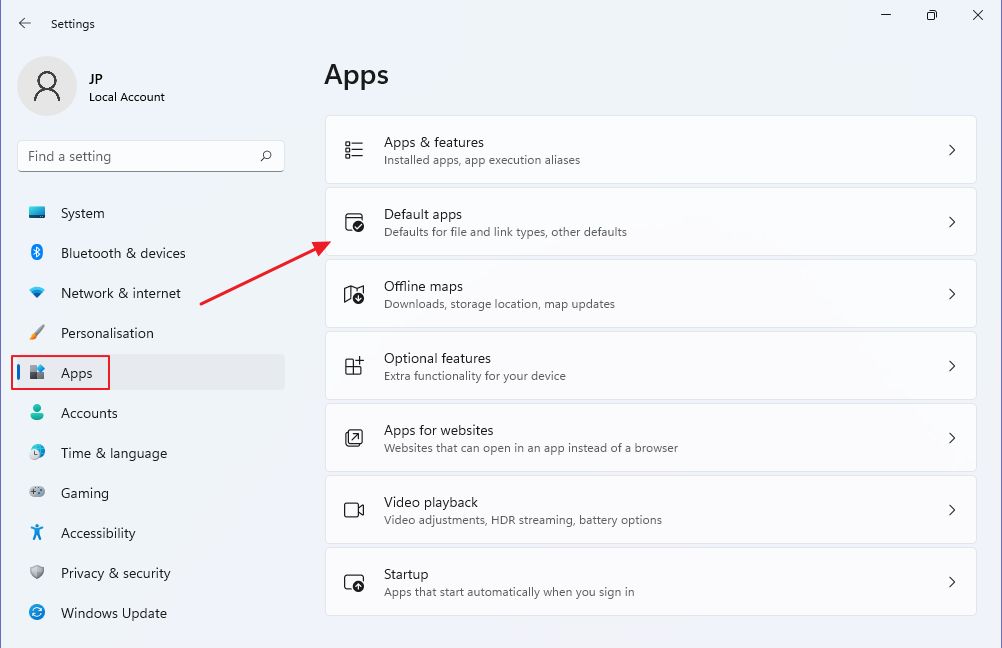 3. Either use the search box under Set defaults for applications or scroll down the list of installed apps until you find the app you want to set the defaults for. This guide will assume we're trying to set Firefox as the default Windows 11 browser.
The operation will work the same for all other apps installed on your system.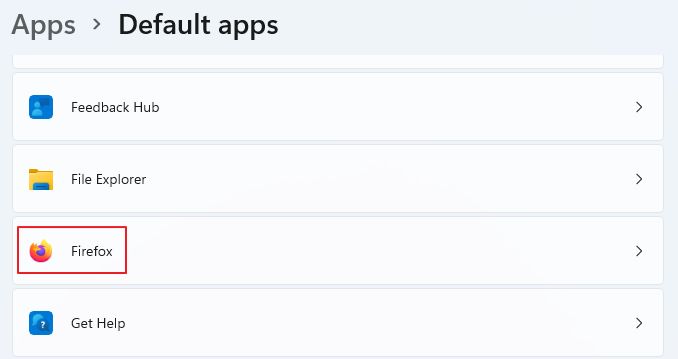 4. Now you will see a list of file extensions Firefox could open. Each file type will indicate the current default app. You'll pretty much see Edge all over.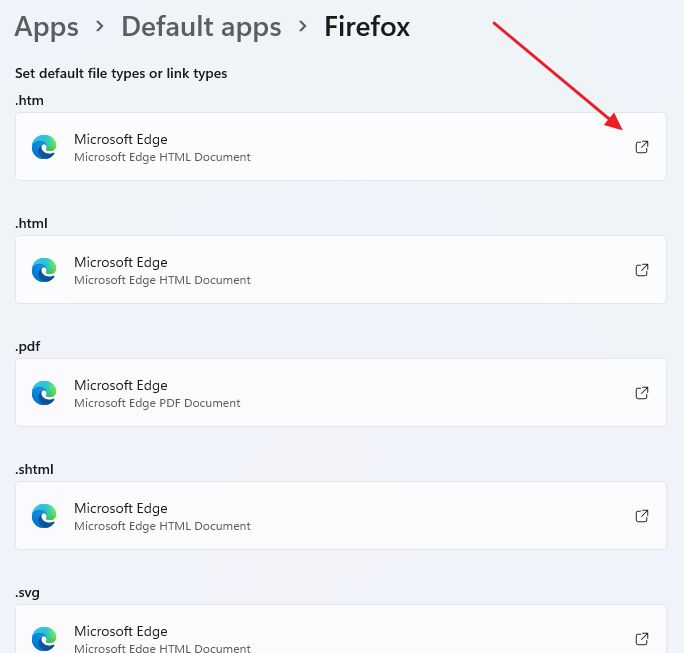 5. Go through each file extension and click the icon indicated by the arrow above. This next menu will open. Select Firefox and hit OK.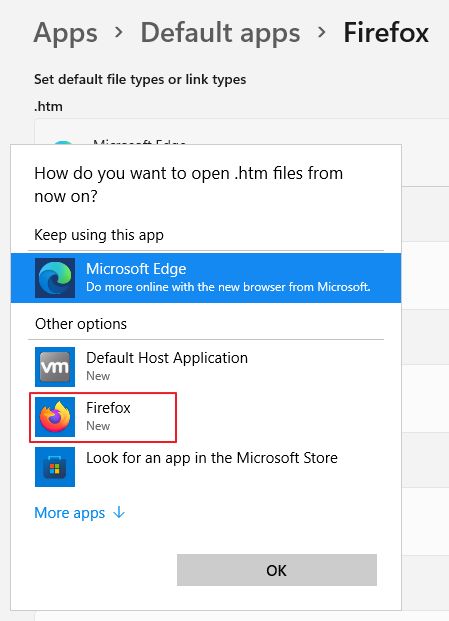 You may see a pitiful message, telling you how glorious Edge is. Ignore it and just click on Switch anyway.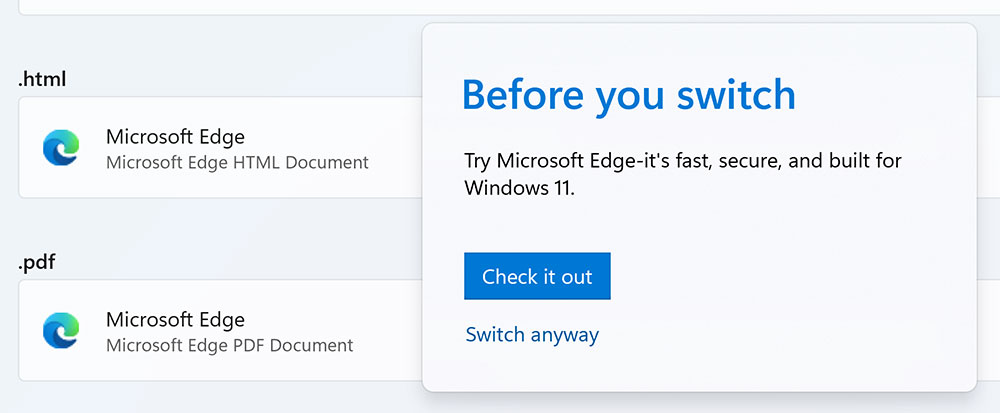 6. The previously selected file type should now indicate that it will open by default with Firefox from now on.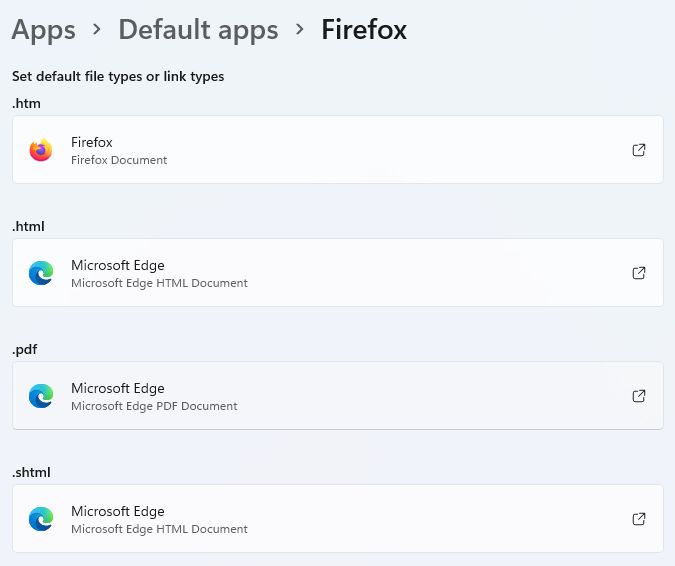 Some browsers will offer the option to switch them automatically as default browsers, but they may not be completely set up for all possible file extensions. Follow the guide above to make sure every possible file type is set to open with the correct browser.
Edge Will Still Open by Default Sometimes
You may notice that Edge will still be the default browser for some actions. The most notable is when you Search the web from the Start menu or when you click on a news item in the Widgets panel.
That's really annoying, but you could change those defaults, but only for some browsers. Yes, that's right, some defaults don't let you select anything else than Edge. Not cool Microsoft!
Change Default Apps for Link Types in Windows 11
1. Open the Start menu and type Settings to open the Settings app.
2. Navigate again to Apps, then select Default apps.
3. Scroll down to the end of the panel. You have to links here:
Choose defaults by file type – allows you to set defaults for all file extensions registered with Windows.
Choose defaults by link type – allows you to set defaults based on the link type you're clicking.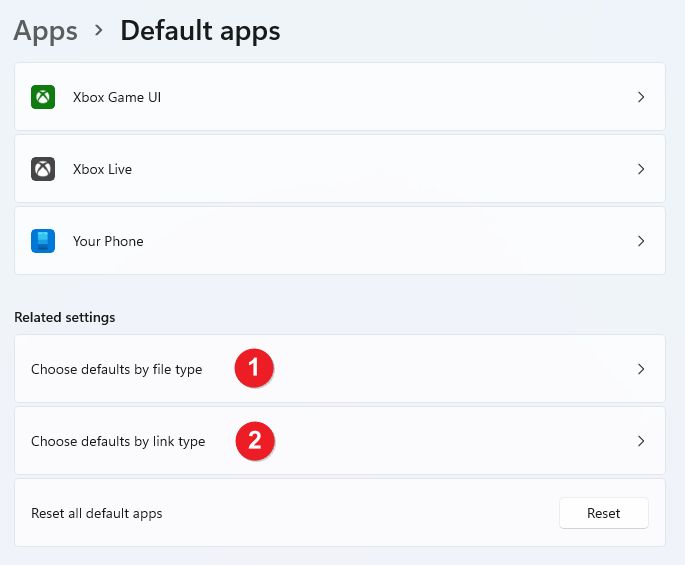 We're going to use the second option. Scroll to an item that has Edge set as the current default app. Click on the item to open the overlay menu.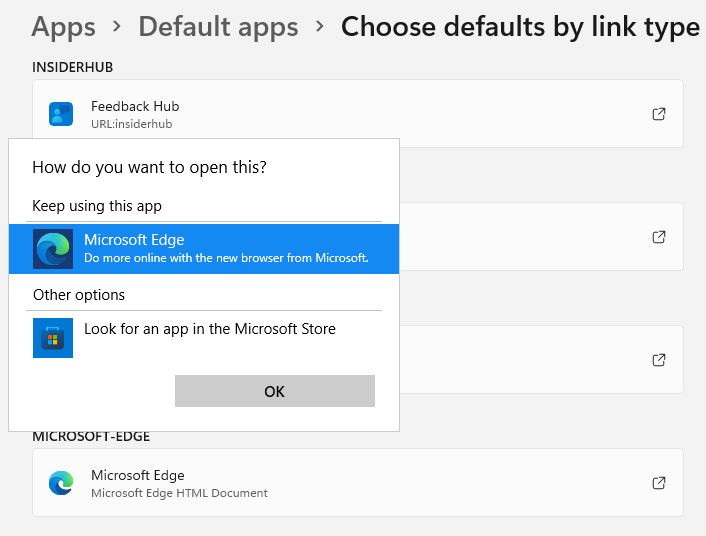 You can probably see the surprise I've told you about: Edge cannot be replaced with Firefox or Chrome. The Brave browser on the other hand can be set up as the default for Widgets links and search the web actions.
I'm assuming Firefox and Chrome will update their browsers to support all default links, but for now, Edge will shill pop up for you from time to time, to remind you it still exists on your system.
One more thing: if you see the popup below, instructing you to use recommended settings don't be fooled by it, because it will set up Edge again as your default browser.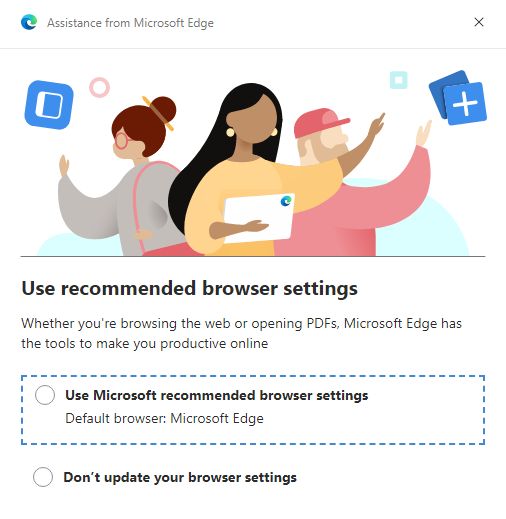 It's a shame really since I'm currently using Edge as my second browser and I'm pretty happy with it. There's no need for this kind of shenanigans, but at least we can still change defaults, albeit a bit harder than before.