DirectStorage will massively improve game loading times if you have the right hardware.
Learn how to check if DirectStorage is supported in Windows on your PC, how to enable, and use it when you play games.
We're also discussing the current state of Direct Storage supported games list. It's not pretty.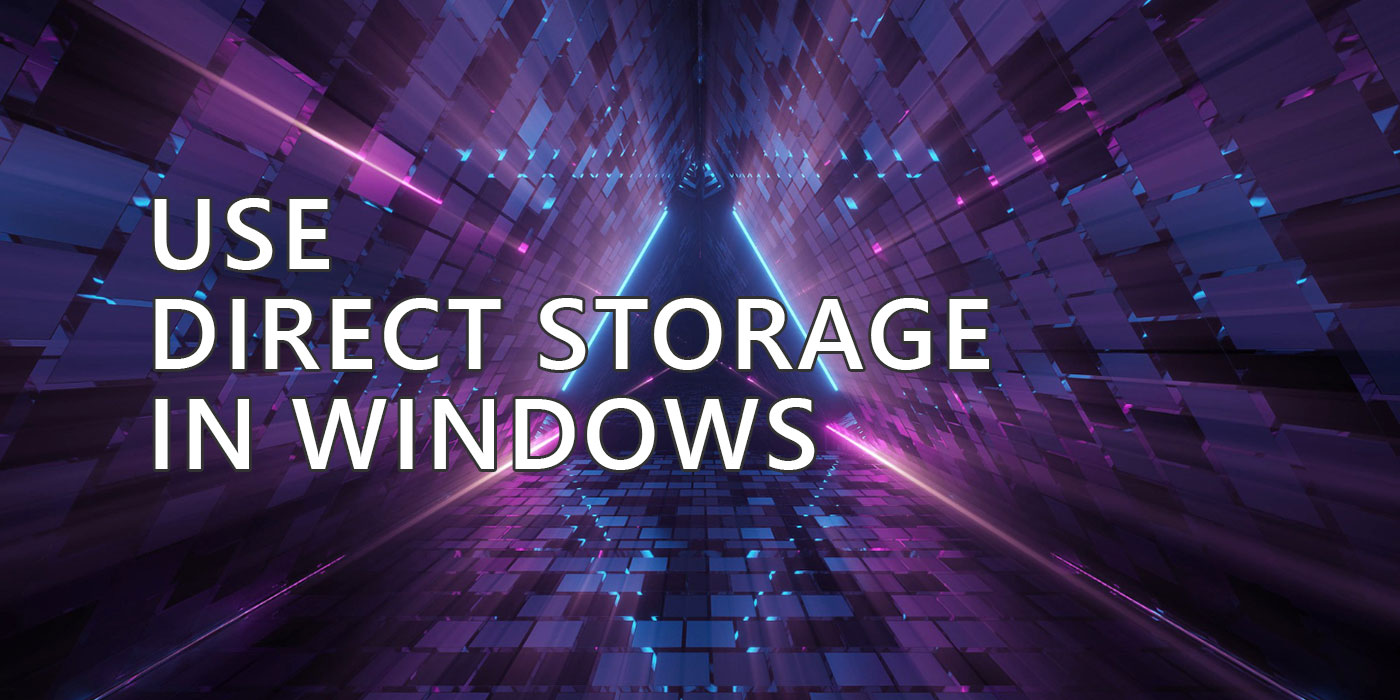 If you ask conservative Windows users, you'll find there's no reason to upgrade to Windows 11. I, personally disagree, and I have been using the latest version of Windows since it was in beta.
I won't lie to you, I like the way Windows 11 looks, among other things, and I'm also disappointed by some Microsoft decisions, but there's one reason I do think we have to look forward and embrace the new Windows: it's where cutting edge Windows features will be added first.
If you want the latest and greatest features you have to try Windows 11. Some of these changes and technologies may find their way down to Windows 10, but most likely they won't.
DirectStorage is one technology that will work best in Windows 11, even if it will still be partially supported in Windows 10. I've explained what Direct Storage is, so I'll just summarize it here: game assets will load much faster as they can be accessed faster from the SSD directly by the GPU, bypassing the CPU completely.
What are DirectStorage Requirements?
Installing Windows 11 is not enough, you need hardware that supports DirectStorage to take advantage of this technology.
NVMe SSD (the faster the better). SATA SSDs don't support DirectStorage.
GPU that supports DirectX 12 and Shader Model 6.0.
Windows 11 updated to the latest version (just to be sure).
That's it, so fairly modern hardware is enough. You don't actually need the latest generation of CPUs and GPUs to use DirectStorage.
How to Check if DirectStorage is Supported and Enabled in Windows?
Enthusiasts know what hardware lies inside their PCs, but for regular folks, that's not always the case. Fortunately, there's an easy way to figure out if your computer is DirectStorage compatible.
1. Open the Xbox Game Bar by pressing the Win + G keyboard shortcut.
2. Wait for the Xbox overlay widgets to load, then click on the Settings cog wheel.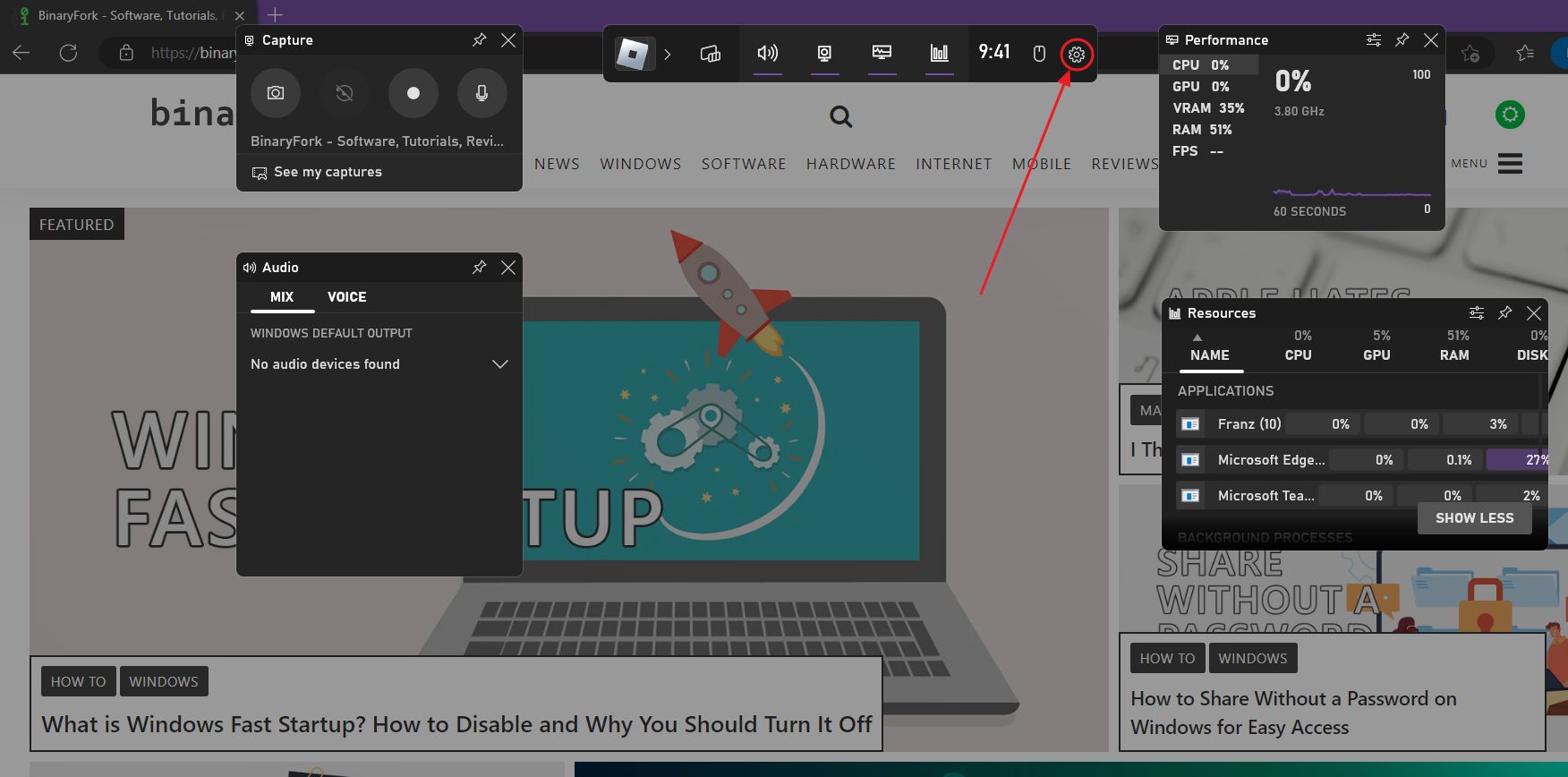 3. Another widget will show up. Use the left-side menu to navigate to Gaming features.
On the right side, you'll see a section called DirectStorage. What you want to see is:
GPU: DirectStorage optimized
OS: This version of Windows supports the latest DirectStorage IO optimization.
Below there's a list of all your partitions (or drives), each listing DirectStorage support. Mechanical hard drives and SSDs will say Non-NVMe drive.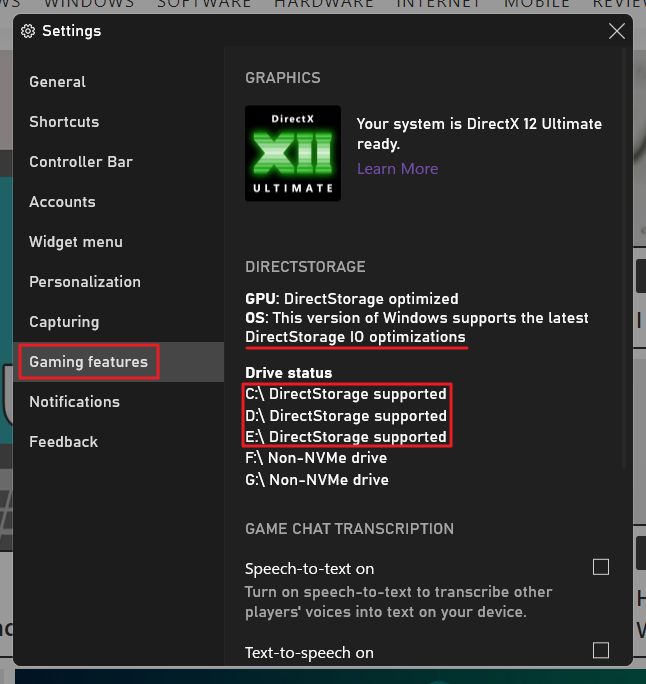 If your computer is not compliant, in the image above you'll see the message This version of Windows does not support DirectStorage IO optimizations.
How to Enable DirectStorage in Windows
Fortunately, there's no need to enable DirectStorage. Windows will enable the technology automatically if all requirements are met. You don't have to do anything else at this point, besides launching a game that supports Direct Storage.
Developers must support DirectStorage API for games to take advantage of this technology. It doesn't work it's not implemented at the software level.
What PC Games Currently Support DirectStorage?
And this is the tricky part right now: there's only one game at the time of writing this article (April 2023) that supports DirectStorage in Windows, and that's Forspoken.
This is sad, considering DirectStorage has been here for a while, being first introduced in Xbox consoles. So a lot of console games support it, but not their PC version.
I'm sure things will normalize in the next few years, but right now, DirectStorage is just a promising tech.