If you buy an ASUS laptop today you will most likely need to use the ASUS Armoury Crate app to control the functionality of your new device. This is a review of an app I've grown to hate very fast.
I'm pretty sad that I need to write this review. Why? Because I'm a long-term fan of ASUS. I really think they've got some of the best engineers in the world and that shows in both innovation and the quality of the hardware they're making.
I've recently bought a powerful ASUS ROG Strix Scar 15 gaming laptop, which is a beast in terms of performance. It trashes by last year's Ryzen 5800X desktop in CPU performance and the 150 Watts NVIDIA RTX 3070 Ti GPU can run pretty much every game at 2.5K resolution, max settings with RTX and DLSS at 60 FPS or more (except Cyberpunk 2077, of course).
There's no fault I can find in this laptop, except the looks, too gamery for me, but that's also subjective. No fault except the ASUS Armoury Crate software.
This will be the focus of this unfortunate article.
What is ASUS Armoury Crate?
If you've asked yourself what is Armoury Crate then I'll try and keep this brief: Armory Crate is ASUS's own software that's meant to be a unified solution to control all aspects of the company's products: RGB lighting (AURA Sync), performance profiles, scenario profiles (they activate specific performance profiles when apps you select are running), and much more. The much more thing is the part that causes my concerns with Armoury Crate.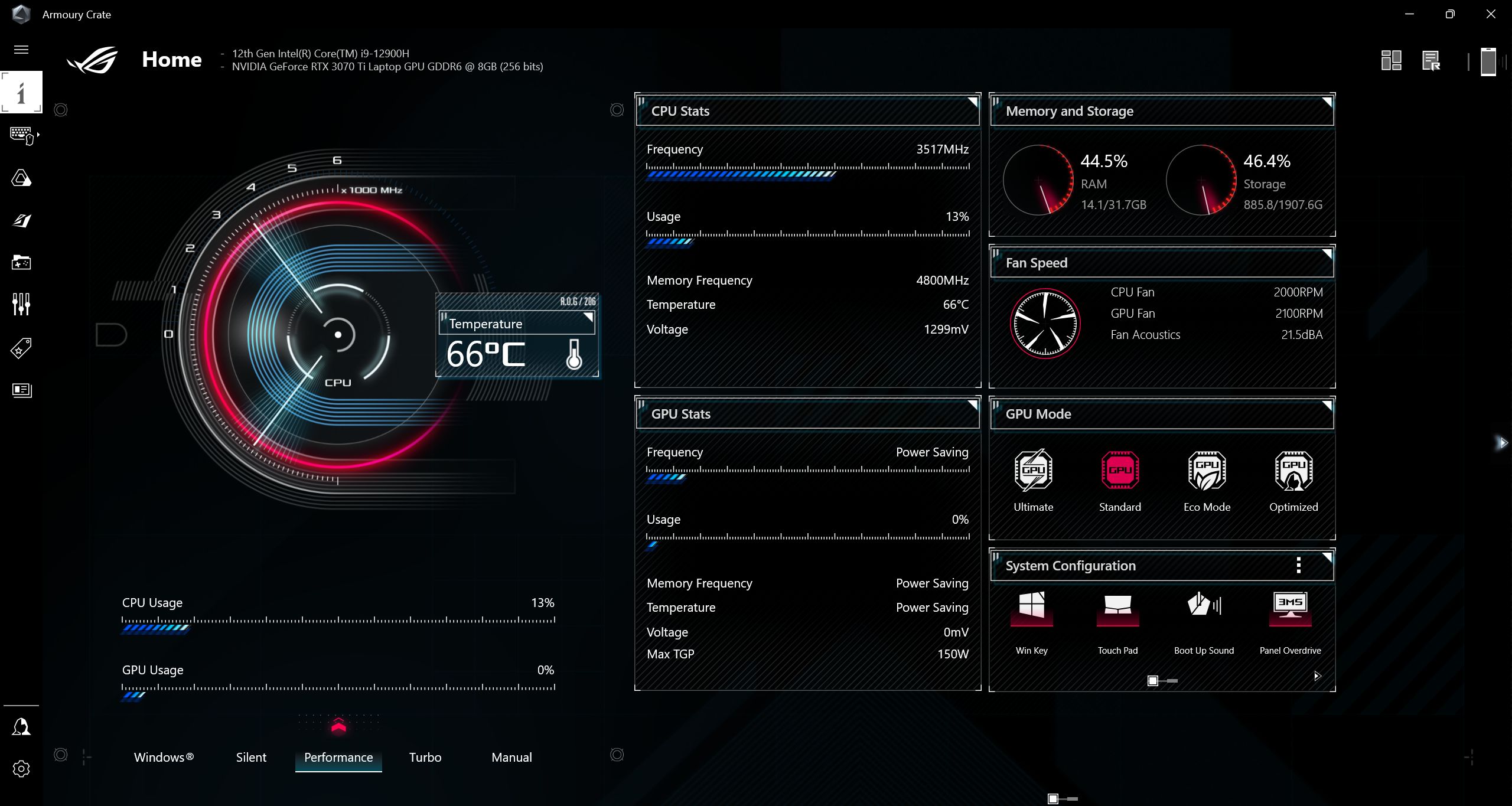 If you feel courageous you can download the app from the link below:
There are two options you get when downloading: a lite package, which will detect automatically compatible system devices and install everything needed for them to work with Armoury Crate, and a full package, which will let you manually select devices.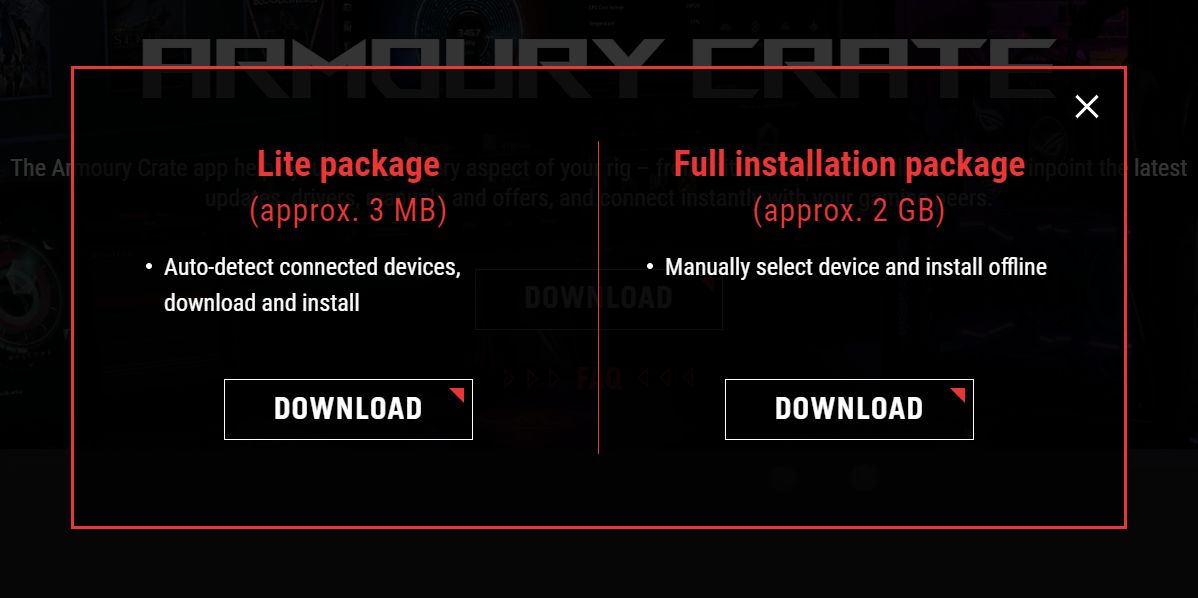 I couldn't install Armoury Crate with the full package since my device was not listed, for some reason. The Lite package worked just fine and my laptop, the gimmicky Keystone, and keyboard macro keys all showed up in the devices menu.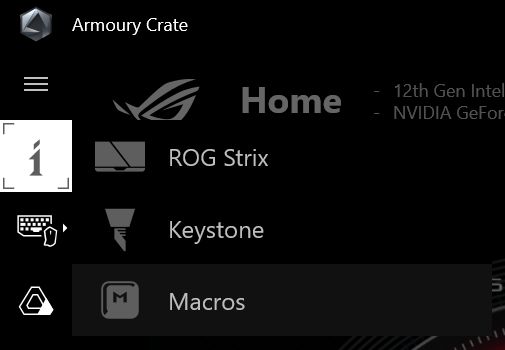 What Armoury Crate Does Best
While I wish Armoury Crate was a much better piece of software, I do reckon it does a few things well.
Performance profiles – on a laptop it's pretty amazing that you get the option to control CPU power limits, GPU max temperature target & overclocking, fan profiles, MUX switch configuration, and display panel overdrive.
There's even a dedicated keyboard shortcut that switches between Silent, Performance (default), and Turbo. Also, your choice is remembered for both plugged-in and on-battery states. Nothing to complain about here.
Besides these three ASUS-specific performance profiles there's the option to customize one or more Manual profiles, and you can even revert to Windows's power plans. It's not clear to me if the Windows plans are completely ignored when using ASUS's plans, or if just some settings are overwritten. I couldn't find this info anywhere.
AURA Sync – RGB is not a priority of mine. I like every RGB color so long as it's white. I was able to turn off all RGB elements of the laptop and make the keyboard lighting white in a matter of seconds. That's how I like it.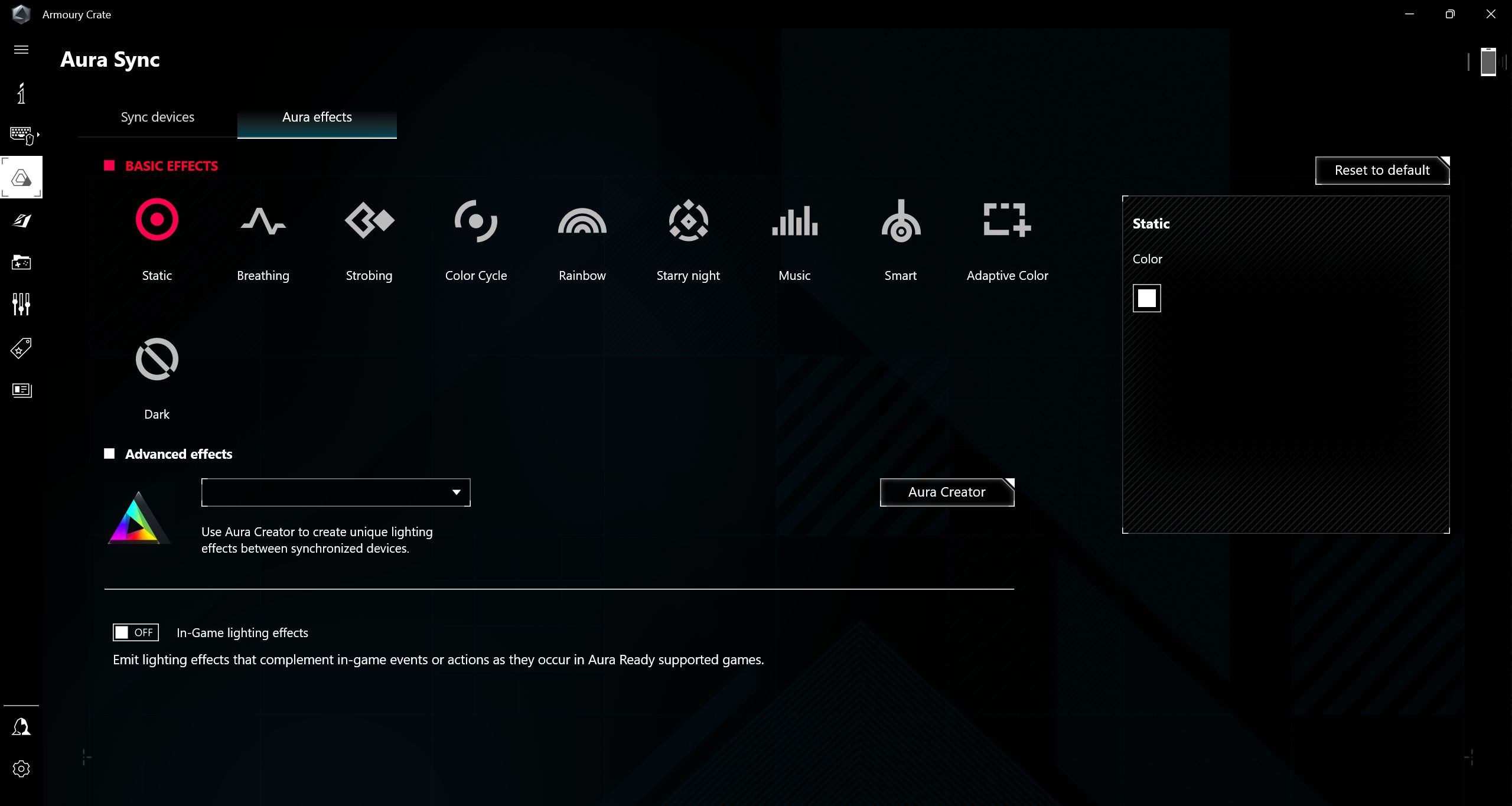 If you're more into RGB, you can do a lot of cool stuff, including sync RGB effects with what's happening in games, similar to Philips Ambilight for TVs. For more customizability, you must install the Aura Creator app.
Scenario profiles – this is different from performance profiles. Basically, you can define how the system will behave when specific apps are detected. You can, for example, select a performance profile, disable the Windows key, the touchpad, and set specific visual RGB effects to start when launching a game.
Update center – I will count this as a plus. Having an easy way of updating device firmware and specific ASUS drivers is OK with me.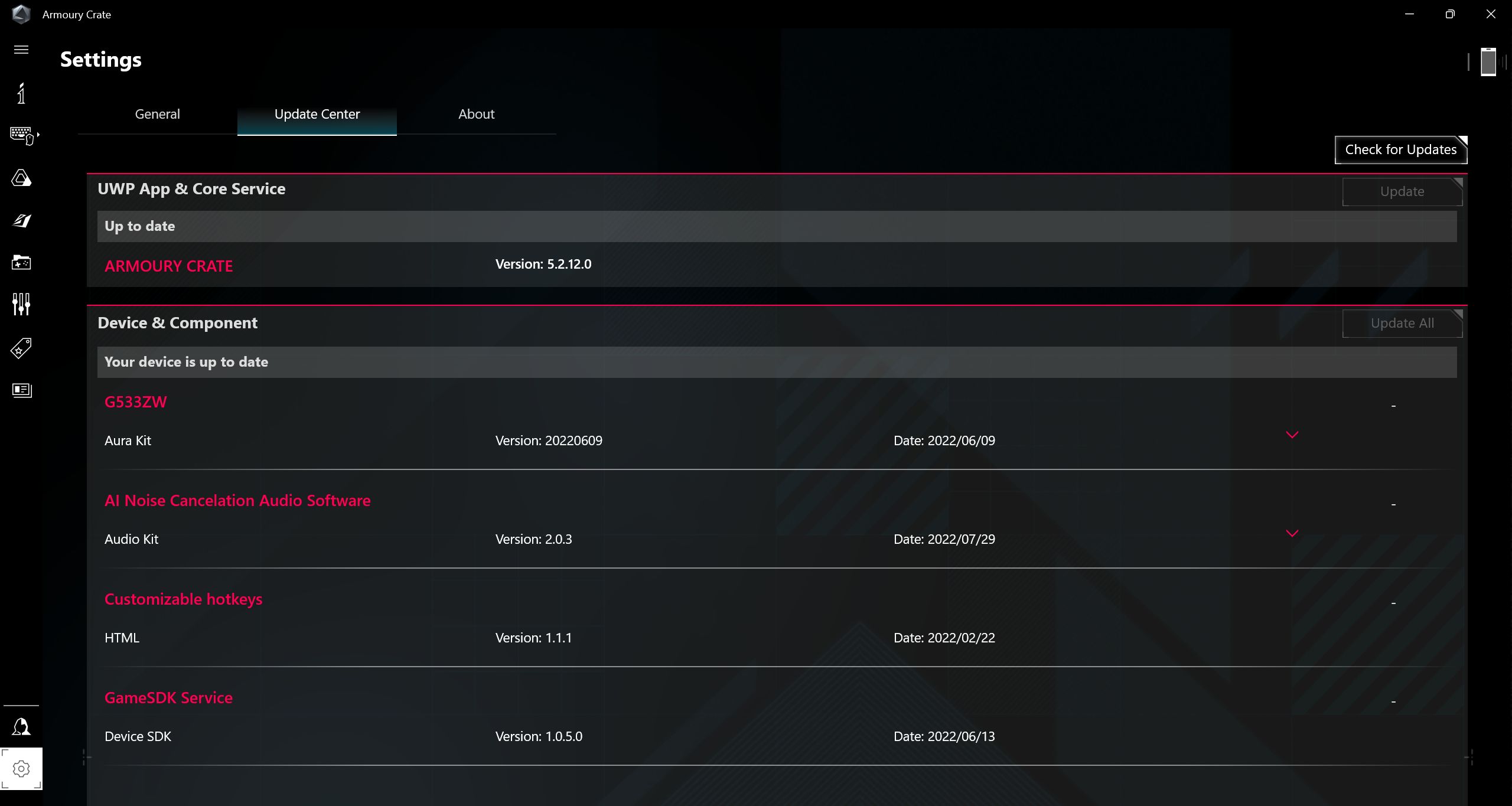 What I Don't Like About Armoury Crate
Everything I said above would be perfectly fine for me to recommend ASUS Armoury Crate if it wasn't for the long list of cons. Let's see what bothers me.
Lots of options and settings you don't need – ASUS crammed as much stuff as possible into the Armoury Crate app, and this I think is when problems started.
You have a user center, with your ASUS registered profile, your devices, bonus points, registered events, and a few other things.
Then there's the featured section: game deals, community wallpapers, Anime Matrix animations, and recommended apps. Also, why is there a News section in the Armoury Crate app?
Tons of useless stuff that bloat the app even more.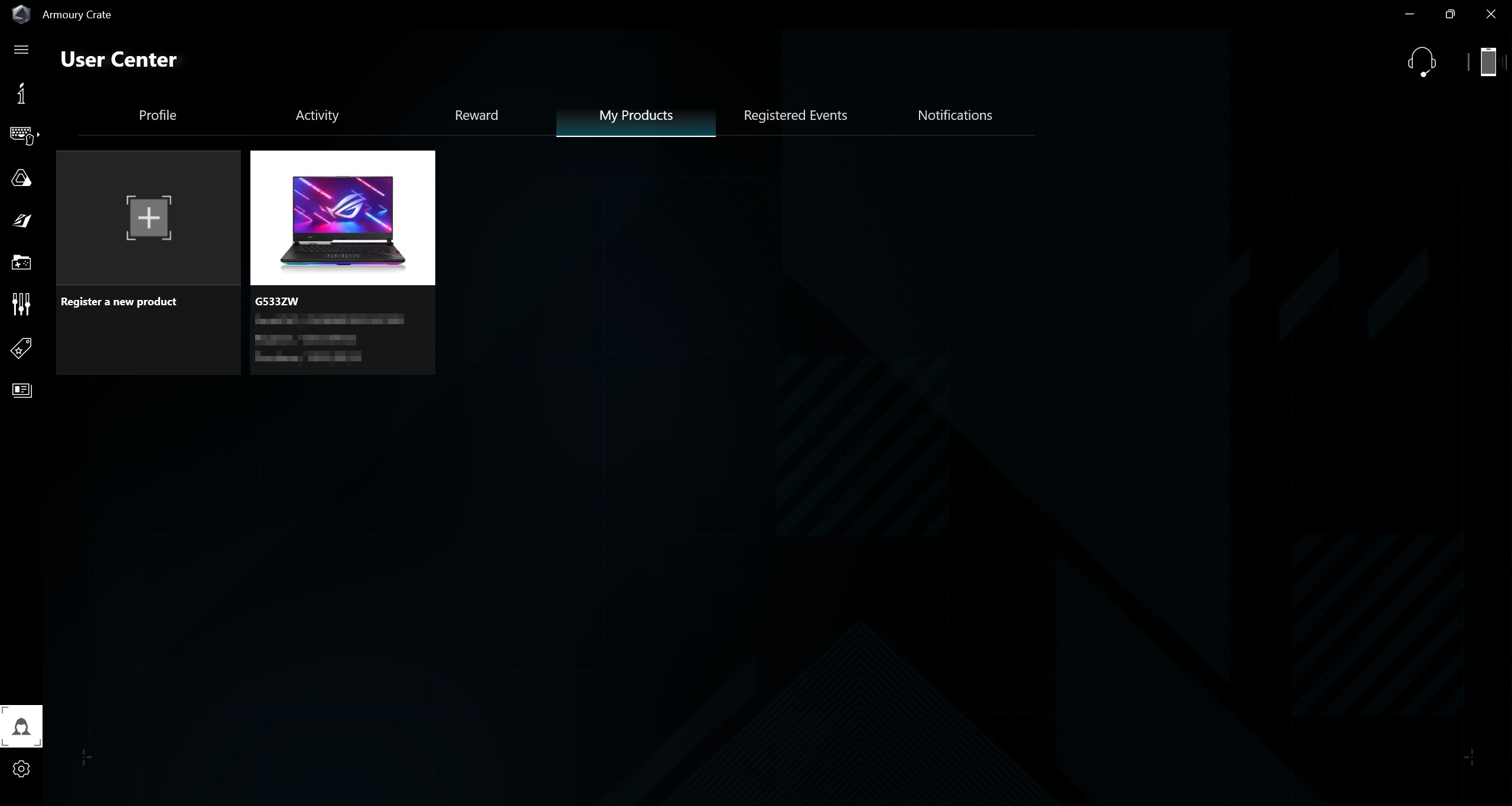 Too many installed programs and running services – this is the worst offender, by far. Look how many programs are installed together with Armoury Crate. There are also tons of services that run in the background, all the time. This can't be good for performance and battery life.
This is what drives me mad and I'm sure will make me completely uninstall Armoury Crate in the future, once I find alternatives.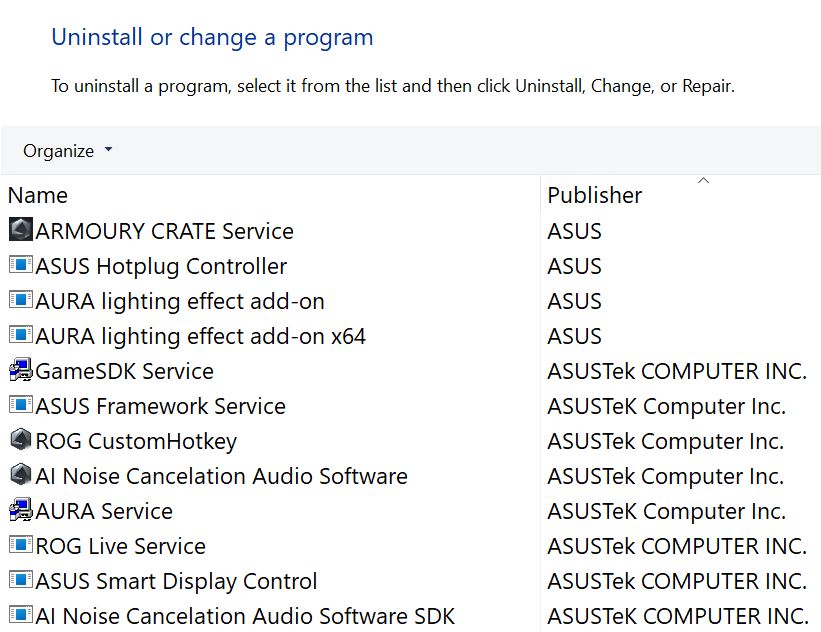 The software is slow, buggy, and unintuitive – this is equally bad: everything you do within the app takes time, and it is sluggish, even on a high-end device such as this. It feels like it's about to crash any minute. And a lot of times it does.
Some options don't show up until you install additional software – I've watched quite a few YouTube reviews before deciding on this laptop, so after getting mine I couldn't figure out why the OSD wasn't notifying me of profile changes for example. Also, there was no option to automatically switch to a low refresh rate for the screen when on battery, and no overdrive toggle either.
It was after quite a bit of research that I found out various other programs needed to be installed, including the MyASUS app, which does little other than display OSD notifications.
After that, these missing options would appear in Armoury Crate. I found out about this from forums, not from ASUS's documentation.
What Can ASUS do to Fix Armoury Crate?
This is my own opinion, of course, but I do think ASUS needs to rework Armoury Crate from the ground up. It's just not OK for a company that prides itself on its engineering prowess to release software this bad.
The app needs to be stripped down to the bare minimum. Then allow you to only install what you need, nothing more, nothing less. Performance-related profiles and fan curves should be added to the BIOS/UEFI. On ASUS motherboards the options are there, so why not on laptops?
I would also cut dependencies on other ASUS apps. If it's in Armoury Crate then it should be installed with it. I now have more ASUS apps and services installed than third-party programs. I'm kidding, of course, but the reality is not far off.
Now, let me know about your experience with Armoury Crate. How are you dealing with it? Did you find any alternatives or workarounds? Let us know in the comments.
Frequently Asked Questions
Can You Use Your ASUS Laptop or Desktop Without ArmouryCrate?
Yes, and No, would be the correct answer. I can use my ASUS motherboard without installing any ASUS software, but that's because the features I need are available in the firmware. In the ASUS laptop firmware there are no options for RGB, fan curves, and performance profiles, so you're stuck with Armoury Crate if you need these.
How to Uninstall ASUS Armoury Crate
The best way to completely get rid of the Armoury Crate app would be to uninstall it using the official tool. It's found here. Make sure you click on Show all and download the app called Armoury Crate Uninstall Tool.

Ideally, you would never install it in the first place or do a Windows reinstall to get rid of any trace of Armoury Crate. And there are tons of traces all over the place.
How to Disable Armoury Crate
You can't disable ASUS Armory Crate app, but you can uninstall the app from your computer.
How to Disable ASUS Armoury Crate Autoinstalling BIOS Option
One thing that really annoys me about Armoury Crate is that there's an option in the BIOS that is enabled by default. This option will sneakily reinstall Armoury Crate even after you have uninstalled the app. This is really too much ASUS.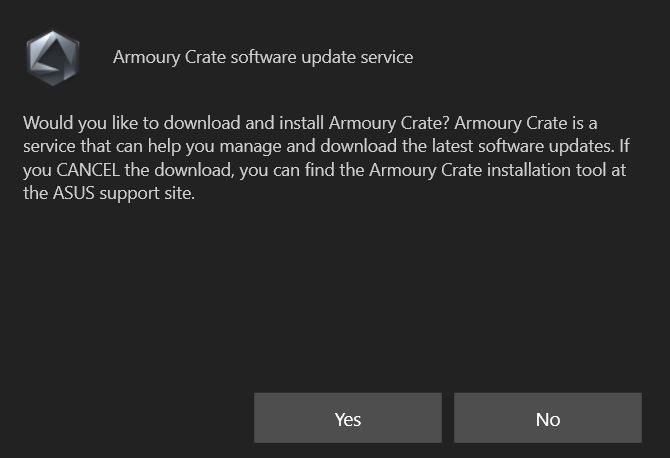 So, head to your BIOS by pressing F2 or Del during boot, find and disable the ArmouryCrate-related option. The option name differs from device to device, but it's there on ASUS motherboards and laptops.
Do I Need Armoury Crate? Is it Necessary to Install?
If you want to take advantage of what your laptop has to offer then you do need Armoury Crate. On a desktop, it's not as needed because there are plenty of options you can configure directly in the BIOS of your motherboard.

If you're using many ASUS peripherals and want to sync RGB lighting and control them together from one app then definitely you should give Armoury Crate a try.
Is Armoury Crate Good?
ASUS Armoury Crate app can be useful in some scenarios, but it's not good software, as it stands right now.

With future updates, ASUS can turn the Armoury Crate software into a good utility by removing unnecessary services and streamlining the interface.