If you need to sign a PDF document by hand you can use the Edge browser for free. No need to install expensive PDF editing software.
This guide works with Edge, but you can also sign a PDF with Firefox. So, signing PDFs for free is possible in Windows, Mac, and Linux operating systems.
Learn how to manually sign a PDF using Edge, how to add text and highlight the document with a marker.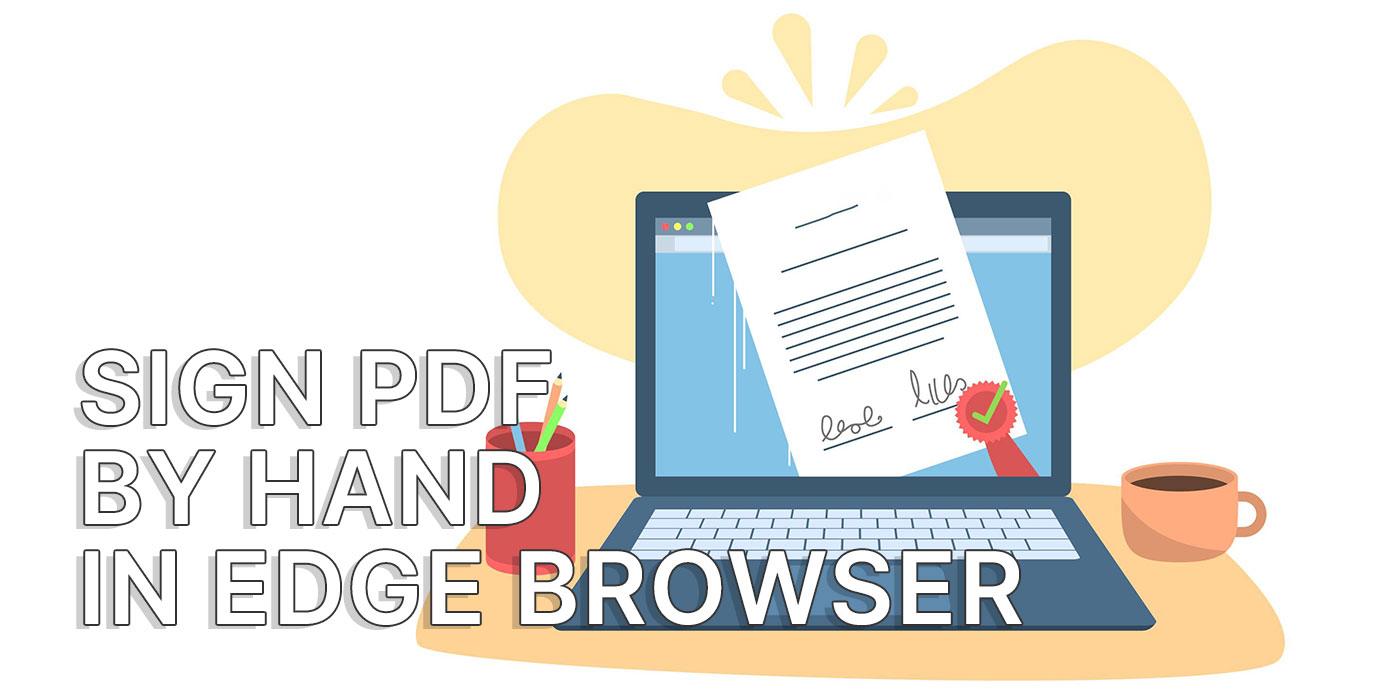 I recently ditched my old HP printer. It was annoying since I bought it, but having to move gave me a reason to "forget" about it.
I don't need to print documents, but I do need to sign some of them from time to time.
If I just described your situation, I'll show you how to hand sign PDF documents for free using the Microsoft Edge browser.
Note: hand signing a document is different from digital signing of a document. If you're doing this for legal reasons make sure this method is accepted.
How to Manually Sign a PDF using Edge
I do believe the Edge browser is becoming a bit bloated, just like Windows. Unlike Windows, where you can debloat things fairly easy, I could not find a way to debloat Edge.
That's not to say Edge doesn't have cool tools that normally would cost money. One such example is the option to not only view PDF files, but also annotate them. You don't need to buy Adobe Acrobat for that. But also, don't expect the same level of functionality either.
For the purpose of this guide, we will be using Edge to hand sign documents. I will assume you don't have Edge set as your default PDF viewer. This method is the worst-case scenario:
1. Open File Explorer (press Win + E) and navigate to the location of the document you wish to sign.
2. Right-click on the document and select Open With > Microsoft Edge.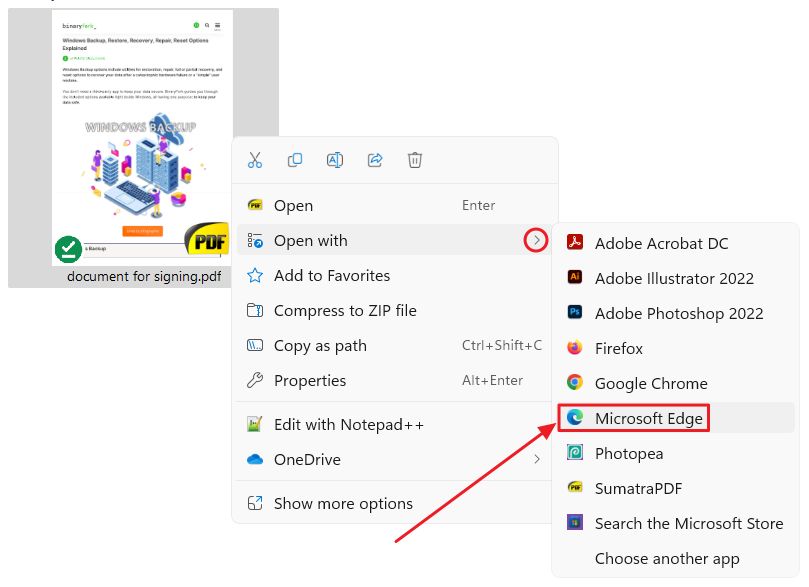 3. The document will open in a new Edge tab. Notice the toolbar at the top of the page. Click on the little arrow next to Draw to select the color of your drawing and the thickness.
4. Once you set the styling to your liking click on Draw and start drawing your signature.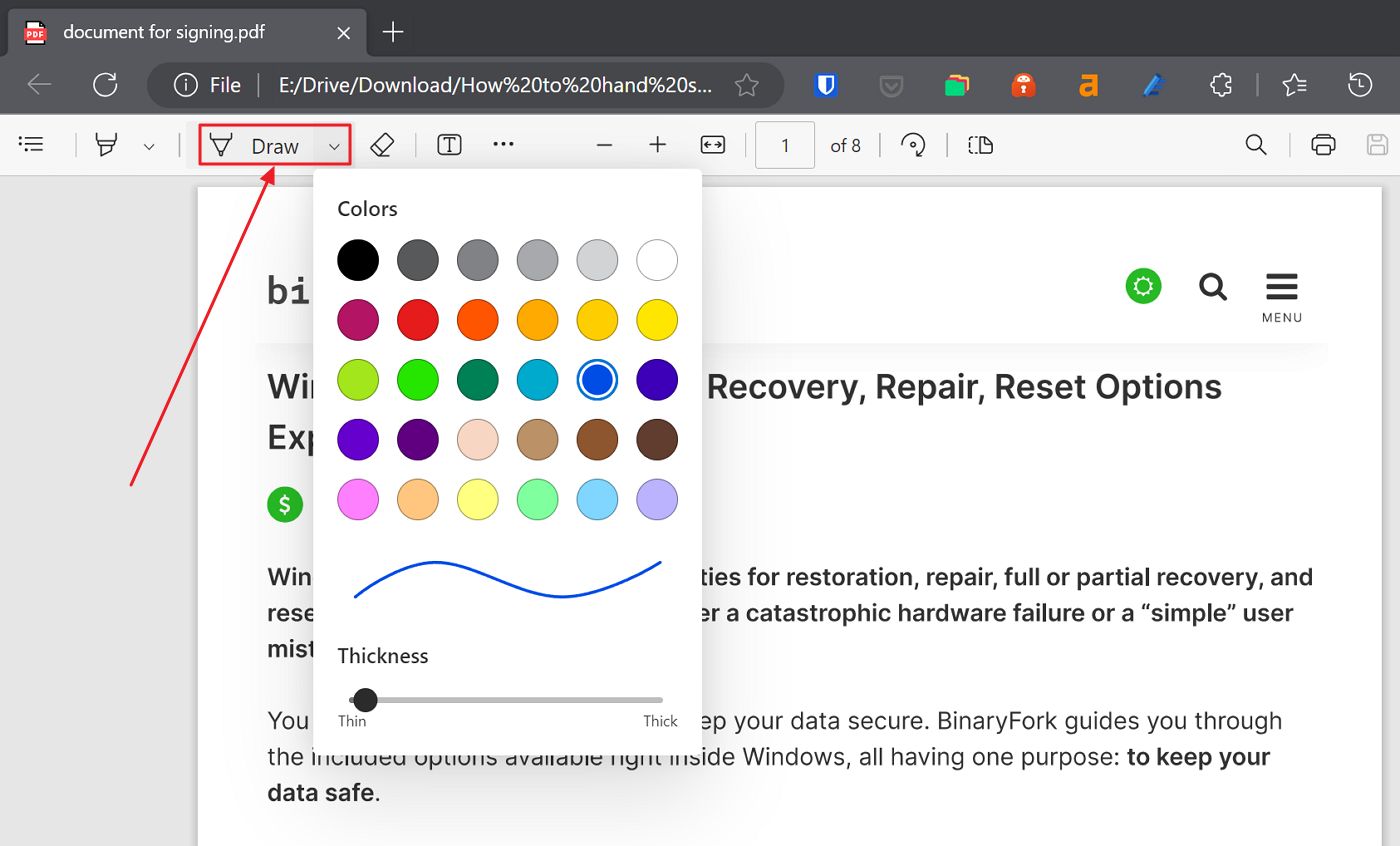 5. Note that you cannot change the drawing once you're done. You can't even move it around. You can only delete it with the (1) Eraser (it's next to Draw in the toolbar), then start over.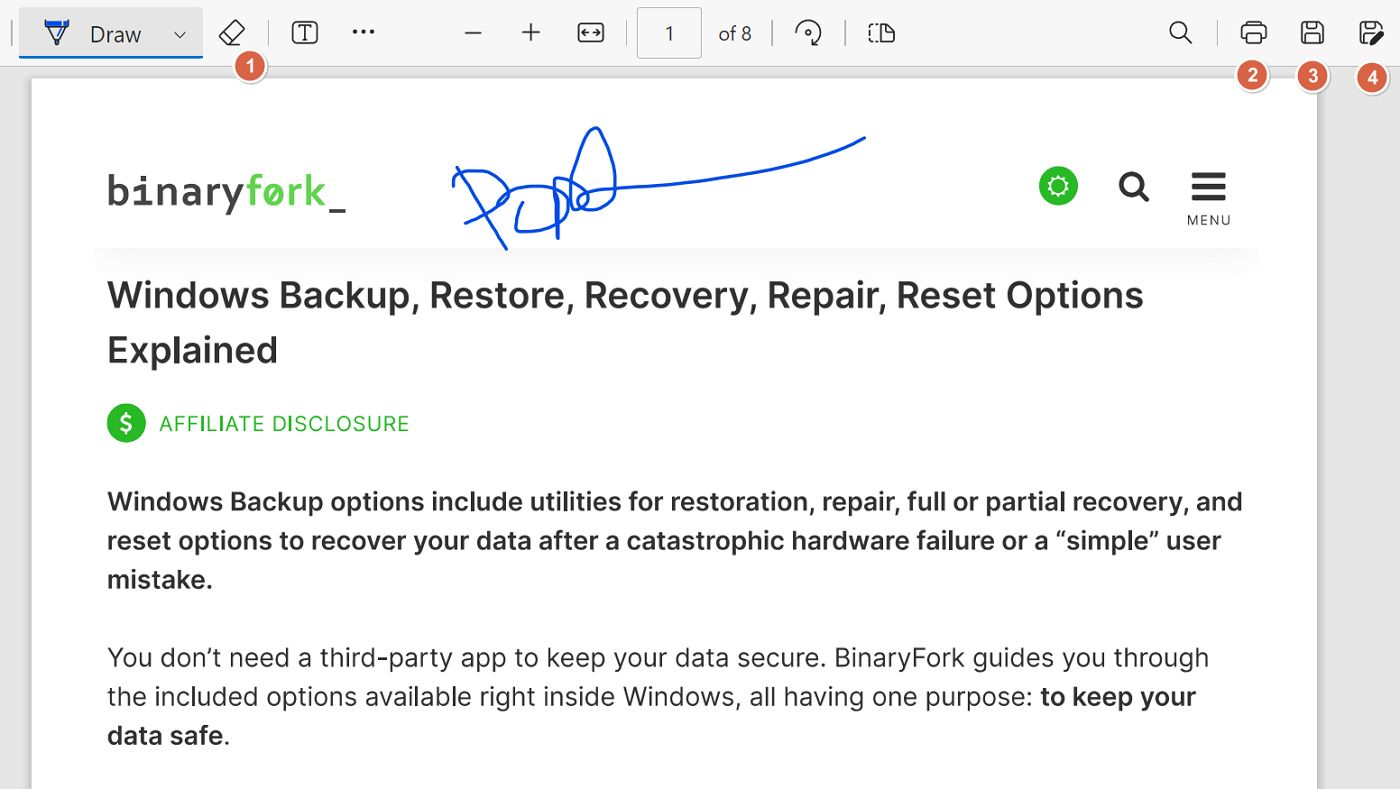 When the document looks OK you can (2) Print, (3) Save overwriting the exiting document, and (4) Save as a new PDF document. The latter option is my recommendation.
Important: this method works best with a touchscreen and a stylus. Signing with your mouse will result in pretty weird "handwriting", despite the fact some curve path smoothing is applied automatically by Edge.
Add Text and Highlight a PDF with Edge
Interestingly, Edge allows you to do a bit more than just drawing over a PDF. It's also possible to:
Add Text to PDF – Use the [T] icon to place text anywhere in the PDF. You can adjust the text element afterward, even after you save and re-open the document.
You can increase, decrease font size, change color and letter spacing. There's no option to select a font face.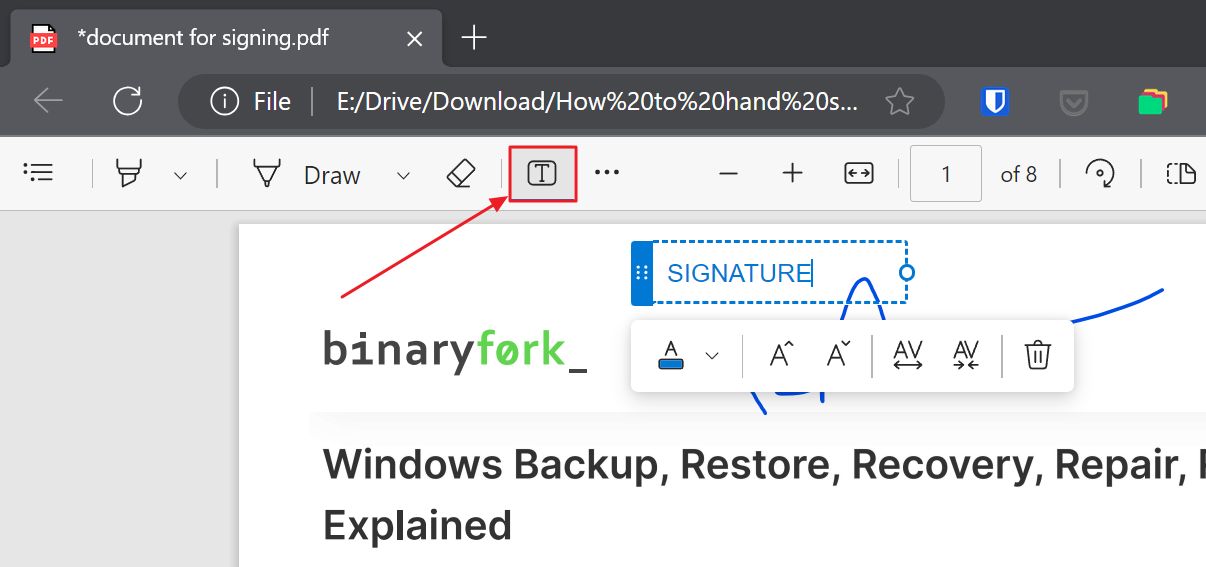 Highlight text – You can use the marker to highlight anything you wish. Just like drawings, you can only delete the element once you're done, so make sure to select the color and thickness beforehand.
There is also an option to highlight only text, but it will only work with vectorial text, not rasterized PDFs with images containing text.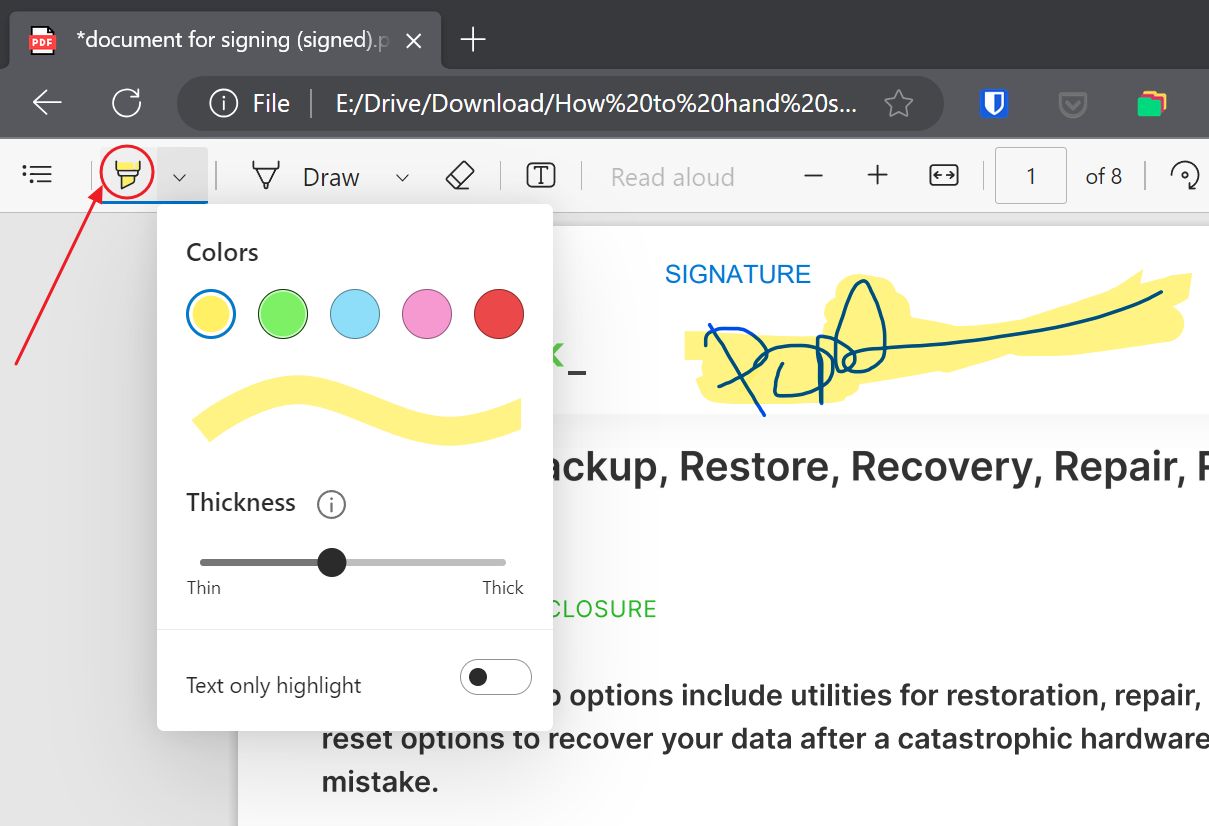 Note: you can also use Firefox for signing PDF documents. You cannot do it in Chrome.

Firefox allows you to change annotation properties and move them around after you created them. Edge can only do that for text you type, not for drawings and highlights.
On the other hand, Edge can re-open a PDF document you previously annotated/signed in Edge and will let you change the text properties and erase drawings and highlights. Firefox will only let you edit text from a PDF you previously annotated using Firefox.
This means that both PDF annotation implementations are currently imperfect. For convenience I'm using Edge, because it's my default browser, at least for now.
If you need to insert a signature in a Word document, it can also be done fairly easily as I shown in the linked article.
What tool do you use to annotated PDFs?