You can use Data Roaming while traveling abroad to access the Internet from your mobile phone.
Data roaming shouldn't be confused with mobile data.
If you enable data roaming on your phone be aware that it may cost you a lot more than your usual mobile plan.
Read on to learn about data roaming, how it works, how to enable/disable it, plus the things you can do to lower data usage while you travel internationally.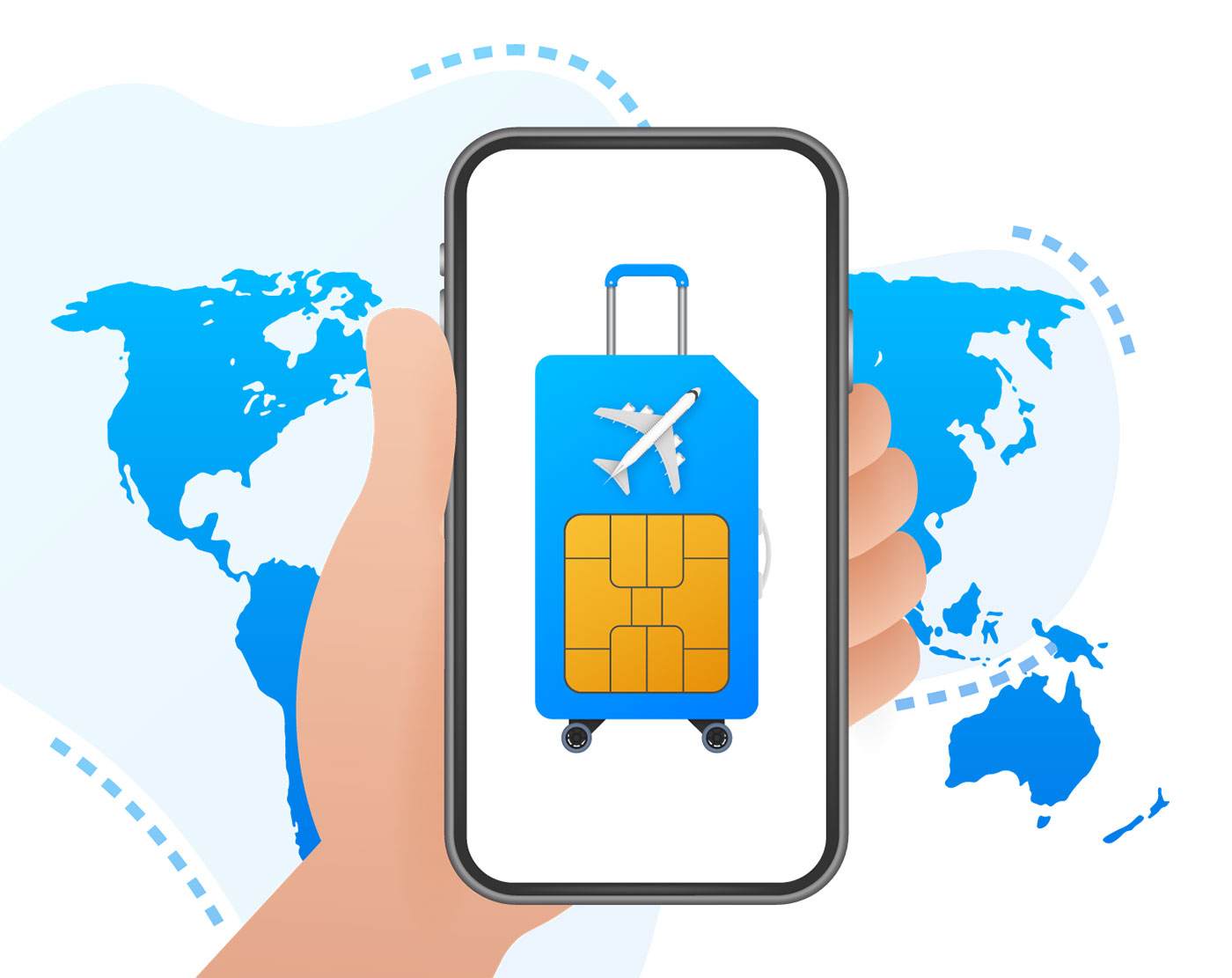 Who can imagine using a mobile phone without an Internet connection? There's not much really that you can do with your phone if it's not online.
Fortunately, the days when you would only have a few hundred megabytes of monthly data to spare on your mobile plan are long gone in most countries. But that's data you can only use in your country, not while traveling abroad.
For that, there's data roaming. Let's dig in and see what data roaming is, how it works, how much it costs, and how to check and keep data usage under control while you're in another country.
What is Data Roaming and How Does it Work?
Data roaming is a convenient feature that lets you stay connected to the Internet while you're traveling abroad. Data roaming usually comes with additional costs and fees. That's why it's important to understand how data roaming works and manage your usage carefully while you're traveling. You want your vacation to be a nice memory, not a debt black hole.
When your phone doesn't have a connection to its home network it will look for and connect to a foreign network if it founds one. This happens automatically when your device is in range of a foreign network, but if you're tech-savvy enough you can manually select a network to connect to from your phone settings.
Either way, your device will be able to access the internet and other data services while you're abroad just like when you are at home.
What's the Difference Between Data Roaming and Mobile Data
Mobile data is the option to connect to the Internet using the wireless modem of your smartphone, tablet, or (in rare cases) laptop. Data roaming is the option to use mobile data while you're connected to a foreign mobile network, in another country.
Data roaming is thus a specific type of Mobile data.
Does Data Roaming Cost a Lot of Money?
Prices for data roaming vary considerably, from zero to a few dollars per megabyte. Yes, while roaming in some countries you can pay over $10 per megabyte! That's $10.000 for one gigabyte of data.
Always check before using data roaming. It can hurt your savings or even bankrupt you if you're not careful.
In the EU you can travel abroad and use data roaming, send, and receive calls and messages without additional costs if your plan supports roaming. This only applies to EU citizens that travel inside the EU. See details on this page.
Should You Keep Data Roaming On or Off?
It all depends on your cost. Some providers offer special roaming packages or plans that can save you money, so it's worth looking into those options before you travel.
Enabling a data roaming option could enable special tariffs per data unit, significantly better than using the normal plan in roaming.
If you're unsure, it's best not to use data roaming. See below how to disable data roaming.
How to Check If My Phone is Currently in Roaming?
Well, you would know if you were in another country, right? Jokes aside, sometimes when near the country border it's possible for your phone to detect a stronger foreign network and still connect to it, despite the fact that you're still in your home country.
To check if your phone is connected to a roaming network you would look for the cellular symbol next in the notification tray at the top of the screen. A small R-letter symbol should be overlayed on top of the signal strength bar.
If you go to settings and check the network you're currently connected to you will see it's a completely different carrier. The name should also include the country the carrier is based in.
Also, usually, you'll receive an SMS with the roaming costs after your phone connects to a foreign network. The message should arrive immediately, but that's not always the case, so don't rely on it too much.
Tips To Lower Data Usage While Roaming
We've all heard the stories of people receiving roaming bills amounting to tens of thousands of dollars. That's a scary thing and I can't fathom the idea of paying an enormous sum of money for a few gigabytes of data that I can use in just a couple of days.
Let's see what can be done to lower data usage in roaming:
Use WiFi whenever possible.
If you have a dual SIM phone you can buy a second pay-as-you-go SIM from the country you're traveling to – this worked for me on countless occasions.
Limit data usage from your phone settings and monitor usage constantly.
Make sure you don't use data-intensive apps such as anything that streams videos of music (YouTube, Spotify, and similar apps).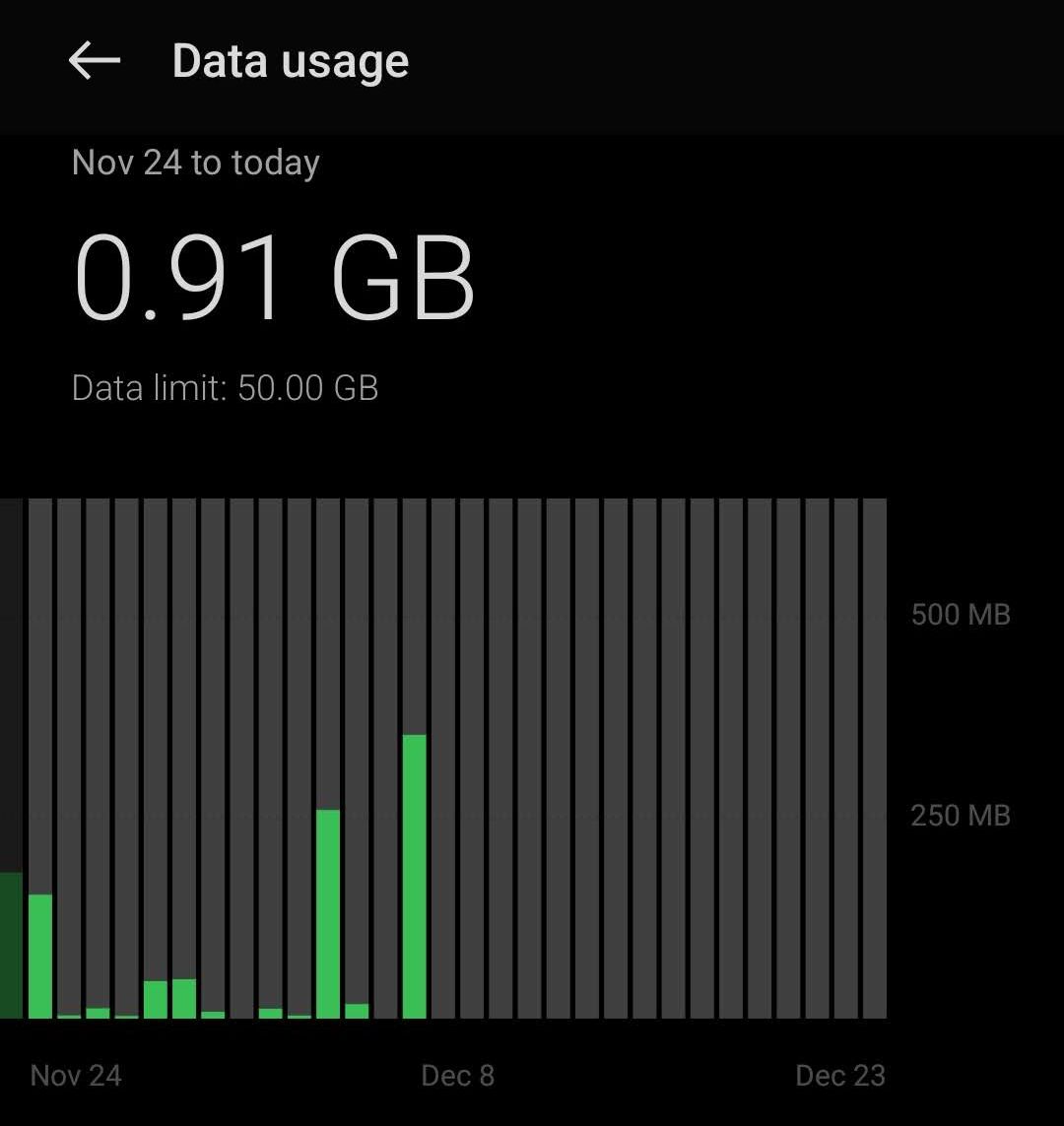 How to Enable Data Roaming and How to Turn Off
If you're still not sure you want to be using data roaming I've added short guides on how to disable (and enable again) this feature on Android, iPhone (iOS), and Windows.
Roaming enabled devices will connect automatically to a foreign network while roaming, so make sure you disable Data Roaming before you leave your country if you don't want any roaming surcharges on your phone bill.
Android
Settings > Mobile network > Select SIM with data enabled (if your phone is dual-SIM) > Data Roaming toggle.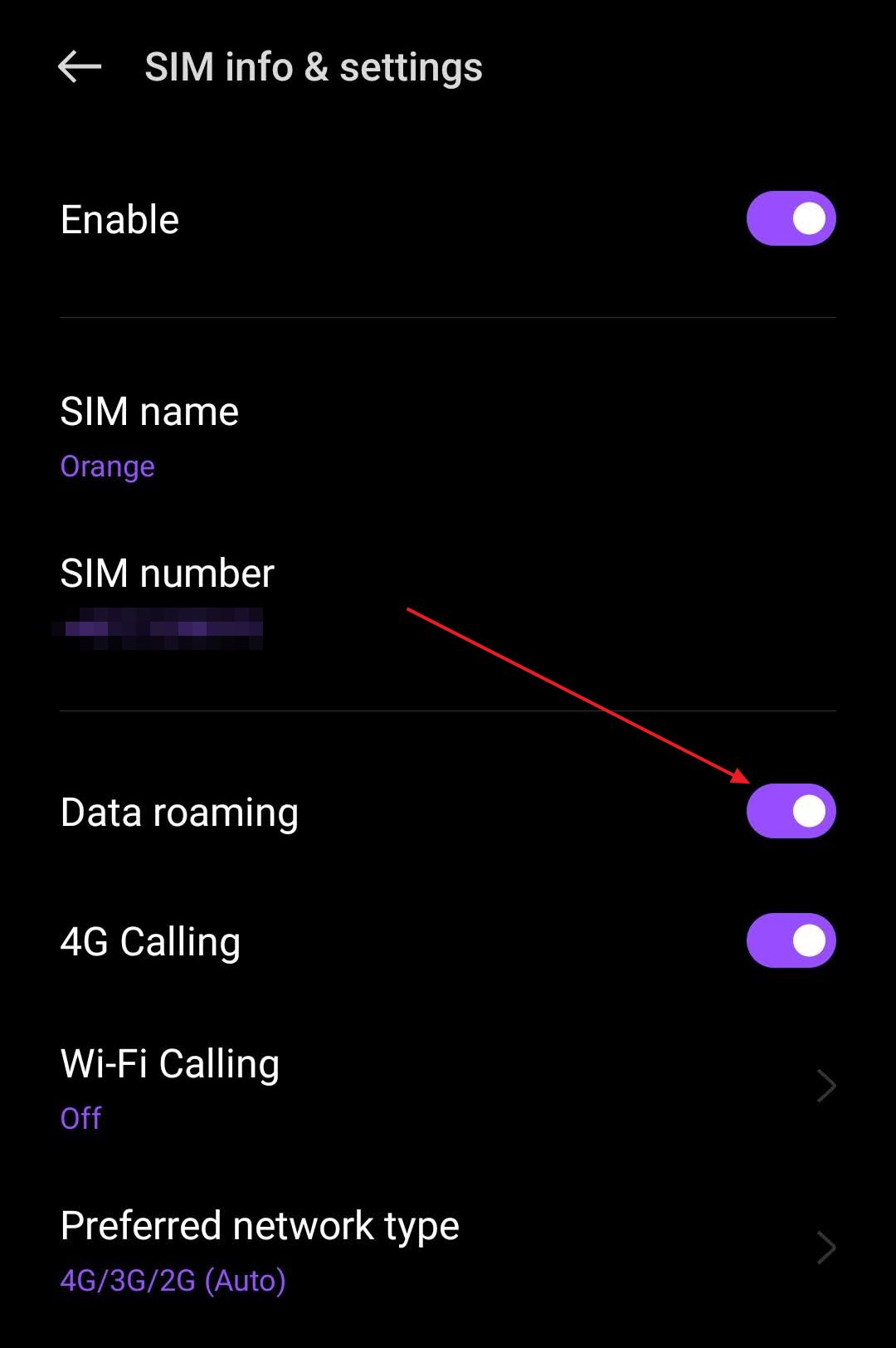 In Android, you can also add a Mobile Data toggle in the notification shade, which will disable or enable all data transfers, if you prefer a secure kill switch.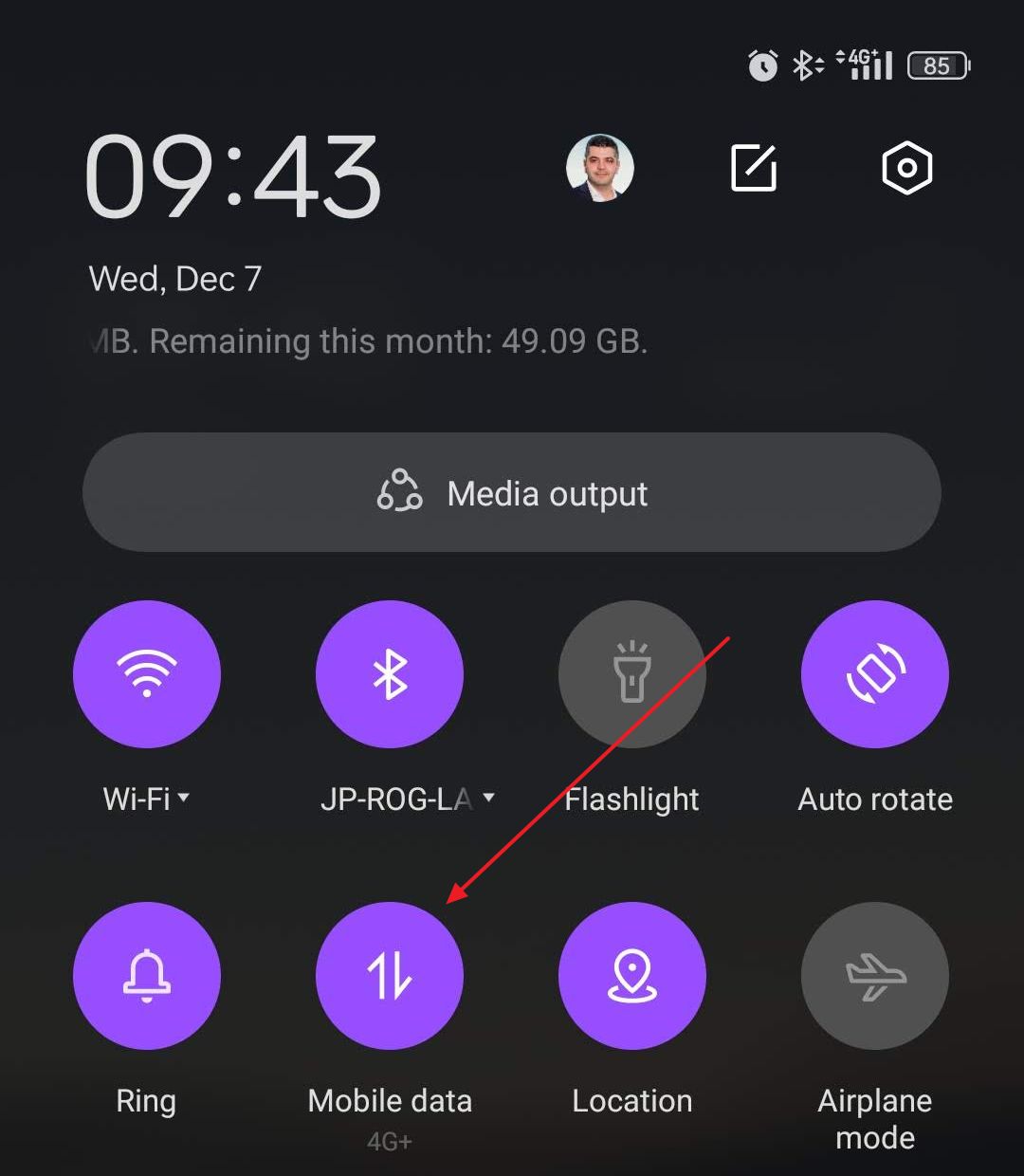 iPhone (iOS)
Settings > Cellular (Cellular Data / Mobile Data) > Turn on Cellular Data > select Cellular Data Options > Data Roaming toggle.
Look for a Cellular Data toggle in your iPhone quick toggles menu, if you want to find the same kill switch that turns off all mobile data transfers.
Windows 11 and Windows 11
Settings  > Network & internet  > Cellular  > Data roaming options select Roam or Don't roam options.
If you've using a mobile device in roaming as a hotspot (example for Windows), the connected devices won't know if you're using a roaming connection. Data roaming refers to the integrated cellular connection, not the parent device connection.
Will Data Roaming Work on My Phone?
If you're wondering if your phone will work in a roaming network from a technical point of view the answer is most likely yes. Even if your phone won't support all the 4G and 5G mobile bands from the other country, some form of data connection, even if at lower speeds will probably be available to you.
Don't take this as a certainty, and make sure you check before you travel.
Besides technical compatibility, you should also ensure that your phone is configured with mobile data and data roaming both enabled. Disabling mobile data or enabling airplane mode will also disable data roaming!
The last thing to check is that your home mobile carrier allows roaming on your mobile plan. If you're on prepaid there's a big chance roaming is not "compatible", unless you're from the European Union.
I am, and I'm using roaming on a pay-as-you-go SIM without issues. As always, you should check with your provider, though.
And now you know what data roaming is and how it works. If you're interested in more articles about mobile phones and mobile technologies make sure to check out our dedicated section.