The ASUS ROG Strix Flare II Animate is a full-size (100%) mechanical gaming keyboard with a white LED display called AniMe Matrix and many features and options found on custom mechanical keyboards, such as noise-dampening foam and hot-swappable switches. Here are my thoughts on it:
ASUS keyboards are without a doubt getting better and better while adding tons of interesting features that some will find cool, others not so much. The ASUS ROG Strix Flare II Animate is a full-size (100%) mechanical gaming keyboard equipped with a white LED display called AniMe Matrix.
Anime is an ASUS innovation coming from the Zephyrus G14 that can display all sorts of custom animations, notifications, and information about the system it's connected to.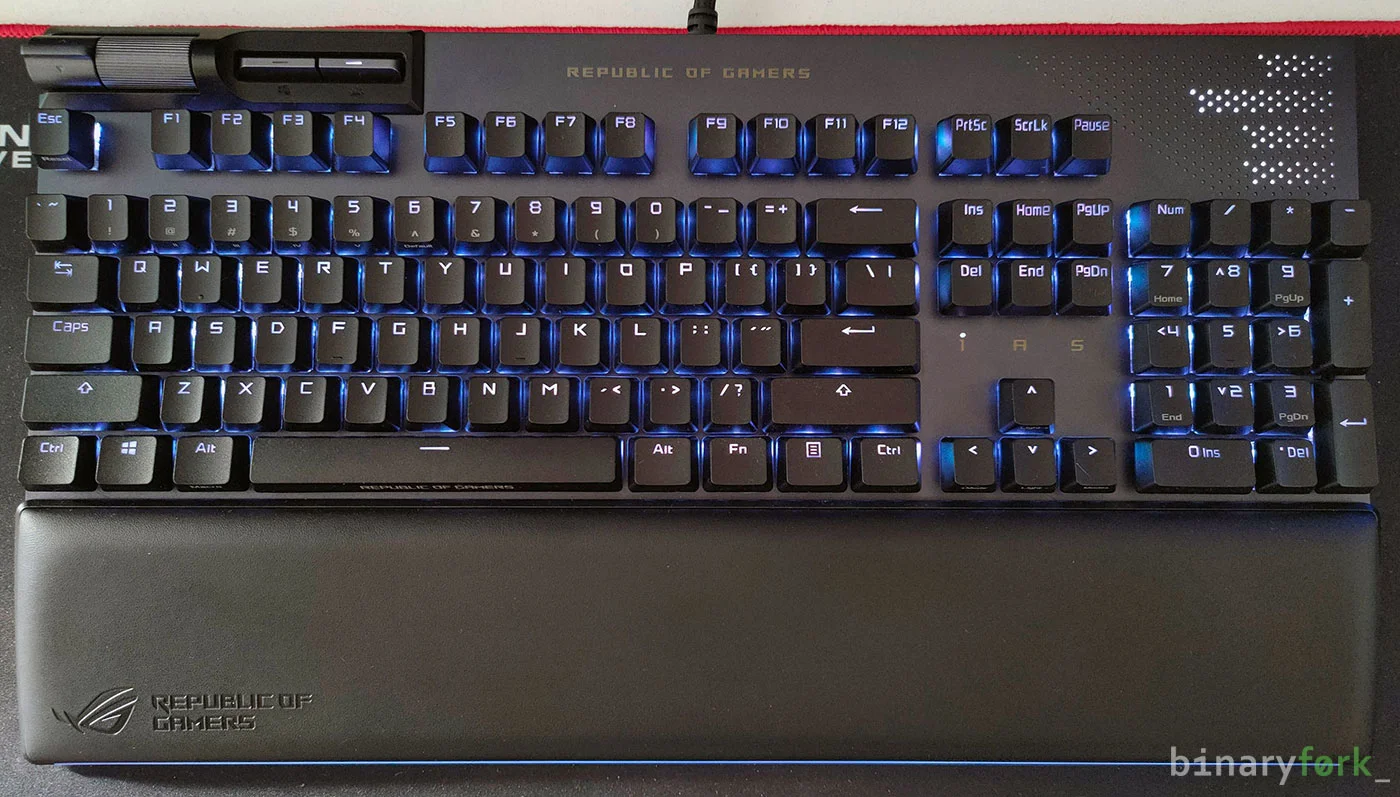 Unlike the AniMe Matrix implementation on the ASUS Zephyrus G14 gaming laptop, which has no practical application because it's placed on the back of the laptop, on the ASUS ROG Strix Flare II Animate this display is more practical.
It can be used to show system stats, cool images, and animations, or to notify you of certain key presses (volume adjustment, mute, play/pause, change the brightness level, and a few others).
The ASUS ROG ROG Strix Flare II Animate is a well-built mechanical keyboard with a metal top (the bottom is plastic, though) that ticks a lot of boxes if you compare it to custom mechanical keyboards
It's programmable, it uses noise reduction foam for better sound, and it comes with hot-swappable switches if you don't like ASUS' included custom NX Red switches, which I suspect are a bit lubricated from the factory. Plus, the keyboard uses double-shot PBT plastic keycaps with the key legends illuminated (shine through), which makes them visible even in the dark if the backlight is on.
Also read: Mechanical Keyboard FAQ
But don't be misled, because it's not a mechanical keyboard for purists. We're dealing with a keyboard built for gamers, which might still appeal to non-gamers thanks to its design, build quality, and comprehensive feature set.
Those who have spent tens of thousands of dollars on a custom mechanical keyboard will probably be unimpressed. Being a bit of a mech aficionado myself I can't blame them.
Main Specs of the ASUS ROG Strix Flare II Animate
Model
ASUS ROG Strix Flare II Animate
Format
Full-size ANSI layout (100%)
Color
Gunmetal
Switch options
Cherry MX Red, Cherry MX Brown, Cherry MX Blue, ROG NX Red
PCB
Hot-swappable
Keycaps
PBT double-shot keycaps with shine through
Polling rate
up to 8000 Hz
Lighting
AniMe Matrix LED display
Per key RGB LEDs
Front lightbar
Dimensions
Keyboard: 435mm x 165mm x 38mm
Wrist rest: 435mm x 85mm x 27mm
Weight
1157 grams
Cable
Braided, 2 meters, non-removable
Connectivity
USB 2.0
USB Pass-through
USB 2.0
Accessories
included foam wrist rest, ROG keycap puller, ROG switch puller
Looks, Functionality, and Construction Quality
As you know, design and aesthetics are highly subjective, so you may not agree with what I'm about to say next. There are many things I like about the design of the ASUS ROG Strix Flare II Animate, but I dislike the font used for legends, i.e. the text on the keycaps.
The letters are way too big, and the font looks a bit childish to me. This is probably my biggest design complaint. The second thing would be the use of the Republic of Gamers lettering in three places: the top of the keyboard, the spacebar key, and the palm rest. One mention would have been enough, for my taste.
Other than that, I like the flat design, square shape, no angles, and lack of complicated design lines, usually associated with gamer-oriented products. The top of the case is made out of metal, including the multimedia key area. There is no sign of flexing of the casing, no matter how hard you press on the keyboard deck.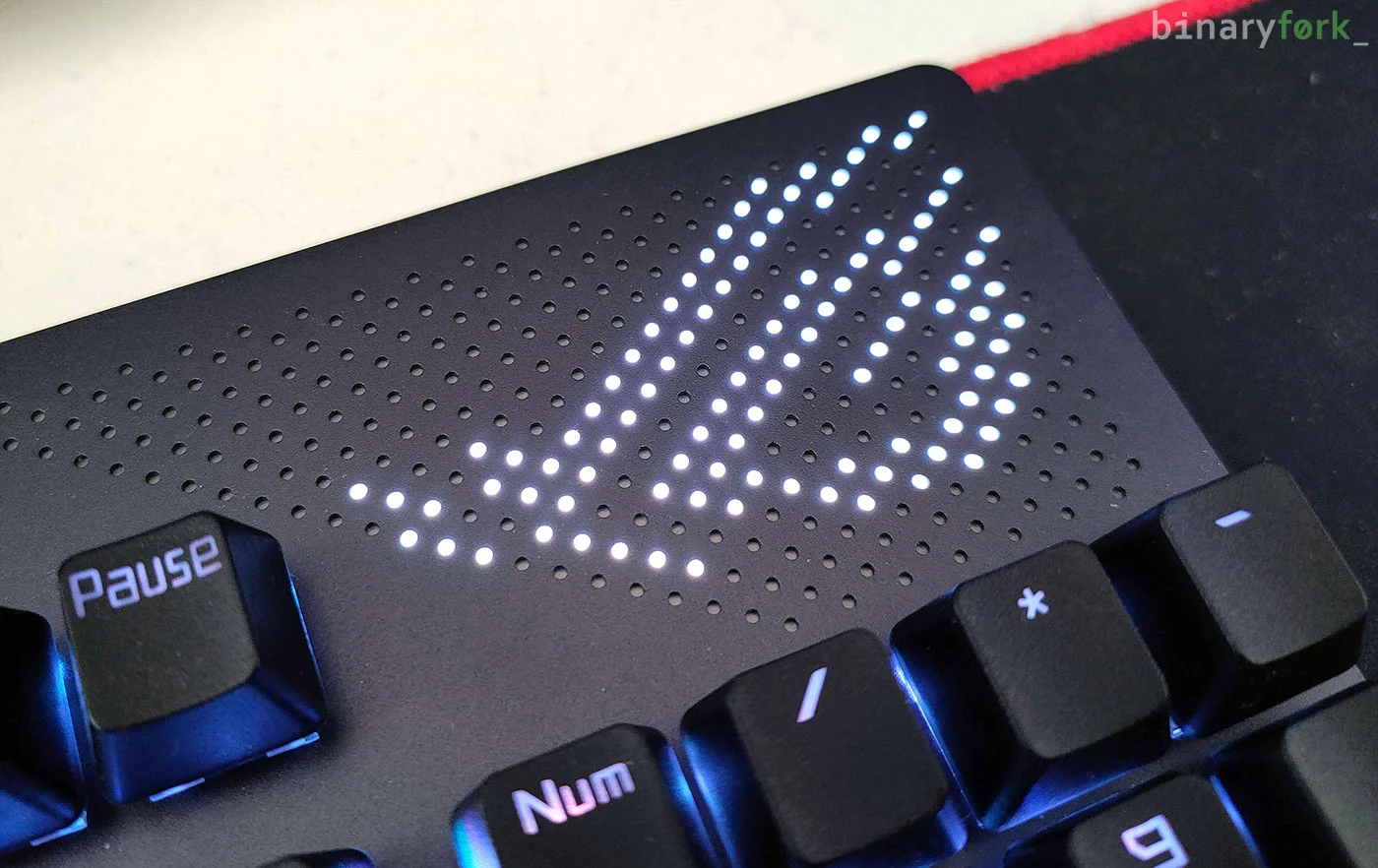 Because of the AniMe Matrix screen, however, the keyboard is quite deep. Account for the palm rest and the keyboard will take up a lot of desk space, which could be a problem on shorter desks.
Coming from a 75% keyboard, the ASUS ROG Strix Flare II Animate initially seemed huge to me, but I got used to it pretty quickly. I only wish there was a TKL version available. That would be my choice.
As for thickness, mechanical keyboards tend to be thicker, but the ASUS ROG ROG Strix Flare II Animate uses keycaps with a slightly lower profile compared to the Cherry standard, so while I wouldn't call it a thin keyboard by any stretch of the imagination, it's quite comfortable to type on even without using the palm rest. I didn't feel any wrist pain after a few days of typical use.
The switch housing is exposed, and that's something you might like, as the transparent housing will let the light emitted from each RGB LED to shine through the sides as well, not just the legends on the keys.
The illumination isn't discreet, even on the lowest brightness setting, so in a low-light environment the keyboard will light up the room quite brightly. If you're a late-night gamer this is something you should be aware of.
There's even a light bar at the front, which is pretty uniform. The PCB's LEDs face north. If they were facing south, we'd get even more light. For most people, this doesn't matter at all.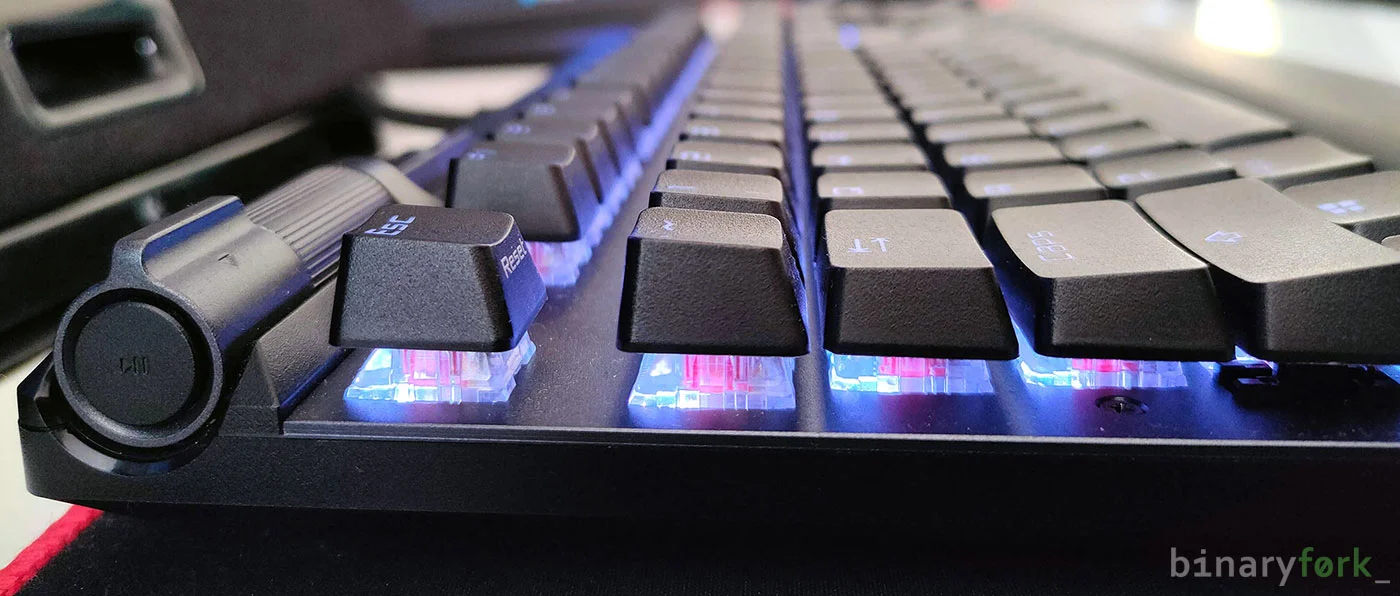 By default, the keyboard has a very slight tilt, which helps typing, but you can tilt it even more. Two rubber flaps can help lift the keyboard even more once open. Some keyboards offer an additional angle of adjustment. Not this model. I have found, however, that the default typing angle is good enough for me.
Although the USB cable is not detachable, it is of good quality, it is braided, but it is thick, very thick, so very hard to flex and route neatly across the desk. This is because the keyboard has a USB pass-through port that you can use to connect a mouse, so at the computer end the cable splits in two.
Yes, you'll need two free USB ports if you want pass-through functionality. Unfortunately, the USB port on the keyboard is placed on the left side of the keyboard, so a wired mouse will create a bit of a mess of cables on your desk.
You also can't use the port for connecting an external storage device, as it's only USB 2.0 speed. I mean you could, but the speed will be very low.
Main Features
A mechanical keyboard these days is packed with a lot of features, even entry-level models. The fact that the ASUS ROG Strix Flare II Animate is a premium product means we're dealing with a lot of functions and features that try to enhance the user experience.
Probably the first thing that will catch your attention is the RGB lighting. You don't need to install a program to use the keyboard right out of the box, which is fine with me, but you will have limited control over the lighting modes.
Fortunately, it's very easy to set the keyboard to white, static light at a comfortable brightness level, which was the first thing I did, of course.
I'm not a big fan of RGB, as you've probably already figured out. If you want advanced functionality and customization options, you'll have to install the ASUS software. More on that further down this page.

Secondly, there is the included palm rest, which we need to talk about. It attaches magnetically to the front of the keyboard, but you'll need to remove the plastic light strip cover before installing it.
There's a well-thought compartment inside the palm rest, also magnetic, where you can store it safely. In this way, the light from the keyboard's front LEDs is sent through a piece of Plexiglas to the front of the palm rest. Very nice ASUS!
The palm rest is made of some sort of soft foam covered with artificial leather. It's comfortable, but I find it a little too short and too tall, reaching almost to the level of the first row of keys.
I also would have preferred it to be a little wider than the keyboard, as my left palm almost falls off in the normal typing position. My OCD appreciates that the palm rest is the same width as the keyboard, but in practice, it doesn't seem to be an advantage.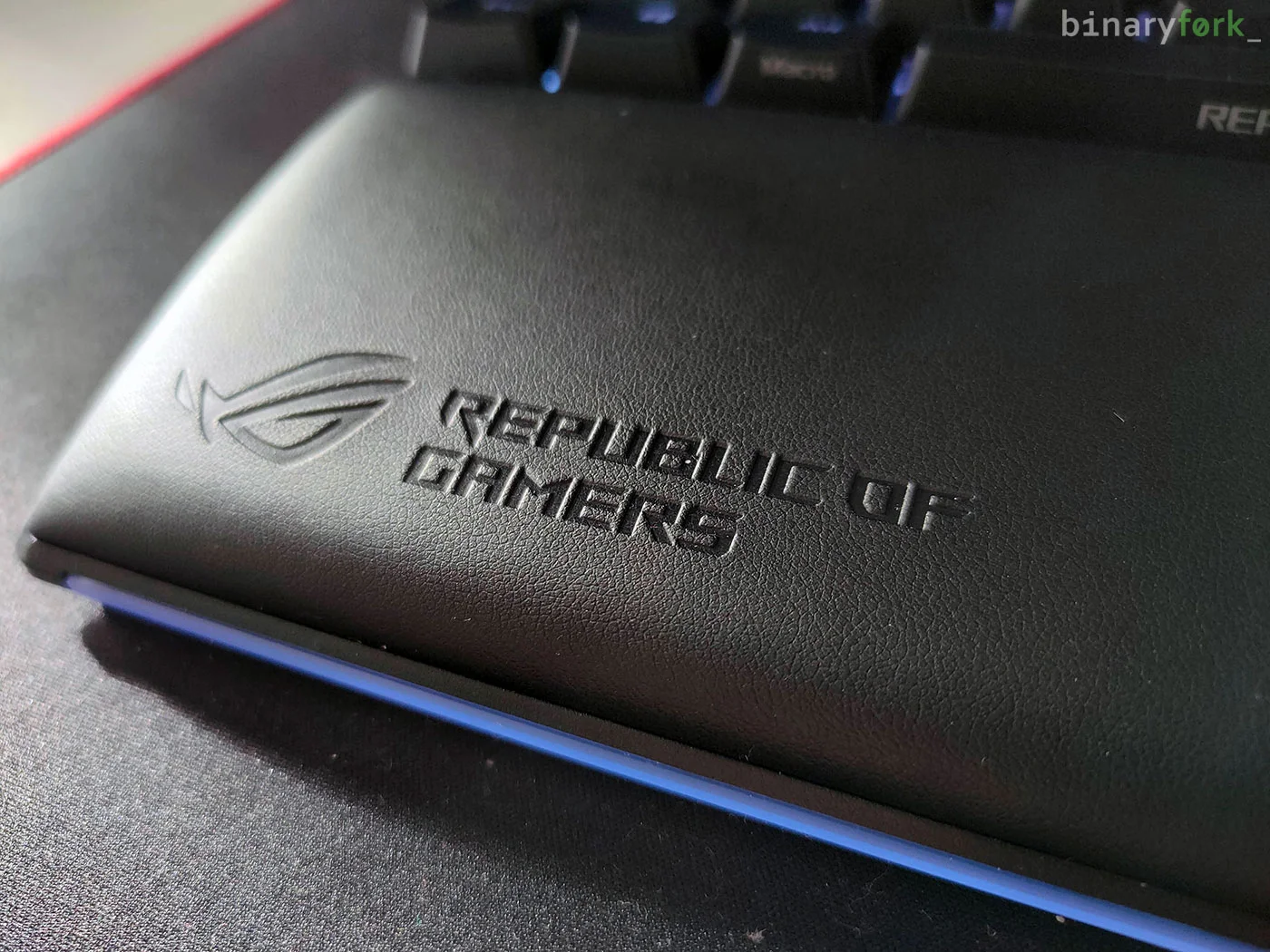 One of the central features of this keyboard is probably the PCB with hot-swappable switch sockets. This means that you can swap mechanical switches with another brand as long as they are Cherry compatible. Most of them are, by the way.
So you can switch to tactile, silent, or clicky switches at any time. You can even mix and match them if that's what you like. I don't see any reason to do that, but hey, you can if you want.
ASUS also includes a pretty good keycap puller and switch puller in the package, so you can easily remove them by yourself. There's no need to buy extra tools, which is something I appreciate.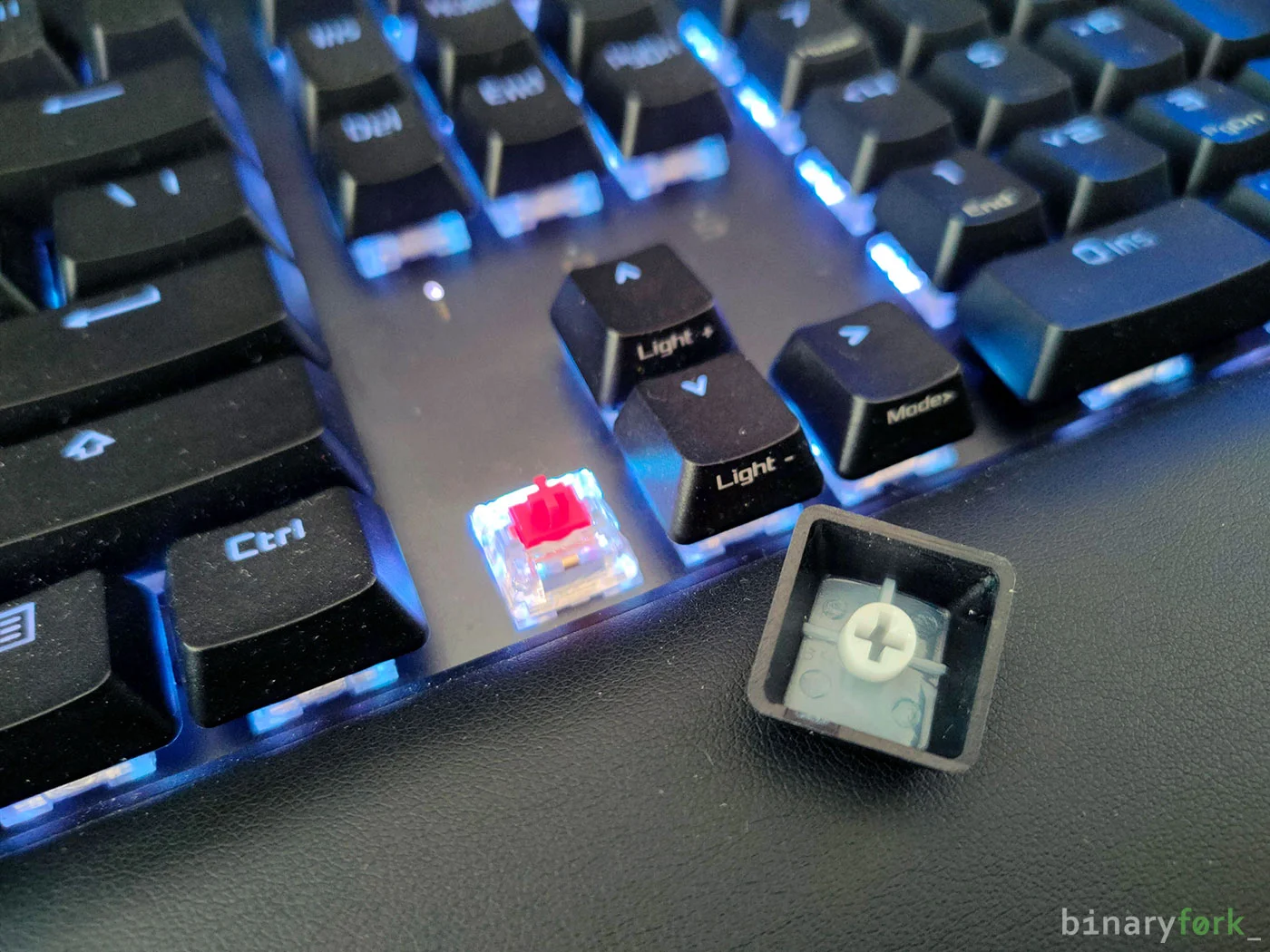 Another important point, this time for gamers, is the 8000 Hz pooling rate, which is meant to reduce lag during competitive sessions. By default, the keyboard is set to 1000 Hz, so you can only change the USB pooling rate via its bundled software. I think 1000 Hz is already overkill, but maybe competitive gamers will feel the difference. For most people, it is just placebo speed.
To me, it makes no difference: 0.1 milliseconds versus 0.125 milliseconds is measurable, not noticeable. The same goes for N-Key rollover. Even with two people smashing the same keyboard at a game of Mortal Kombat in a hot seat game, a 20-key rollover would have sufficed, but it's nice to know you can sit with your "behind" on the keyboard and no keystrokes will be wasted.
The keycaps are made of PBT plastic, they're glossy and double-shot, which means they'll resist stains and finger oil better than ABS plastic. The keycaps also have a slightly rough texture.
They're not the thickest on the market, so the typing feel and sound they produce isn't quite the same as that produced by a thicker set of keycaps, such as one produced by GMK. For a pre-made mechanical keyboard, they're still very OK.
Also, as far as keycaps go, besides the rather gamery font, the second row of functions for the top numeric row is not illuminated. In the dark, you'll struggle to find keys like the dollar sign. It's a bit annoying.
At least you can easily find the W key thanks to the fact that it has a little bump, which makes it easier to position your fingers in the WASD area while playing.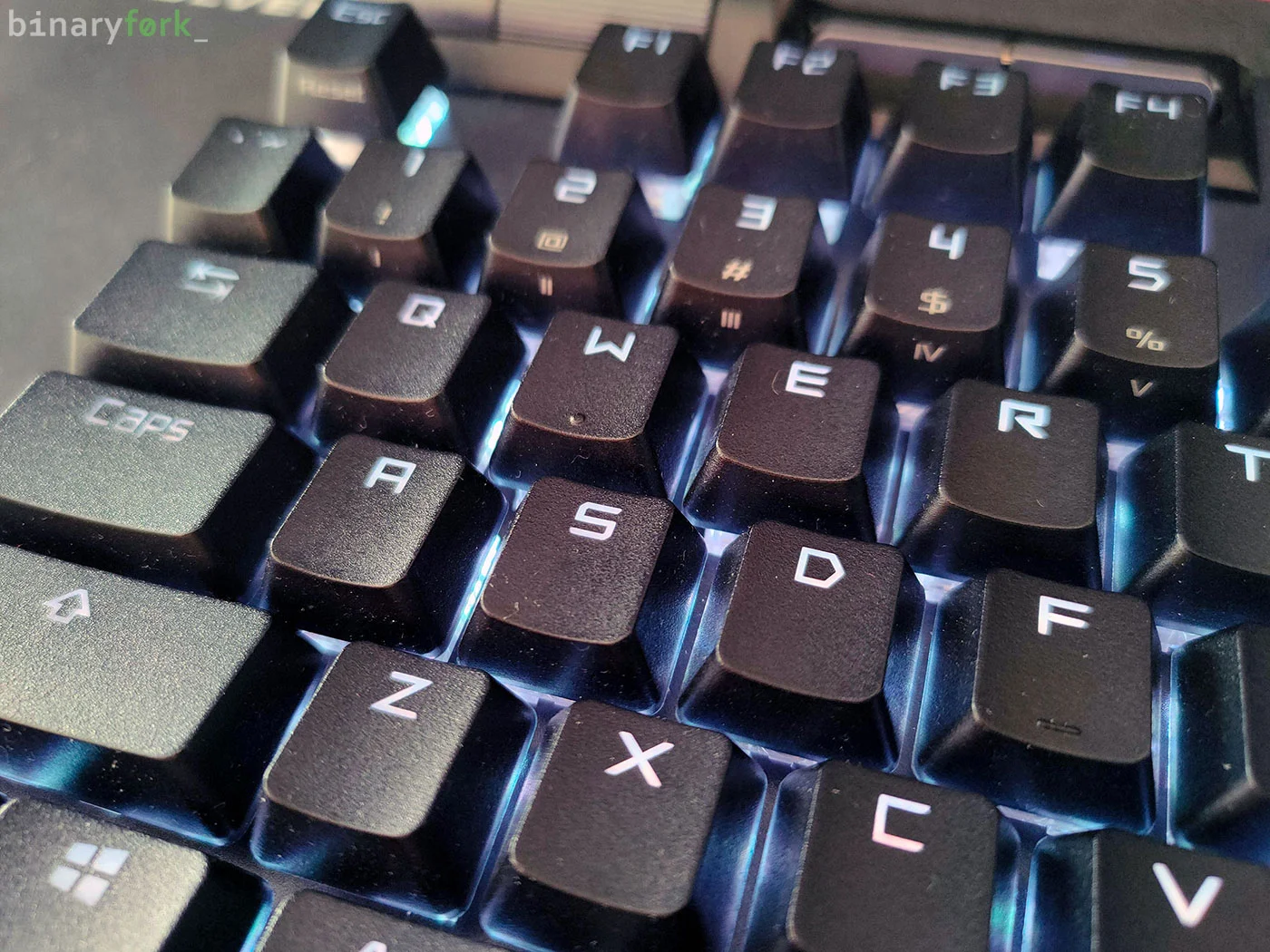 One of the things I like is the multimedia key area on the top left of the keyboard. It looks good and feels good to the touch. Usually, keyboards have these custom keys placed on the right side, but because of the AniMe screen, there wasn't room there any more.
To me, this looks like an advantage because you don't have to move your hand away from the mouse when adjusting the volume, for example.
Fine volume adjustments can be done via a rotary controller. You can press the huge volume wheel to mute. A toggle controller lets you switch to the next/previous track. There's also a button on the left for play/pause. The two visible buttons on the right quickly disable the Windows key and control the intensity of the lighting.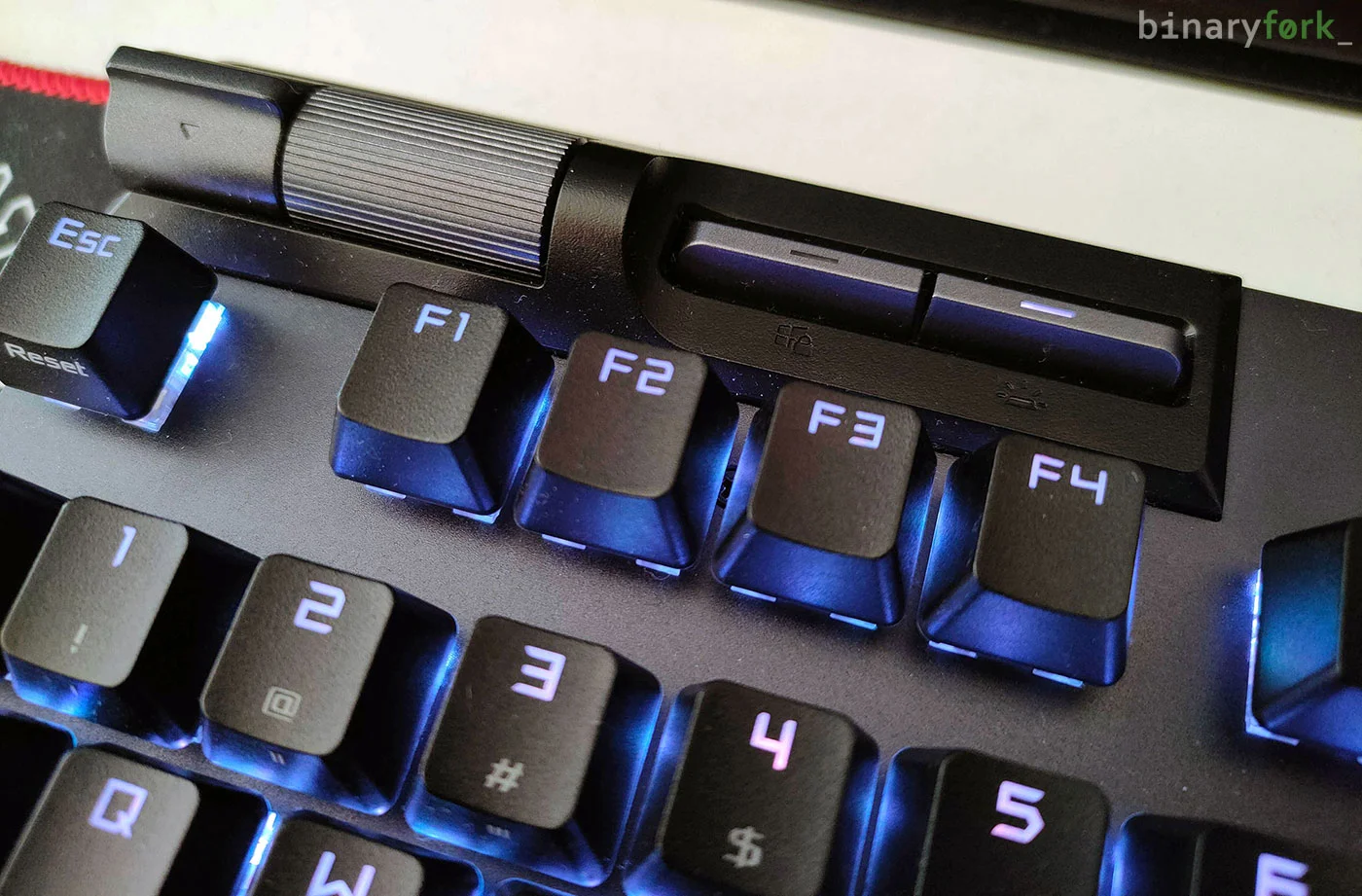 ASUS ROG NX Switches: A Good Start
The test unit came with ROG NX Red switches. As the model name suggests, these mimic the Cherry MX Red switches, so they have a soft-pressed, linear feel.
My everyday keyboard has Gateron Red switches and I can't feel the difference, which is a good thing. Supposedly the ROG NX Red switch is even lighter to press, with a difference of 5 grams, but I dare you to test it without knowing which is which.
What I like about these switches is that almost certainly some parts are lubricated from the factory. I couldn't hear any spring noise or echoes coming from them. My Gateron Red switches needed lubrication to quiet them down and make them stop squeaking.
ASUS has done a great job here, and buyers who don't want to spend hours lubricating switches will be grateful. Don't know what lubricating a mechanical switch means and why you should care? Never mind. All you need to know is that these switches are quite OK for most people.
Typing Feel
The best I can describe the feel of typing on the ASUS ROG Strix Flare II Animate is sharp, and crisp, feeling very direct. I know, weird words, but it's hard to describe the feeling when typing. The important thing is that I got used to it pretty quickly, I'd say in just a few hours I was typing as fast as I did on my other keyboard.
One small noise-related detail I should mention is that ASUS used sound-deadening foam inside the case to eliminate echo and make the keyboard sound thocky, a term used by mechanical keyboard aficionados.
I think they should have used more foam or more layers, between the base and the PCB and between the PCB and the upper case. I'm saying it because, although I couldn't hear any echo on most of the keys, the keyboard sounds a bit hollow, especially the longer stabilized keys, the ones with more space inside, such as the Spacebar, Enter, and Shift keys.
Also, the sound produced on the return of the keys, on the rebound, is a bit harsh and sounds a bit thin. This is probably due to the thickness of the PBT key material and the lack of lubrication of the switch stem (or insufficient lubrication).
The sound produced when the switches reach the bottom-out position is not particularly pleasant but can be significantly improved by adding a cheap set of medium or hard o-rings.
Make sure you know what kind of tactile feel you like, as the softer o-rings will make the typing feel like that produced by a membrane keyboard (read about my takeaway on membrane keyboards for gaming). I know this because I've used them on one of my mechs and it ruined the experience.
If you're interested in hearing what the ASUS ROG Strix Flare II Animate sounds like, listen below:
And here's what my heavily modded (o-rings, lubed stabs and switches, bottom case foam) Epomaker AK84S 75% layout keyboard sounds like, for comparison purposes:
AniMe Matrix: an Experiment that Maybe You'll Appreciate
Most likely this will be the main reason why some people will buy this keyboard. It's a display consisting of 312 white LEDs that can play still images, and animations, indicate the system status and will notify you when you do certain operations (change volume, current song, etc).
ASUS opted for a triangular shape with the bottom corner cut off to make it look cool, but this shape is a bit impractical in daily use.
By default, without any software installed, the AniMe Matrix will display volume adjustments, mute, play/pause, change the current song, and indicate brightness changes.
Installing ASUS' Armoury Crate software will allow you to display pretty much anything you want, not just the pre-configured stuff. Here's the audio equalizer in action, for example:
I like this AniMe Matrix implementation, but I wouldn't buy this keyboard just for that. For me, it's a feature in the "why not" category, not a "must have".
Armory Crate software: I Would Prefer a Minimalist Approach
If you own other ASUS devices in your system, you probably already know about the Armory Crate software. Each device you add activates a new menu within the app. It all integrates very well, especially if you want to sync lighting effects via Aura Sync.
More advanced lighting options are accessible through another ASUS app, Aura Creator. A bit unnecessary, if you ask me.
Changes can be saved to one of six profiles that can be stored directly in the keyboard's memory, so you can uninstall the software if you don't intend to make changes all the time. This is what I did.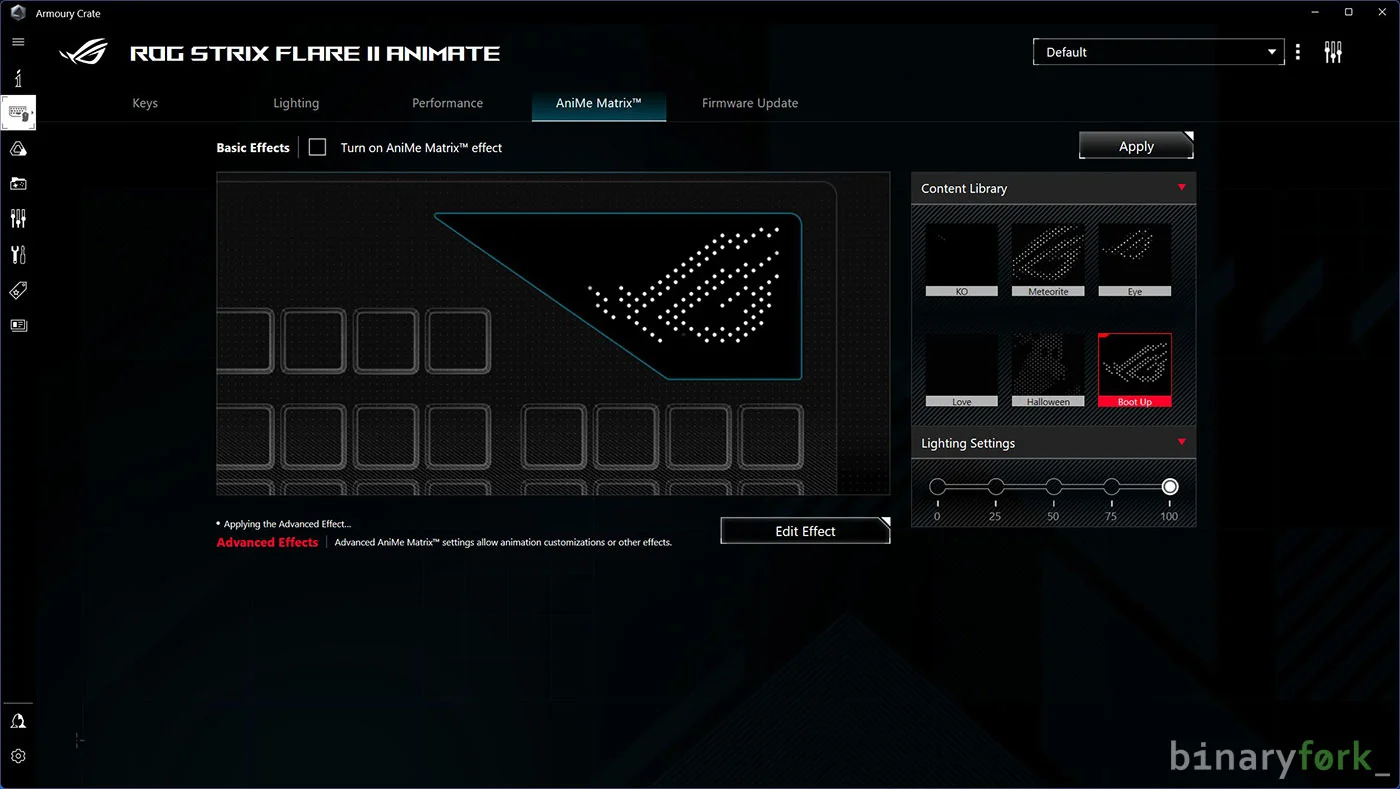 To be honest, I don't generally like the idea of software needed to control some hardware aspects, especially something running constantly in the background.
Upon checking the Uninstall section of the Control Panel I was unpleasantly surprised to see about 10 programs and services installed along with Armory Crate. I'm kind of bothered by this. And the best alternative to Armoury Crate, G-Helper, currently only works with ASUS gaming laptops.
You can uninstall everything after you're done setting it up, but I was careful to load a system image to clean up absolutely everything. It's a shame because the software is intuitive and worked flawlessly during my testing.
Price, availability, and final opinions
All of these features and functions come at a steep cost. You'd expect that, wouldn't you? That price is about $220. Before you say "ouch", remember that other brands, such as Razer, Corsair, and Logitech, have quite a few mechanical keyboards in this price range too.
Honestly, the ASUS ROG Strix Flare II Animate is packed with features and options and is a great keyboard that further bridges the gap with custom mechanical keyboards by using partially lubricated switches and sound-deadening foam.
There are plenty of modifications you can make if you're not happy with what you got in the box. If you're not ready to spend $500 or more on a custom mechanical keyboard, you can at least add some o-rings, change the keycaps, add more damping foam, do a tape mod, maybe even replace the switches, lubricate them, and apply a stabilizing film.
You'd be surprised how much typing feel and sound can change on a modified mechanical keyboard. That's what you can do if you like this kind of hobby, of course. It is time-consuming, I can tell you that.
Pros
good build quality for a prebuilt mech
superb multimedia controls
hot-swappable key switches
quality palm rest that attaches magnetically
lighting can be adjusted without installing software
sound deadening foam that helps (a little) with noise
factory lubricated switches (my guess)
the AniMe Matrix display is interesting
pretty clean look for a gaming keyboard (except for the legends font)
USB pass-through port
internal memory for up to six profiles
Cons
very thick, un-removable USB cable
not the thickest PBT keycaps, but at least they're double-shot
palm rest is a bit too short and too high
only one angle adjustment step
secondary key functions are not illuminated
exposed switch housing design might not appeal to everyone
sounds a bit hollow and harsh on the rebound
too expensive, price close to entry-level custom mechanical keyboards
software required to customize the keyboard installs a lot of additional services
What's next for ASUS mechanical keyboards? I don't know, but maybe I can make a few suggestions: add a gasket mount, VIA/QMK software support, and a less gamer-oriented design.
Also read: ASUS ROG Azoth 75% review, an incredible keyboard with an AnimMe Matrix display
What do you guys think? What would you like from your next mechanical keyboard? Will it be the ASUS ROG Strix Flare II Animate reviewed here? Join the discussion below. Also, don't forget to check out our other reviews.