Is your current router having signal coverage problems in certain areas of your home? ASUS ZenWiFi AX (XT8) is a sleek and powerful tri-band mesh system with advanced features that will get your Internet to full speed quickly and easily. Here's my ASUS ZenWiFi XT8 review, with Pros and Cons.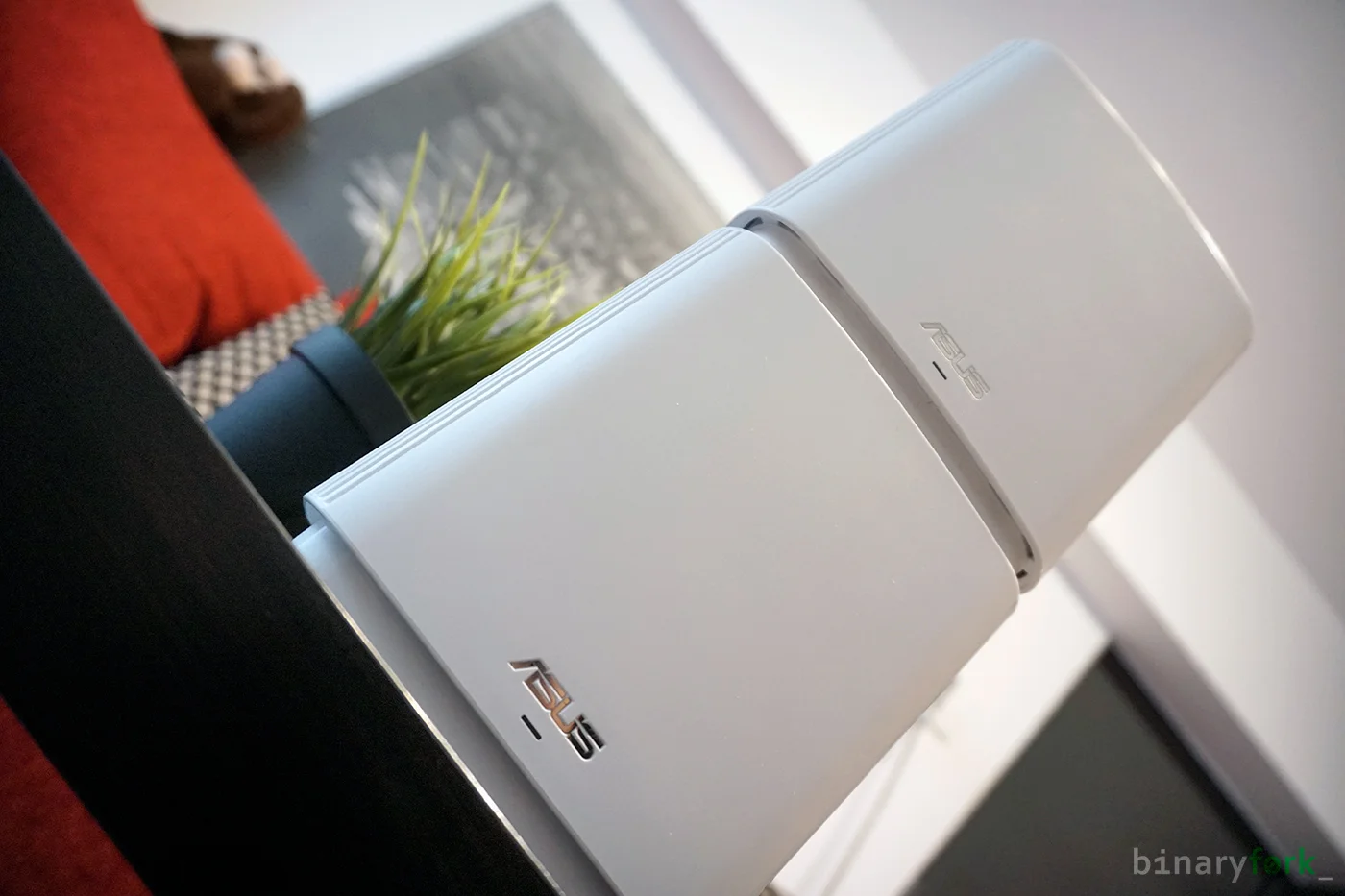 If you're having problems with the WiFi signal in your home you may want to upgrade to a faster router with better antennas. You'll feel a difference, especially if you choose a top model, but I'm sure that once installed in the same place you'll see that previous areas with a poor signal are still there.
There's nothing you can do about it, it's simple physics. The further you get away from the router and put more obstacles between you and it the faster the throughput drops until you get disconnected. A better router delays that time.
A modern solution to this problem, an alternative to wireless repeaters, are the mesh router systems I have presented in detail here. These systems use multiple routers dispersed in close proximity to better cover a given area with a strong signal.
This means that you can always extend your network coverage in your apartment (or company) by adding a new mesh node. Routers don't have to be identical, which allows you some degree of flexibility when extending the mesh network.
In recent years, WiFi mesh systems with two or three routers in a package have been appearing more and more often in shops. In the case of ASUS, the technology under which these products are presented is called AiMesh. It's still pretty new, but more and more of the company's router models are compatible with this system.
In the following chapters, we're going to take a look at the ASUS XT8, a model from the ZenWiFi router family.
Who Is The ASUS ZenWiFi AX For?
ASUS ZenWiFi AX XT8 is a system consisting of two high-performance ASUS mesh routers, which together can carry a maximum transfer rate of 6600 Mbps. That's approximately 825 MB/s between all devices connected to the system simultaneously.
Don't expect a single device to get close to the 6600 Mbps advertised speed. That's for concurrent connections from multiple devices and depends on a lot of factors.
The two letters AX in the model name indicate that the routers are WiFi 6 compatible, and ASUS has implemented pretty much all the new features of the 802.11ax standard. You get OFDMA transmission, MU-MIMO streaming, more secure WPA3 encryption, beamforming. There's also support for 20, 40, 80 and 160 MHz bands, with automatic switching between them.
What you need to understand is that slowly, as you change your phone, laptop, smart TV, home automation devices, and whatever other gadgets you use, they will all transition to WiFi 6, if they didn't already. The benefits of WiFi 6 will be seen over time. If you choose a ZenWiFi AX your network will be ready for the transition.
In addition, by offering a 2.5 Gbps WAN port (Internet connection) you're also prepared for that time when internet providers start offering subscriptions with more than 1 Gbps.
I'm almost there, with an 1800 Mbps Internet subscription, but there's a caveat. I have a fiber connection, so I depend on the IPS-installed router, which comes with just 1 Gbps LAN/WAN ports. So yeah, I'm getting 1 Gbps with my routers, best case.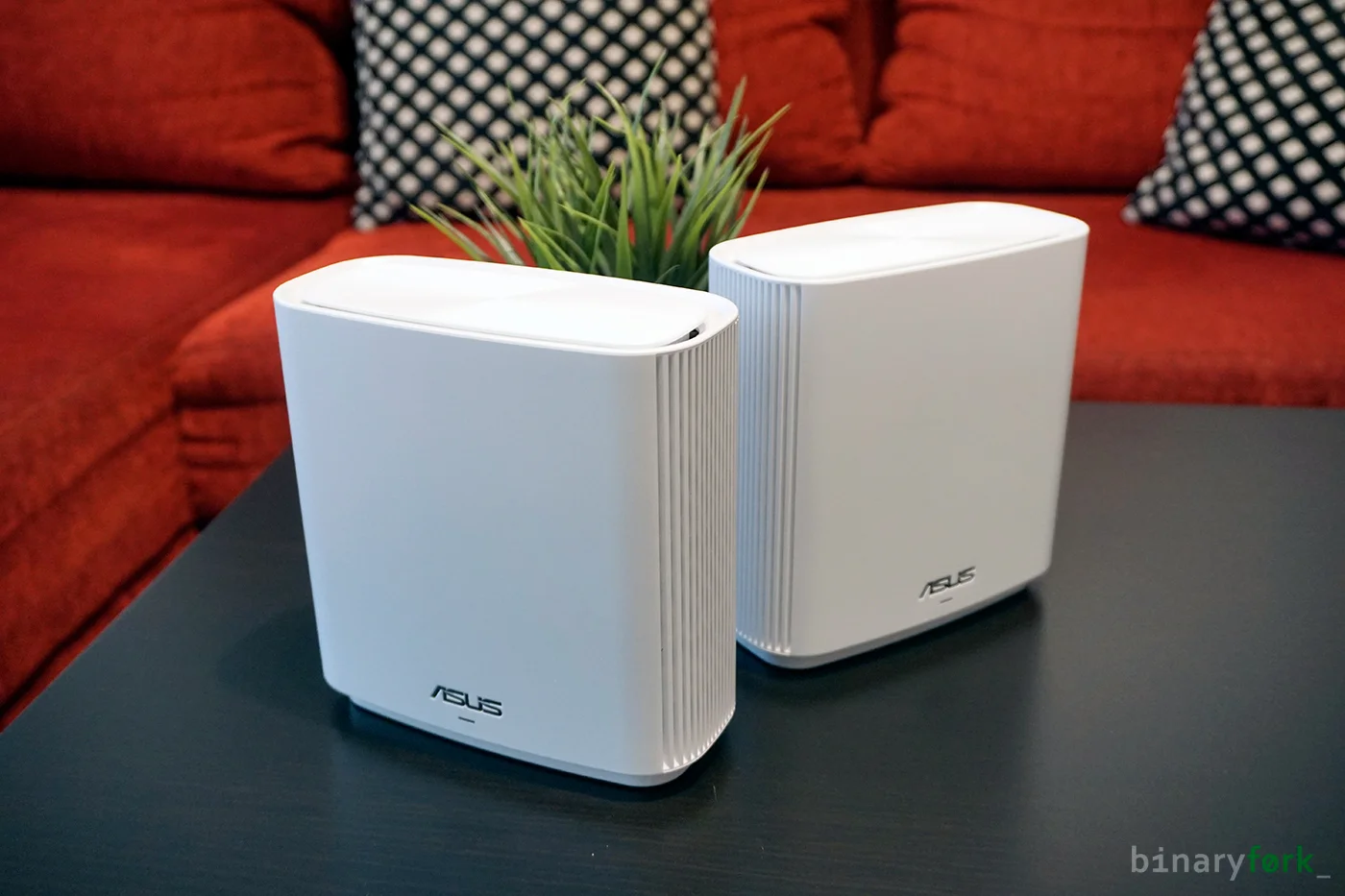 Looking at the design of the two routers I think it's pretty obvious that ASUS' target is not gamers. Those interested in looks, who don't want to visually "pollute" their home with a router that looks like it's escaped from a parallel universe will love the ZenWiFi.
The two white ZenWiFi boxes are very unobtrusive and have a single front LED indicator. The LED stays White when all is well. The product is also available in black if you prefer that color.
The advanced features don't need to scare you unless you're a networking expert. That's because ASUS has made the setup process as simple as possible. It can easily be done from the ASUS Router mobile app, without the hassle of a computer wired to the router.
Also read: How to secure your ASUS Router
ASUS ZenWiFi AX (XT8) Technical Specs
Below you have a table with the most important technical features of this mesh system:
| | |
| --- | --- |
| Model | ASUS ZenWiFi AX (XT8) |
| Processor | Quad-core 1.5 GHz |
| RAM | 512 MB |
| Flash Storage | 256 MB |
| Maximum Speed | 574 + 1201 + 4804 Mbps (AX6600) |
| Antennae | 6x internal |
| WAN connection | 2.5 Gbps |
| LAN connections | 3 x 1 Gbps |
| USB Ports | 1x USB 3.0 for each node |
| Dimensions | 160 x 75 x 161.5 mm |
| Weight | 716 grams |
| Package contents | 2x XT8 routers, 2x power adapters, 1x RJ-45 cable |
What I Like About ASUS ZenWiFi AX
Let's start with the looks. The two routers manage to fit into the landscape of my apartment very well, perhaps also because I have quite a lot of furniture with white or very light surfaces. I really like the simple design of the two routers.
On the setup side, I have to note the Android/iOS ASUS router app, which allows for a quick initial setup, in just a few steps. I also tried the installation from PC, via browser, as you can just use the step-by-step wizard. This is also pretty friendly. Both methods allow you to get the system up and running in just a few minutes. Don't forget to connect the Internet cable to the jack labeled WAN first.
After installation, you have the option to manage the mesh network also from the application. For some of the advanced settings, you will have to sit at your computer. I would say that the ASUS router web interface is a friendly one, but I have to admit that I've been using it for a couple of years now because it is very similar to my previous ASUS RT-N56U Diamond router.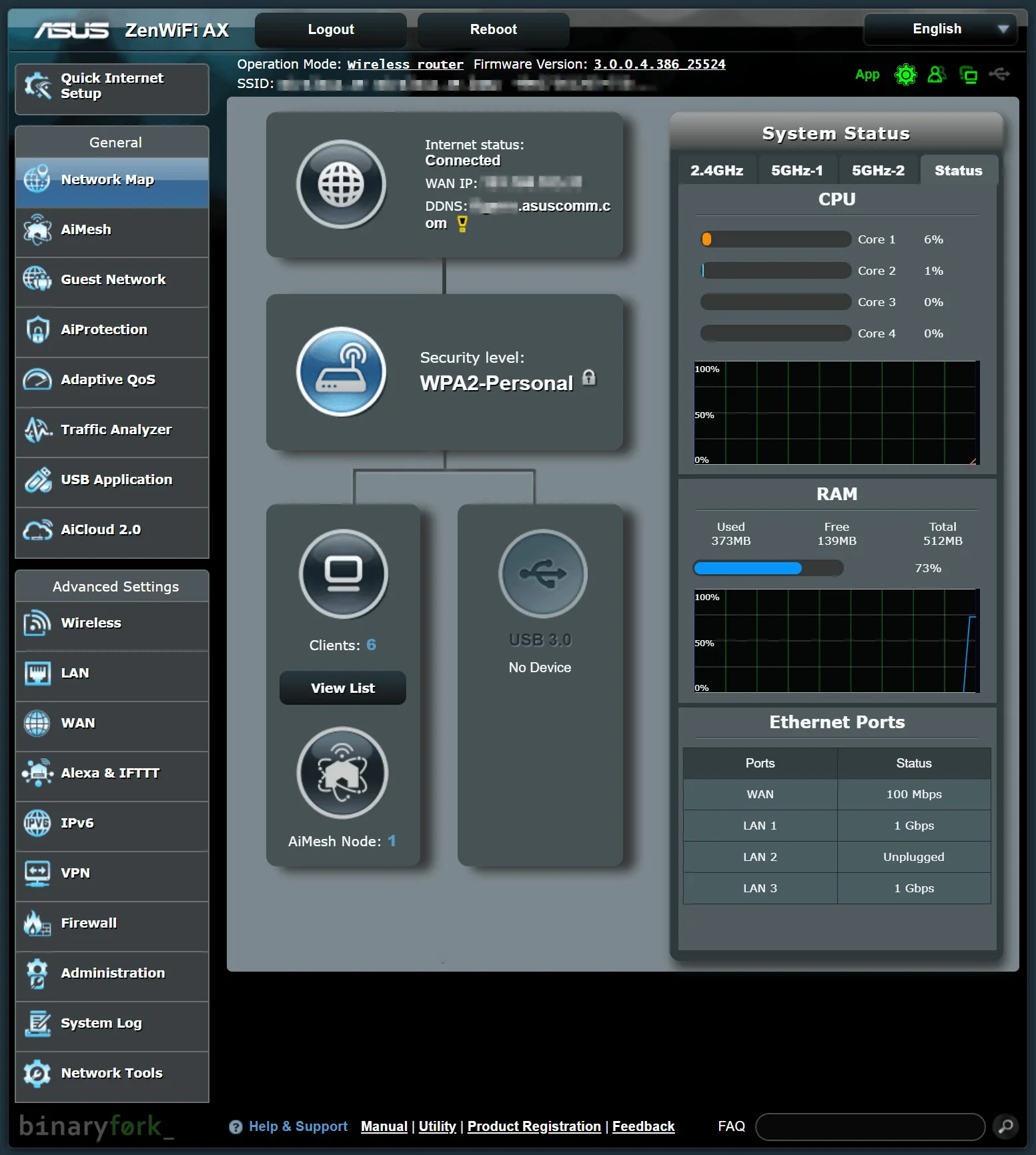 If you don't need the advanced features I don't think you'll ever need to look into these menus. If you do, however, I recommend you take a look at the manual first.
I would however like to mention a few advanced options that the ZenWiFi AX offers. These are things that are not found on cheaper routers. Some of them mimic very well what a NAS can do:
Guest network – the option to also create wireless networks for guests and acquaintances. They'll have access to the Internet, but not to the computers from the local network.
AiProtection – a set of network security measures that can be activated/deactivated/modified by you.
Adaptive QoS – control and limit the transfer speed depending on the type of applications you want to prioritize.
Traffic Analyzer – detailed statistics about the traffic recorded by the router (connected devices, applications generating traffic, traffic volume).
USB Application – functions for hard drives and external devices connected to the USB port.
AiCloud 2.0 – possibility to create a private cloud, accessible from anywhere.
Alexa & IFTTT – voice control for router functions using Amazon Alexa devices and integrations with IFTTT automation system (IF This Then That).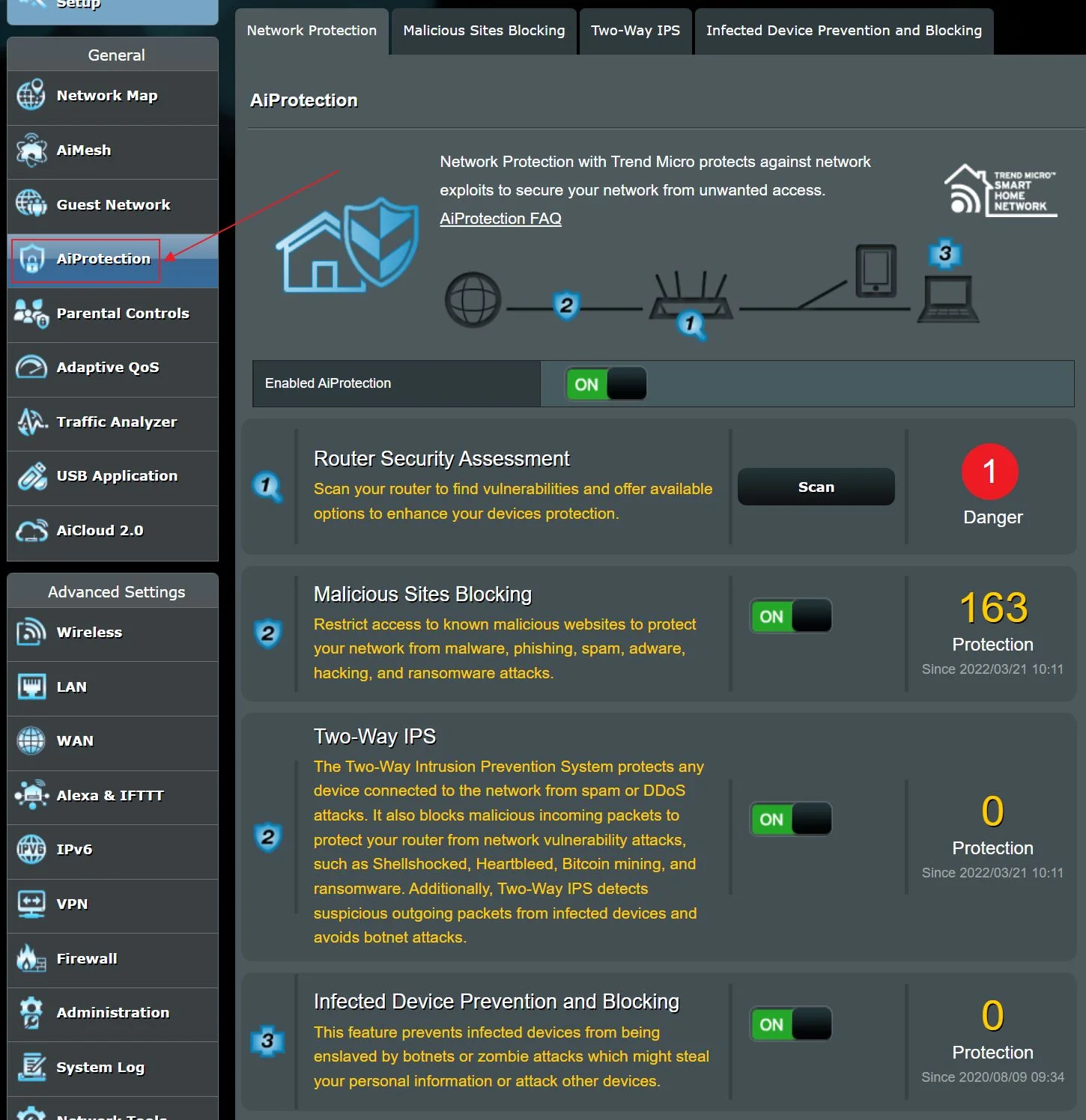 Finally, I have to say that I like the performance of the system. It's not necessarily the top speed, but the stability of the system and signal strength anywhere in the home.
In the two years since I've been using the system, I only had to reset it once. It was because the Chromecast got disconnected. I later switched it to 2.4 GHz, after reading on some forums that this is the recommended mode for Chromecast stability. I haven't had any problems since then.
Also, if you enable WiFi mode 6 for any of the wireless networks created, ASUS recommends you update the drivers, otherwise, you might have problems detecting and connecting. I actually had to do this on an older Dell laptop. As long as I was made aware of this possible issue from the admin interface I don't point it out as a problem.
Real-World Performance Test Results For ZenWiFi AX
I said that the ZenWiFi AX is capable of a maximum cumulative transfer rate of 6600 Mbps. This is split 574 Mbps on 2.4 GHz, 1201 Mbps on the first 5 GHz band, and 4804 Mbps on the second 5 GHz band.
The actual speed between a laptop, phone or tablet connected to these two routers will be much lower. It's especially true in a city apartment where there are already a lot of interfering wireless networks in the vicinity. Add walls and other objects between the NIC and the router and speeds can drop to a crawl.
I tested the connection between the ZenWiFi AX with a Lenovo Legion laptop using an Intel Wireless AX200 2×2 network card. It's got a maximum transfer speed of 2.4 Gbps on the 160 Mhz band. I used SpeedTest.net for all my testing.
My Mesh Node Setup
I'm using both nodes of the system, of course. The main one is placed up high in the hall, at the entrance into the apartment. On the left there's the bedroom, ahead there's the open space, L-shaped.
On the left, there's the living room, where I've placed the second router, on the TV stand. The office improvised space is on the left.
Internet Transfer Speeds Results with SpeedTest
Router connected by wire to the ISP-provided modem – 918 Mbps Upload / 880 Mbps Download
Laptop in open space living room

Main router 2.4 GHz – 141 Mbps Download / 141 Mbps Upload
Main router 5 GHz – 772 Mbps Download / 774 Mbps Upload
Secondary node 2.4 GHz – 126 Mbps Download / 163 Mbps Upload
Secondary node 5 GHz – 483 Mbps Download / 473 Mbps / Upload

Laptop in the bedroom, door closed

Main router 2.4 GHz – 67 Mbps Download / 67 Mbps Upload

Main router 5 GHz – 679 Mbps Download / 658 Mbps Upload
Secondary node 2.4 GHz – 36 Mbps Download / 38 Mbps Upload
Secondary node 5 GHz – 65 Mbps Download / 25 Mbps Upload
You can quite easily see the difference in performance when using both AX routers and the typical scenario when you are a few walls away from the main router.
It also shows that the 2.4 GHz network works further away without much signal loss. The disadvantage as usual is the maximum throughput.
It's easy to see that once you add obstacles and distance on the 5 GHz band, speeds drop significantly if you only use one router.
If you're using a mesh network, that handles device roaming automatically, you will get much better coverage, no matter where you are.
Wired Transfer Between PC and NAS, Both Connected to the Main Node
I've also done some testing to see how well the connection works to my 3-bay QNAP TS-328 NAS. I got close to the maximum 125 MB/s speed of the Gigabit LAN connection.
NAS – PC Gigabit connection (read): 112 MB/s
NAS – PC Gigabit connection (write): 113 MB/s
Transfer Between PC and External HDD connected to USB 3.0 port
I've also added a Seagate USB 3.0 external hard drive connected first to the main router, then to the secondary node's USB 3.0 port.
Wired connections to the main router:

USB 3.0 (read): 48 MB/s
USB 3.0: (write): 41 MB/s

PC connected to router and HDD connected to the USB port of the node:

USB 3.0 (read): 17 MB/s
USB 3.0: (write): 13 MB/s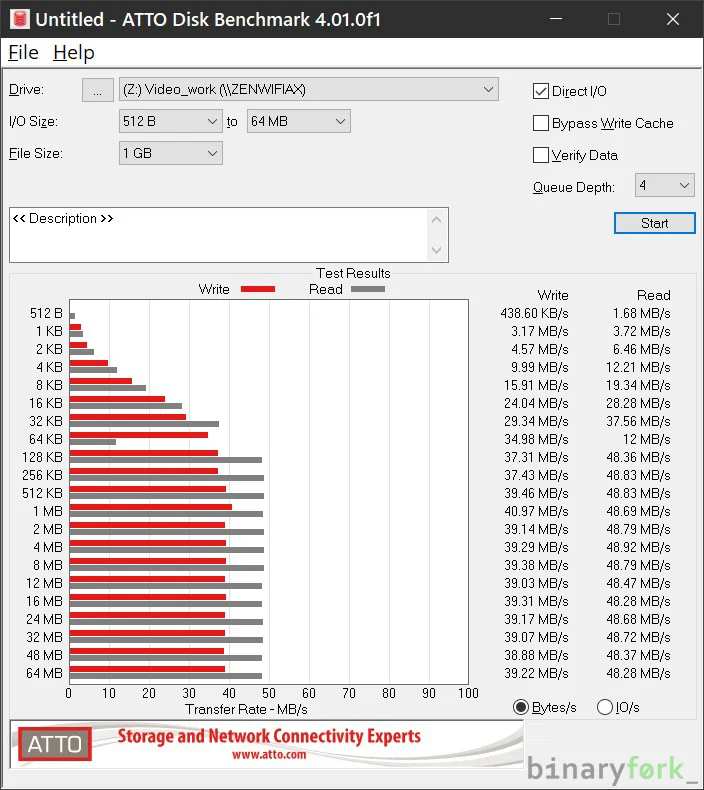 When I used the external hard drive connected directly to the router as NAS I noticed the difference between a dedicated NAS and a makeshift one.
However, the ZenWiFi AX does much better than the old RT-N56U, with which I was transferring at a maximum of 12-13 MB/s in both directions.
One last performance-related mention is that I also had access for a while to the ZenWiFi AC system, very similar to the AX, minus WiFi 6, with a total maximum speed of 3000 Mbps (400 + 867 + 1733 – AC3000) and half the RAM/Flash memory.
I ran the same tests as above and the results are within the margin of error. The difference you should expect is better throughput when you connect more devices, as always.
What I Don't Like About This ASUS Router
The installation process I scored as a plus because it is very simple if you do a standard setup, i.e. set up the main router for Internet access, add a mesh node and create the local wireless networks.
I was curious though to see how connecting two new routers, different models, into AiMesh works.
This is where I hit a wall. I tried many times, in all possible ways, with the mobile app, from the PC connected by wire, with a complete reset of the nodes, repositioning them in the proximity of the existing network, and doing a firmware update, which is everything recommended by the ASUS manual.
I never managed to add mesh nodes to the network until I got the idea to close the already-connected secondary nodes. That was the problem and I had no difficulty adding a new mesh node as long as I closed the ones already connected.
Finally, I switched them all on and what do we have here: a mesh network with four ASUS ZenWiFi AC and AX routers.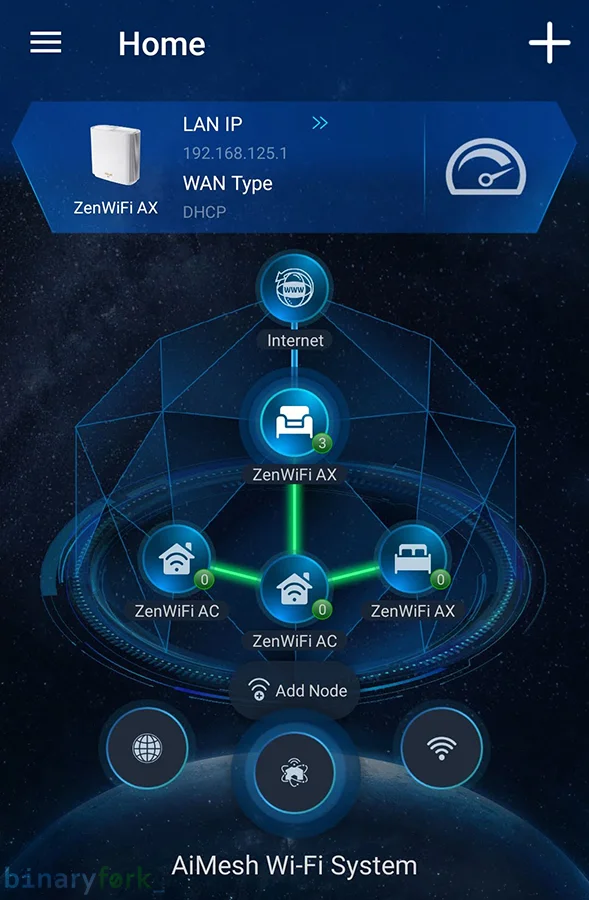 I expect this small problem to be fixed in the software by ASUS. However, I think it's a minor issue, especially since you won't be doing system installation and adding mesh nodes every day, right?
Regarding connections, I think I would have preferred four LAN ports, as most routers offer. I say that because I've already occupied all the ports of the main router with a PC, NAS, and a Smart TV.
It would have been more useful if instead of 2.5 Gbps on the WAN ASUS had made the LAN ports faster, to connect devices inside the network faster.
I know, not many home users need such transfer speeds, but in a small company where multiple users connect to the main NAS for example, I think it would have been quite useful.
Pricing and Final Conclusions
The only thing that prevents me from recommending the ZenWiFi AX wholeheartedly is the price of about $400. Yes, indeed, AX routers are still very expensive (especially the ones with many features like this one), and not one, but two such routers are indeed bundled in the package.
What's important is that you have the option to create an AiMesh network using other high-performance ASUS models that cost significantly less, if you opt for AC models, for example.
The Zen WiFi AC model unfortunately isn't much cheaper, being even harder to recommend in these conditions, when it costs around $330. That's why, if you want a high-performance mesh system with many advanced features, that also looks great, I recommend the Zen WiFi AX, even if you don't have any WiFi 6 devices in your house (yet).
I think it's a better and longer-lasting solution.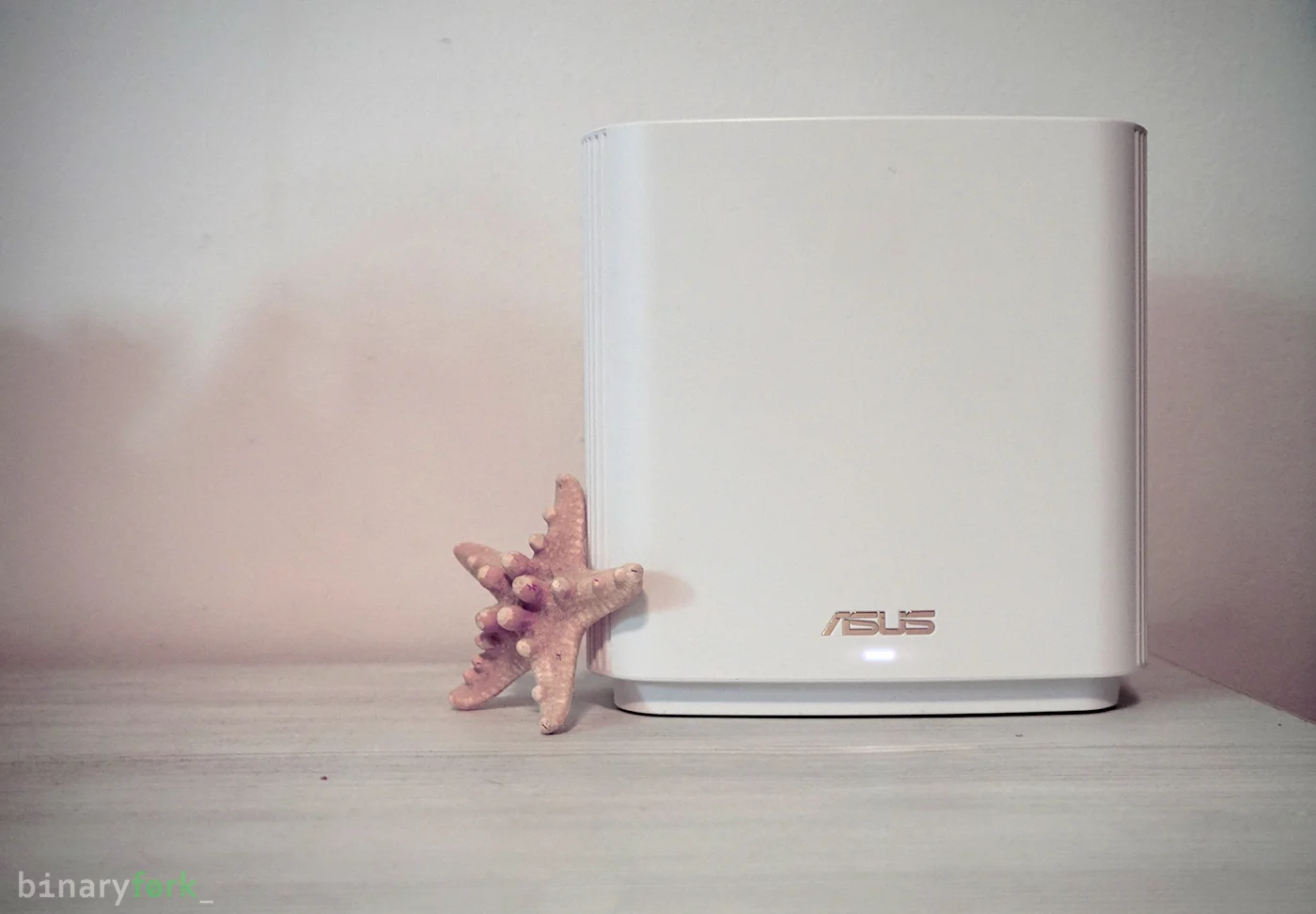 Otherwise, you can very easily build your router mesh system based on ASUS AiMesh technology, which you can later grow by adding new, faster, more powerful nodes as the price of 802.11ax solutions get to where AC models are now. And if you're here, read our other reviews too.
Is the ZenWiFi AX still a good router? It's been a few years since I got this pair of routers and, honestly, I don't feel the need to upgrade. The signal is still strong, speeds are still upward of 800-900 Mbps and, what matters most, ASUS still issues security, compatibility, and speed updates. What more can you ask?