This is what we know so far about how Windows 11 will install and run Android apps.
We already know Android Apps will run natively on Windows 11.
One bite at a time Microsoft lets us know how this will actually work.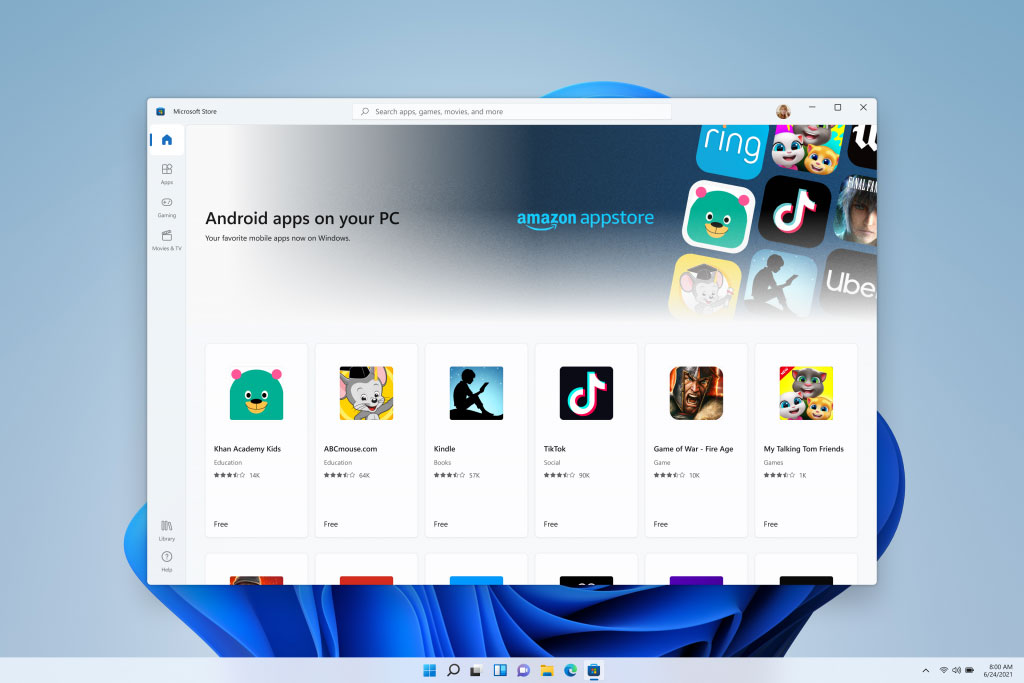 One of the key features of the official Windows 11 announcement was the ability to install and run Android apps directly from the revamped Microsoft Store. We now know a bit more about the inner workings of this feature and it's pretty interesting.
It's also important to understand there will be some limitations that will likely affect the user experience. Don't expect things to be as smooth as running Android apps on your smartphone.
Android apps on Windows 11 FAQ
Which store will Android apps download from in Windows 11?
The Amazon Android app store will be used, in partnership with Microsoft, to deliver Android apps to Windows 11. You will need to sign up and log in with your Amazon account.
Will sideloading Android APK files work in Windows 11?
Yes, manual loading of APK files will work, a member of the Microsoft team confirmed on Twitter.
How is it possible for Android apps to run natively in Windows 11?
Microsoft will use the Intel Bridge technology, basically an emulator/compiler with a promised decent performance. On ARM devices the performance should be close to running on Android since no emulation is needed.
Will systems powered by AMD processors be able to run Android apps?
Fortunately, Intel is offering their Bridge technology for free so yes, you'll be able to run and install Android apps on AMD hardware.
For other similar FAQs check this page.
I've mentioned limitations earlier. What you need to know is the Android apps you'll be running in Windows 11 are the same apps you run on your smartphone. This means those who rely on Google services for example or depend on anything that can't be installed from the Amazon store will not work, or won't work correctly.
Also, for non-touch devices, the navigation in these apps will be at least cumbersome, if not weird.
Some people seem really excited about this feature, others a bit unimpressed, like me. Maybe using it will change my mind, but for now, I can't think of an Android App that I want to run on Windows. Maybe native WhatsApp, but that requires a SIM card, so yeah, talking about limitations…
Also read: Full guide on how to install and run Android apps in Windows 11.