Learn what Windows Definition Updates are, how to force the updates, and how to pause them.
Windows includes an OK antivirus and firewall, something you can use out of the box.
To be able to keep your PC protected, Windows Devinition Updates are regularly downloaded and applied.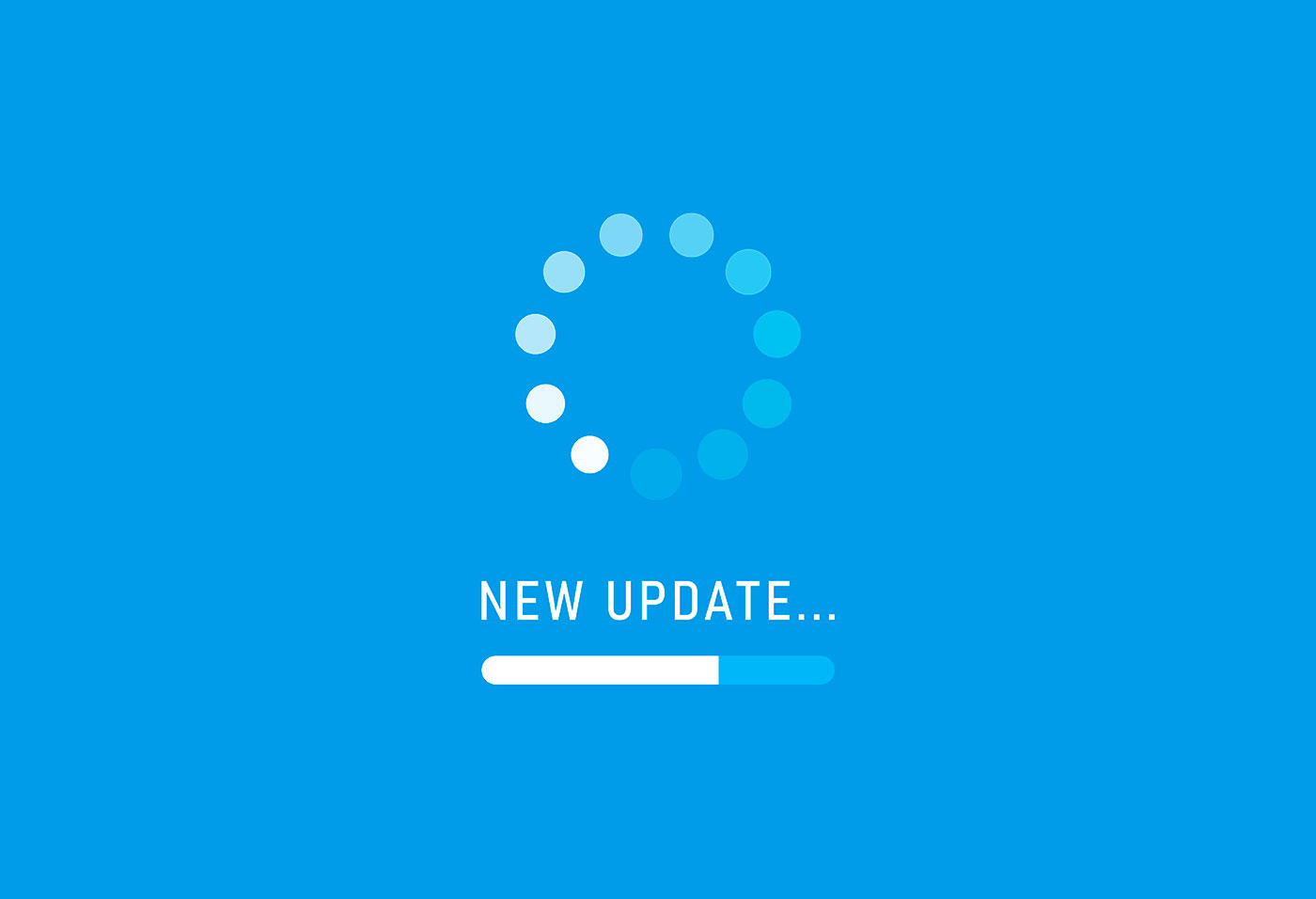 I haven't used an antivirus, firewall and real time antimalware scanner since Windows 7. I'm happy with the Windows Defender, now rebranded and included under the umbrella of Windows Security.
I didn't have any issues, so for me using the protection provided by Windows is enough. That's not to say installing an antivirus is not needed, especially if you don't quite know what you're doing when you go online.
One thing you need to do in order to keep your PC secure is to have the latest virus and malware signatures updates. That how antivirus programs work: they check specific computer threat signatures when scanning your local files and RAM. A new thread can't always be detected by heuristic methods.
What is a Windows Definition Update?
Windows Definition Updates are regular virus, spyware, malware and potentially unwanted software signature updates delivered by Microsoft via the Windows Update service. Windows Definition Updates are delivered as often as daily and are needed for computer protection.
How to Force Install Windows Definition Updates
As I said, Windows Definition Updates are issued very often by Microsoft, but that doesn't mean you can't force-check them if you feel like that's needed.
Get Windows Definition Updates from Windows Update
The easiest way to get Windows Definition Updates is to use the Windows Update section of the Settings app. It works both in Windows 10 and Windows 11.
1. Open the Settings app. I use Win + I keyboard shortcut, but there are other ways.
2. Navigate to the Windows Update section.
3. Click on the Check for updates button. Now wait for the updates to be applied, if available.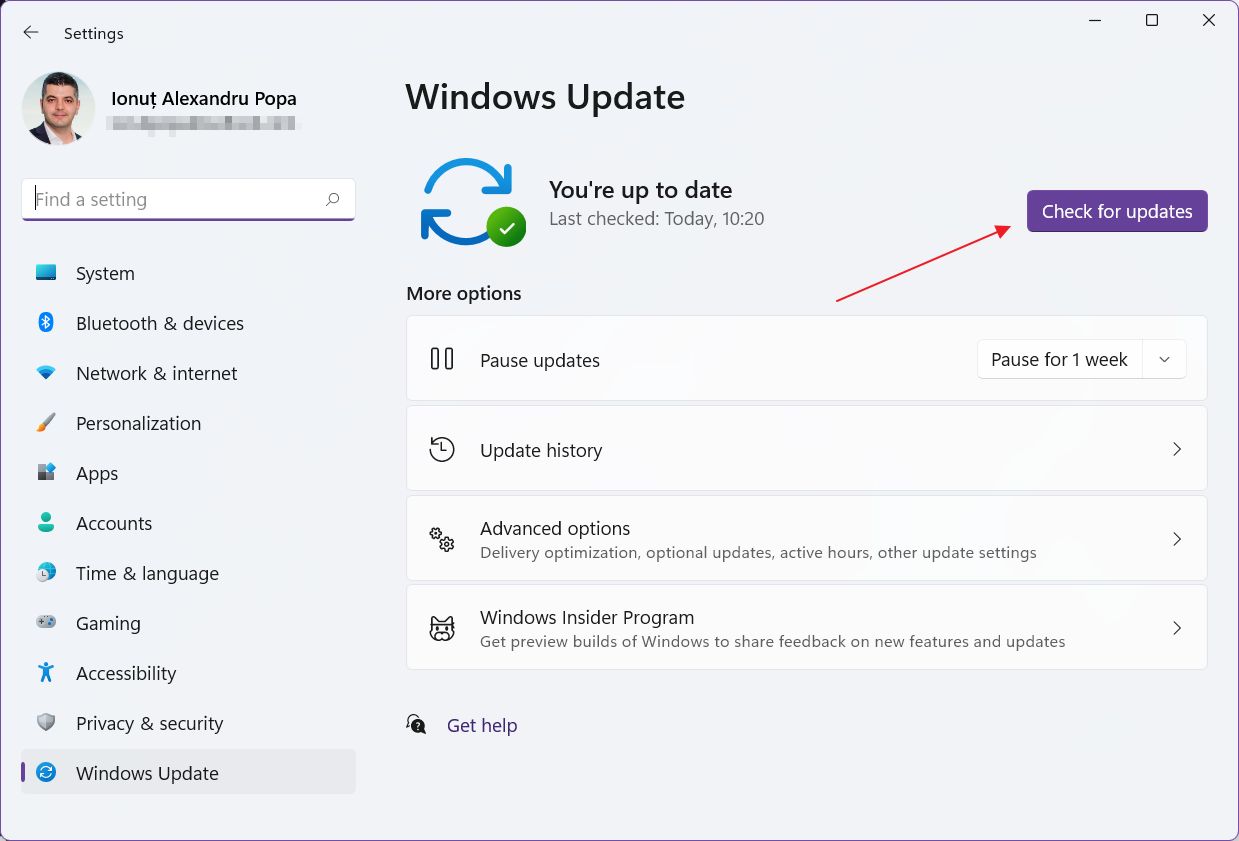 Windows Definition Updates don't require a computer restart, so you can continue working while the updates are applied. Nothing to worry about here.
Get Windows Definition Updates from Windows Security
If you like complications you can try and get the latest definition updates from the Windows Security app. There's really no point, but here's how to do it anyway:
1. Open the Start menu and type Windows Security. Open the first result.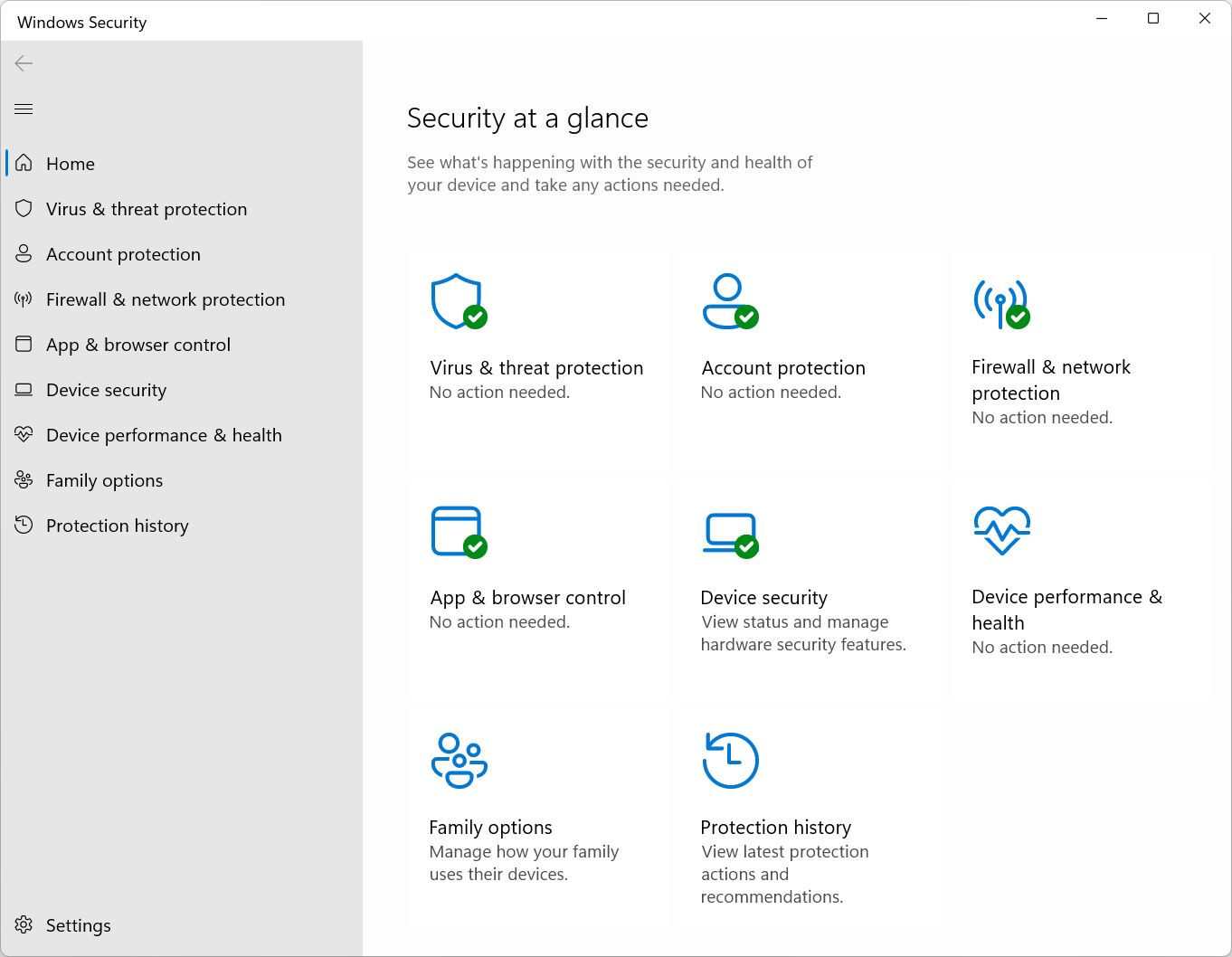 2. Navigate to the Virus & threat protection section.
3. Click on the Protection updates link.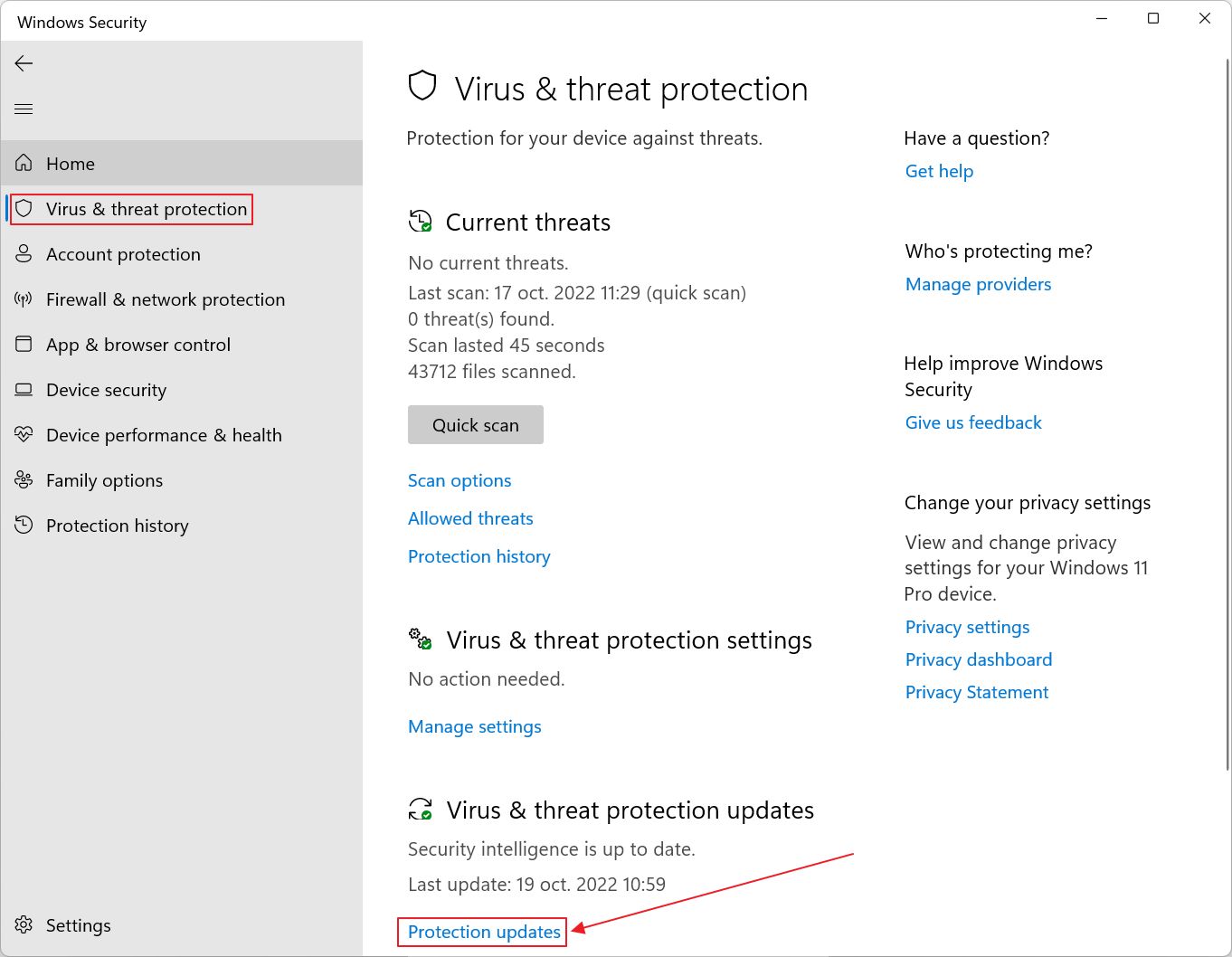 4. This will open the Protection Updates panel. At the bottom, there's a Check for Updates button. Click it to get the latest Windows Definition Updates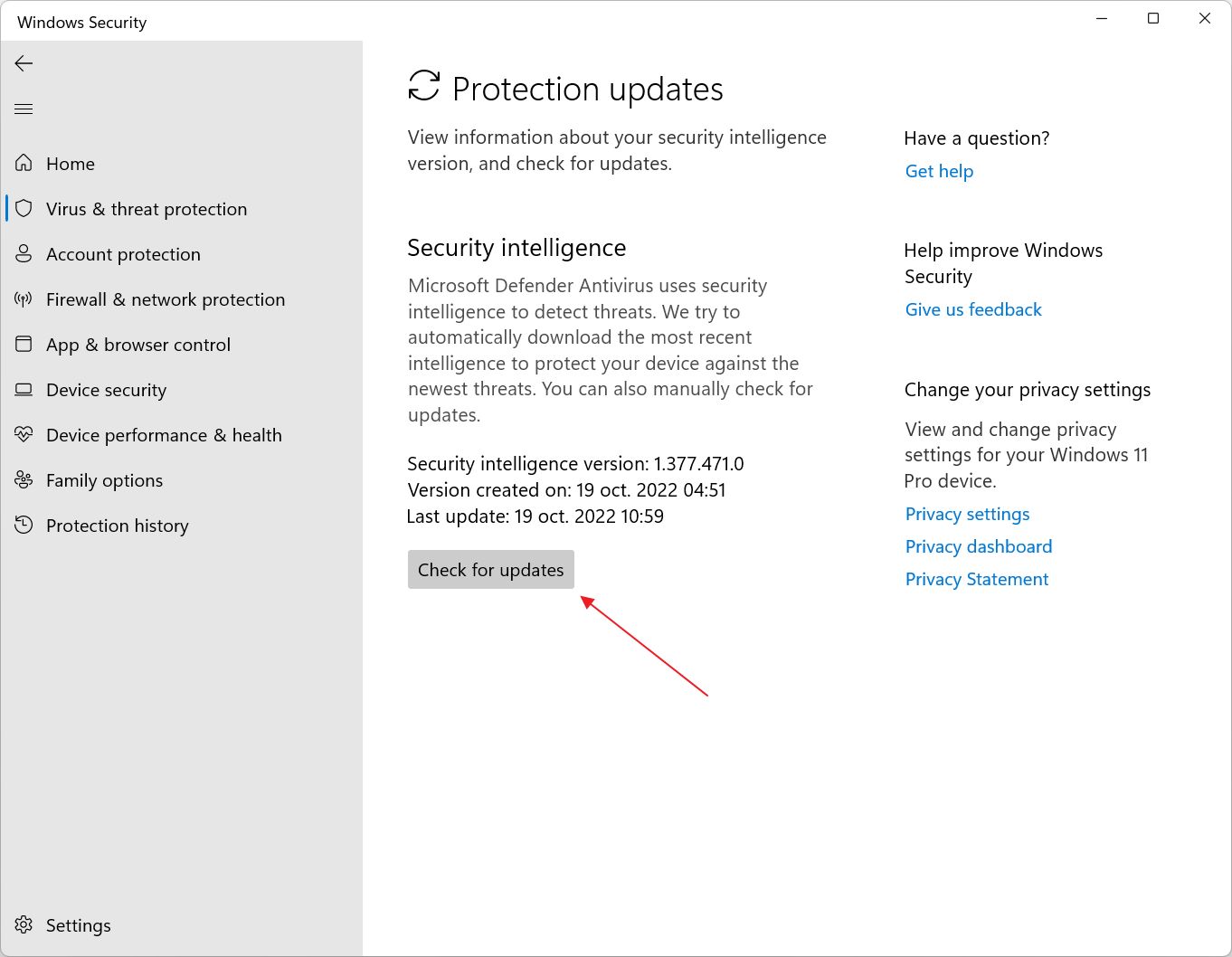 In a few seconds Windows will check and download the latest signature definitions.
How to Pause/Block Windows Definition Updates
First, I caution against stopping or pausing Windows Definition Updates. Maybe it's OK to disable driver updates, but if you pause Windows Updates it means your antivirus won't be able to identify the latest threats.
If the Antimalware Service Executable associated with Microsoft Defender causes high CPU usage that might be associated with Definition Updates, but you have to test because usually, that's not the case.
When it comes to computer security, a fast response is always preferable, so pause Windows Updates only if you know what you're doing.
1. Open the Settings app once more.
2. Navigate to Windows Update.
3. Click on the Pause for 1 week dropdown and select the desired period of time to pause updates. You can pause for up to 5 weeks.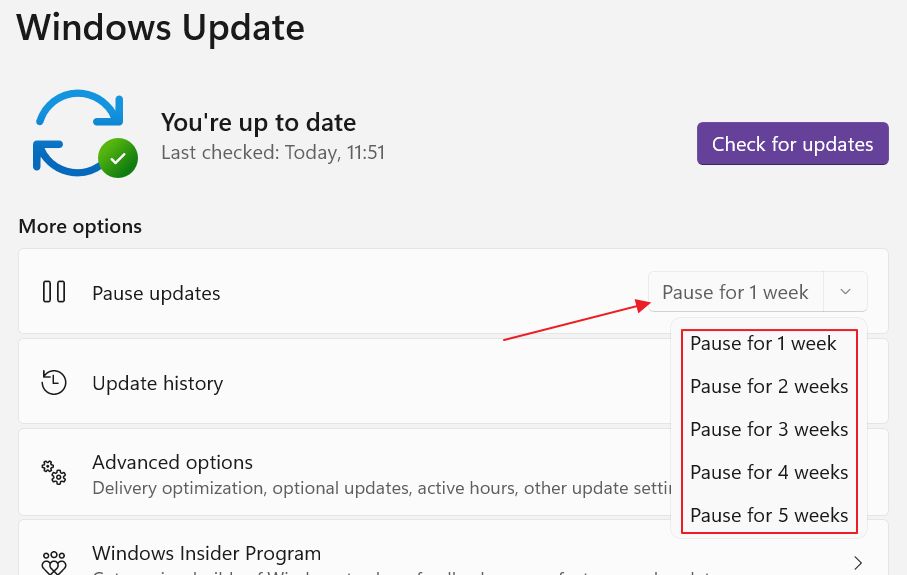 4. Once you pause the update the Check for updates button will be replaced by Resume updates and a notice with the last day of the paused period. Click the button at any time to resume update checks.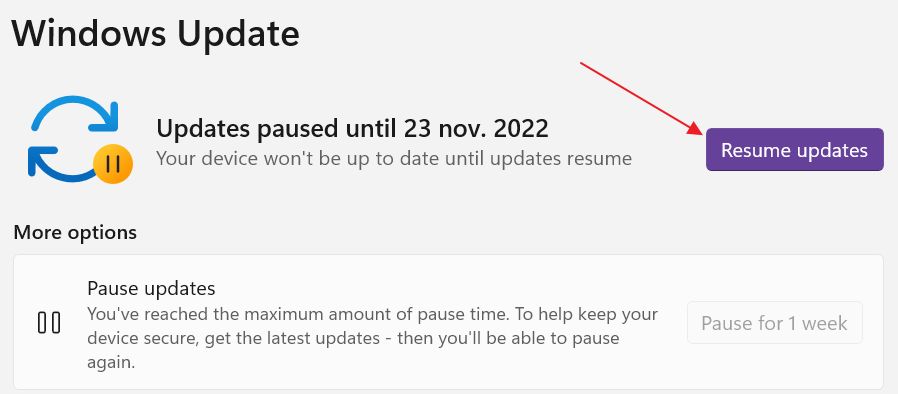 Check Windows Definition Update History
There's even a way to check the latest Definition Updates, to ensure you're not left out for some reason. In most cases, these definition updates are issued daily, even on the weekends, sometimes even twice a day.
1. Navigate again to the Windows Update section of the Settings app.
2. Click on Update history.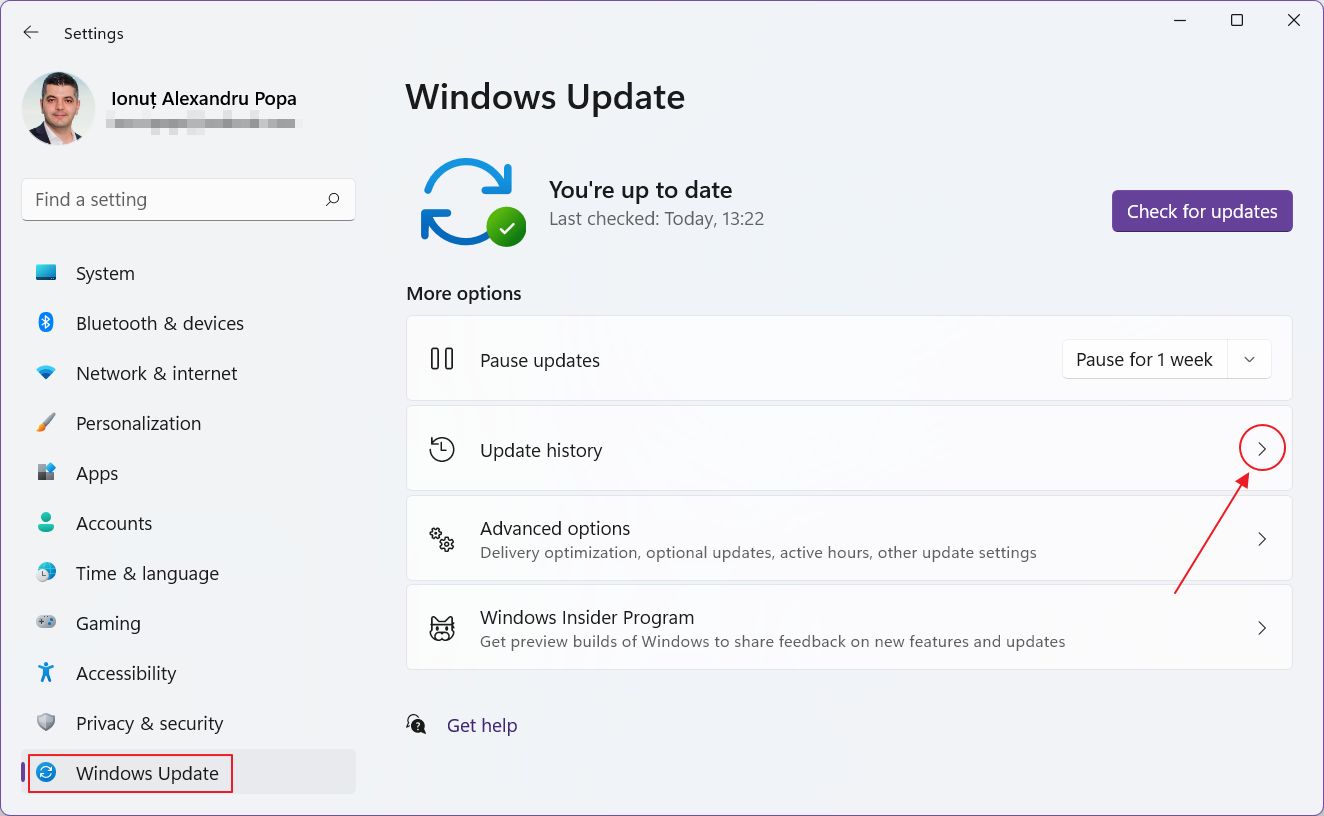 3. Expand the Definition Updates section and check the list of the latest installed definitions.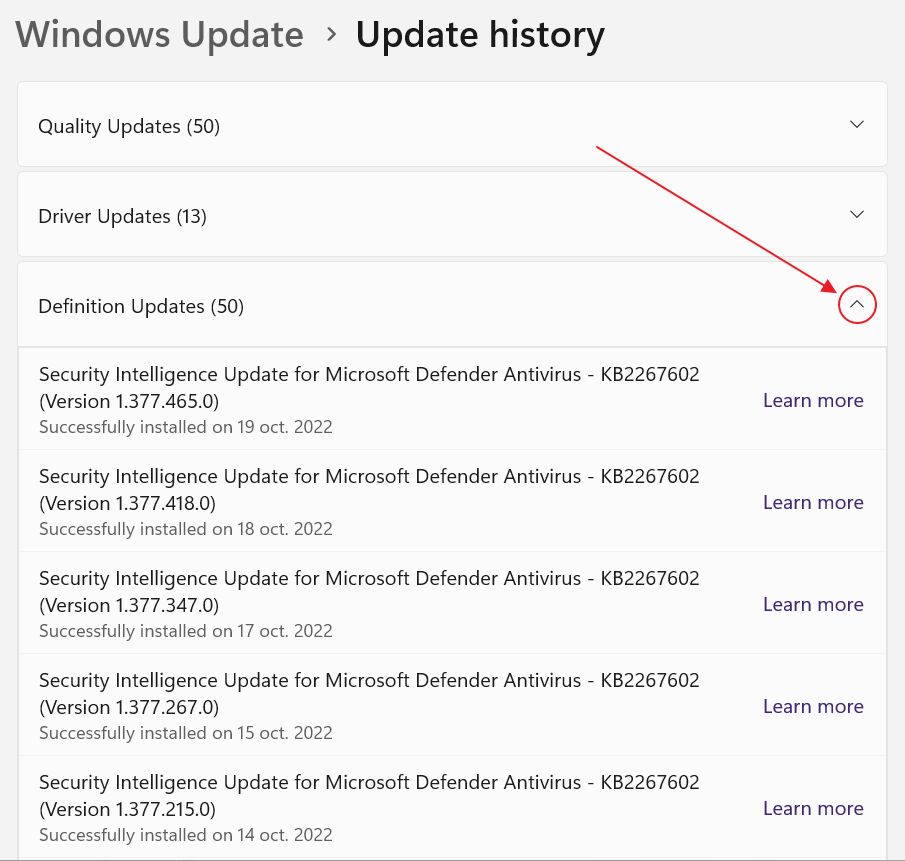 Each entry in the list has a Learn More button which will open a browser window with more details if you need to know what was updated.
One last mention: Windows Definition Updates can't be uninstalled like other updates, once applied.