I'm constantly switching web browsers, never settling too much time with the same web browser. I've used all popular and less known web browsers and I always have at least three or four browsers installed on my Windows machine and Android smartphone. In my quest of finding the best web browser I've settled for Brave and I don't think I'm going to switch to another browser anytime soon.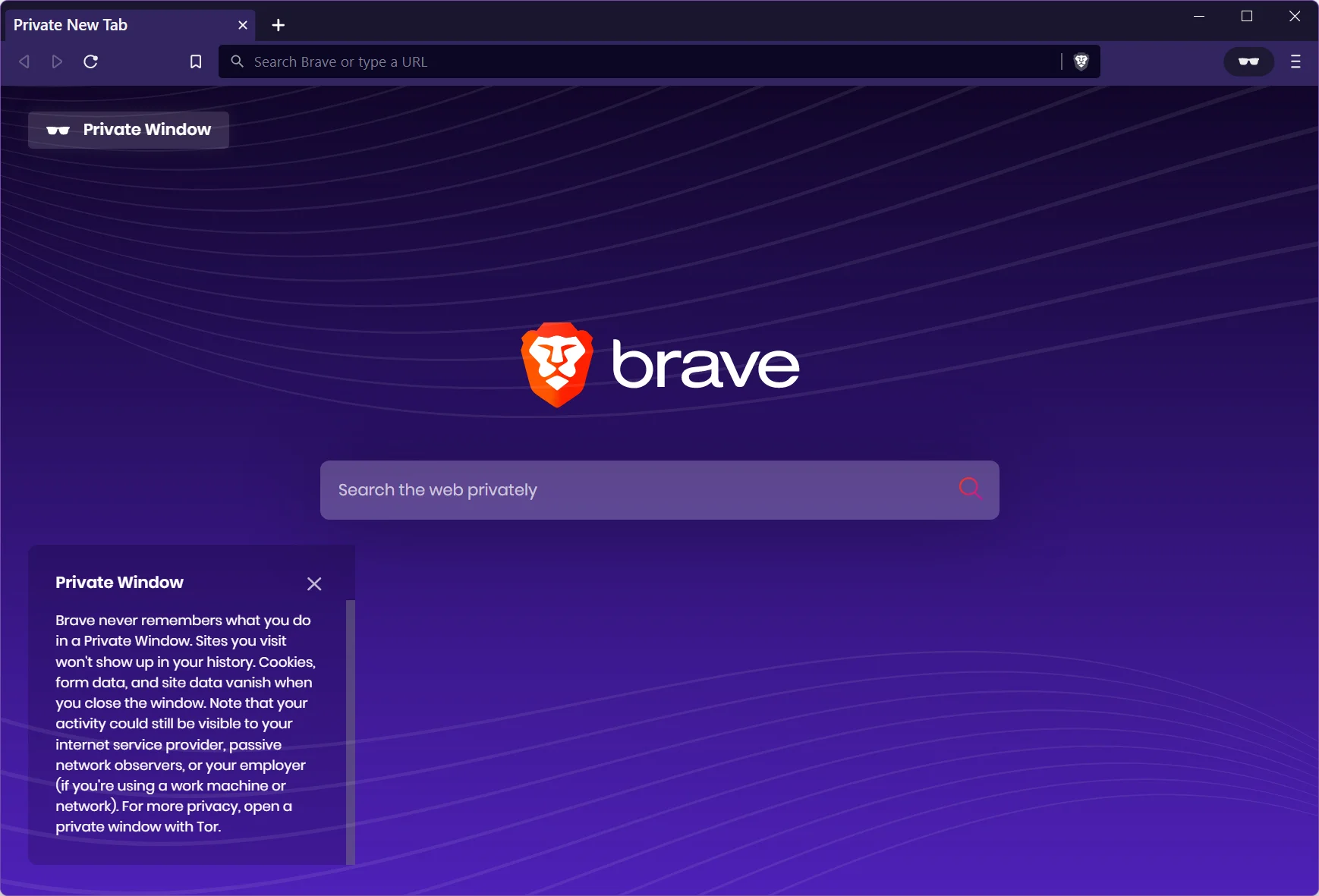 Whether you like it or not your web browser is the first serious barrier for those who try to get access to your private data. Actually, common sense is your first barrier, as you should never share private information willingly online, on social media, or on messaging apps (most are not as secure as you think).
Anyway, in the past few years, with growing concerns regarding the large-scale gathering of users' private information we've witnessed the appearance of privacy-focused options for web browsers and even search engines. Though, the recent DuckDuckGo scandal shows big companies are fighting to get their trackers whitelisted in as many places as possible.
Privacy is a long-term war and the only way to win is to never give up. That's why I haven't used Chrome for a few years now and recently ditched Edge when Microsoft started to turn it into a fully-featured beast on its own. What are they going to add next to Edge, a video editor maybe?
You got to love Google's strategy: build the most used search engine, sell ads, and build the most used web browser to ensure your ads and trackers are safe.
Speed was not my only concern, as big browsers become too bloated, but privacy was the thing that made me and 50 million other people switch to Brave. It's still based on Chromium, so the underlying tech is the same as the one used by Chrome.
Thich means it's fast and you'll have no problems with website rendering. Plus, all Chrome extensions work on Brave too. It's also very security and privacy-focused, with a lot of trackers being blocked by default.
Here's why I think you should give Brave a try too:
What Makes Brave Browser Unique?
Brave is not perfect, not by any means, and it still has its annoying quirks, but it's the best browser I've found in recent years. It's stable, no crashes whatsoever, and it gets updated pretty often, which is something you want in the most used app on your computer.
Here are a few things that set Brave apart from other browsers.
Brave Doesn't Use Your Google Account for Syncing
Most Chromium-based web browsers are using Google Accounts to sync data across your devices. This means bookmarks, history, and everything you do on your browser pass through Google's own servers at some point.
This is why Brave syncs your data differently. You create a sync chain on your first device where you install Brave, then add new devices with a QR code or a very long sync phrase. Everything is encrypted for safety.
It's a bit tedious to set up, but it's worth it.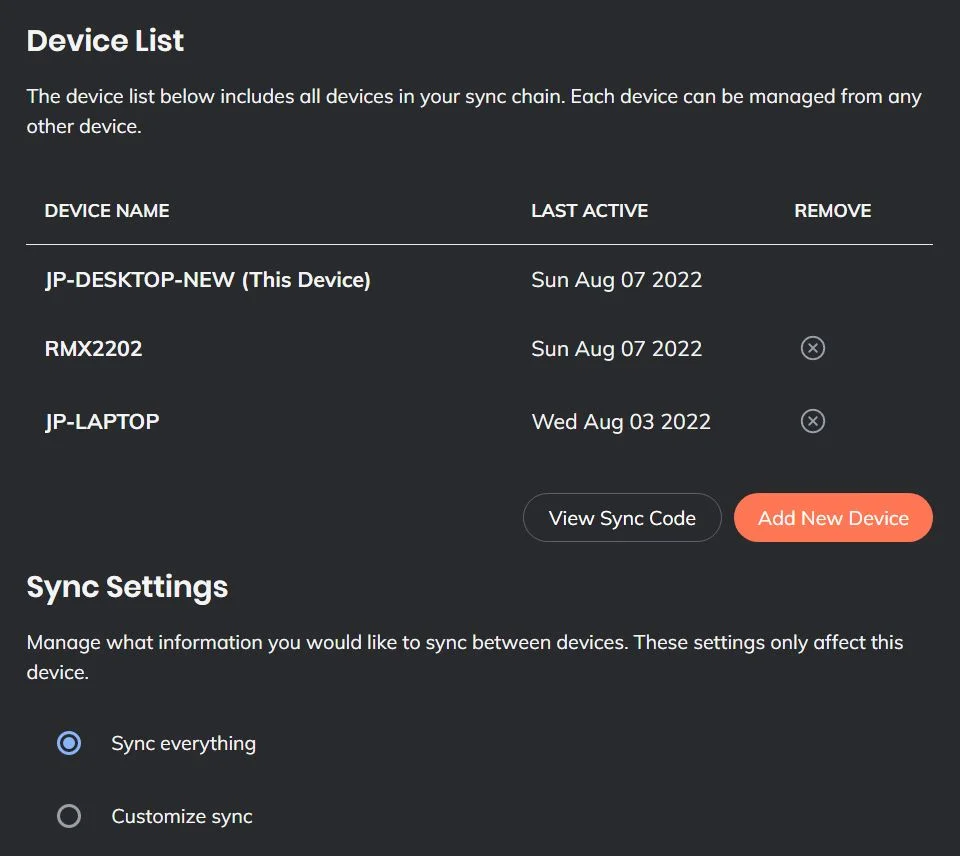 Two Private Mode: Normal Incognito and Tor
I've told you already that the Incognito mode doesn't protect your privacy much, nor does clearing your browser's cache, that's why Brave adds a second private mode: one that routes traffic via the Tor network. It's definitely slower, but a lot more private.
By default, there's a small shield icon that shows how many trackers were blocked on each tab window. It's not uncommon to see more than 10-20 known trackers blocked by Brave. That's a bit too much, don't you think?
Brave is very efficient at stopping a lot of the trackers you hate. And that's on the Standard mode. A quick address bar toggle will quickly deactivate tracking prevention for a specific domain that you trust (this toggle won't sync, you'll have to repeat the action for other devices as well).
You can activate more aggressive settings but expects some website to break. Even Brave acknowledges that and offers a form to send feedback to their engineers to analyze the websites you had troubles with.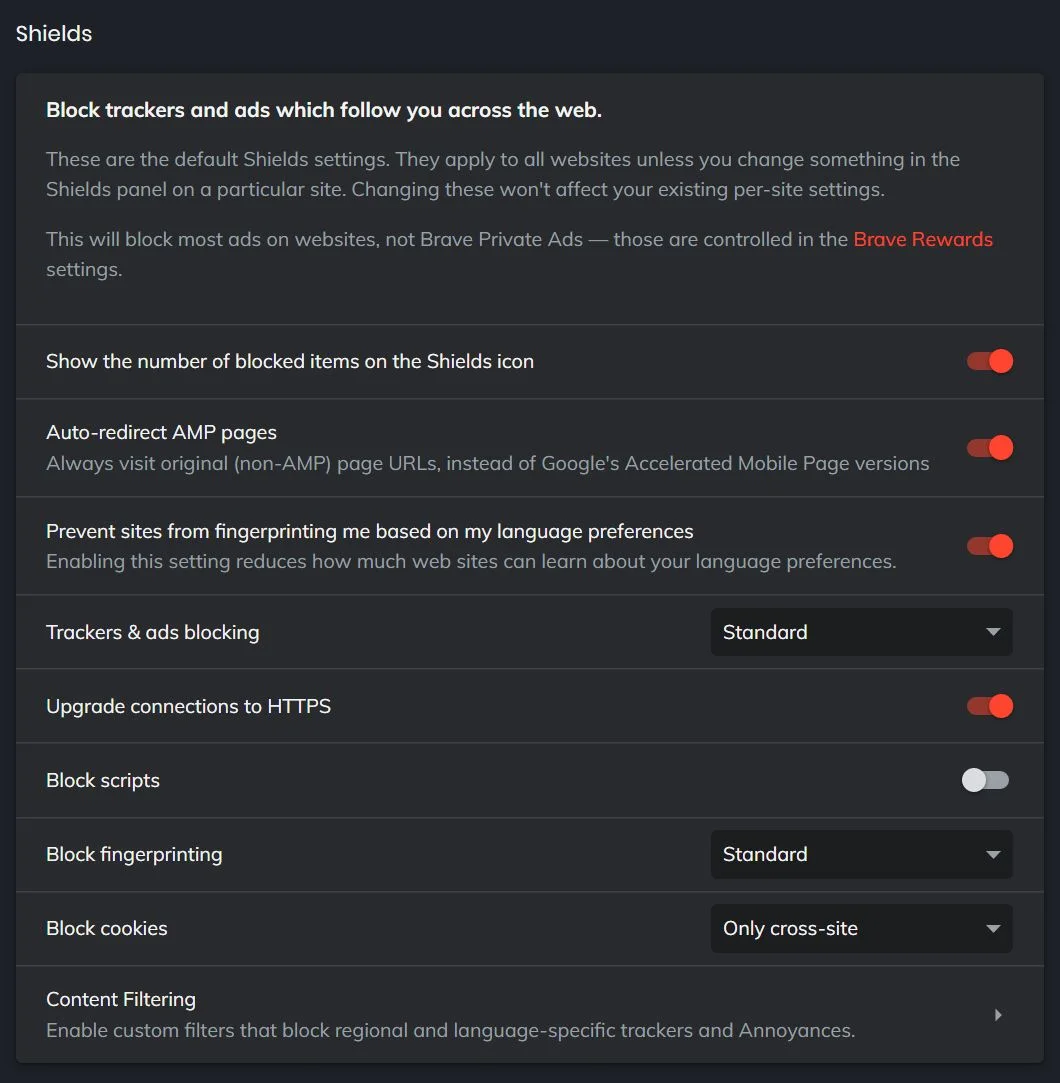 Here's a summary of how many trackers Brave stopped on my computer since I installed it about a year ago. This raises questions, don't you think?

What I Don't Like About Brave?
There isn't much in terms of what I don't like about Brave, but there are a few things I feel like people will be skeptical about.
Brave Rewards: Crypto For Watching Ads
This is either interesting or uncalled for, you decide. You can opt-in to see ads that appear as notifications on both Windows and Android (haven't tried on iOS). Clicking on them will open your Brave browser to a landing page.
At the end of the month, you're rewarded in BAT tokens, a cryptocurrency built specifically for this purpose. You can tip Brave verified creators or you can just keep it.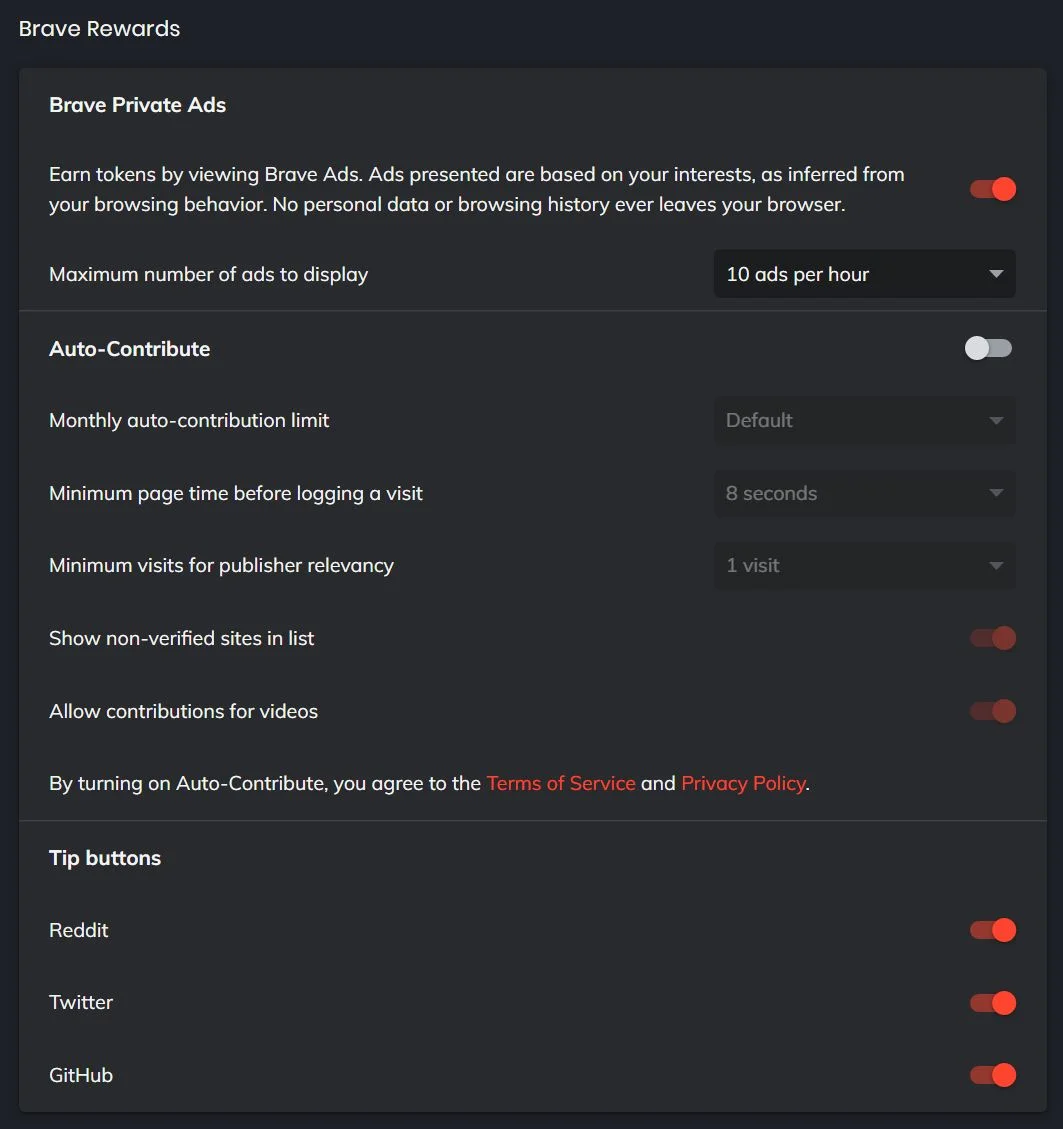 Crypto Wallet
There's also a crypto wallet built-in to Brave. It seems to be a hot software non-custodial wallet. I'm not big into crypto, but if I were I would always opt for a custodial wallet instead. Yes, I know, it's the opposite of decentralization, but I guess I like to have things under my own name.
Brave News (Mobile)
On the mobile version of Brave, you have access to a news section. It looks like it's something very similar to Google Discover and the Microsoft Windows news widget. I've never used it, to be honest. I prefer getting my news updates via the Feedly RSS reader.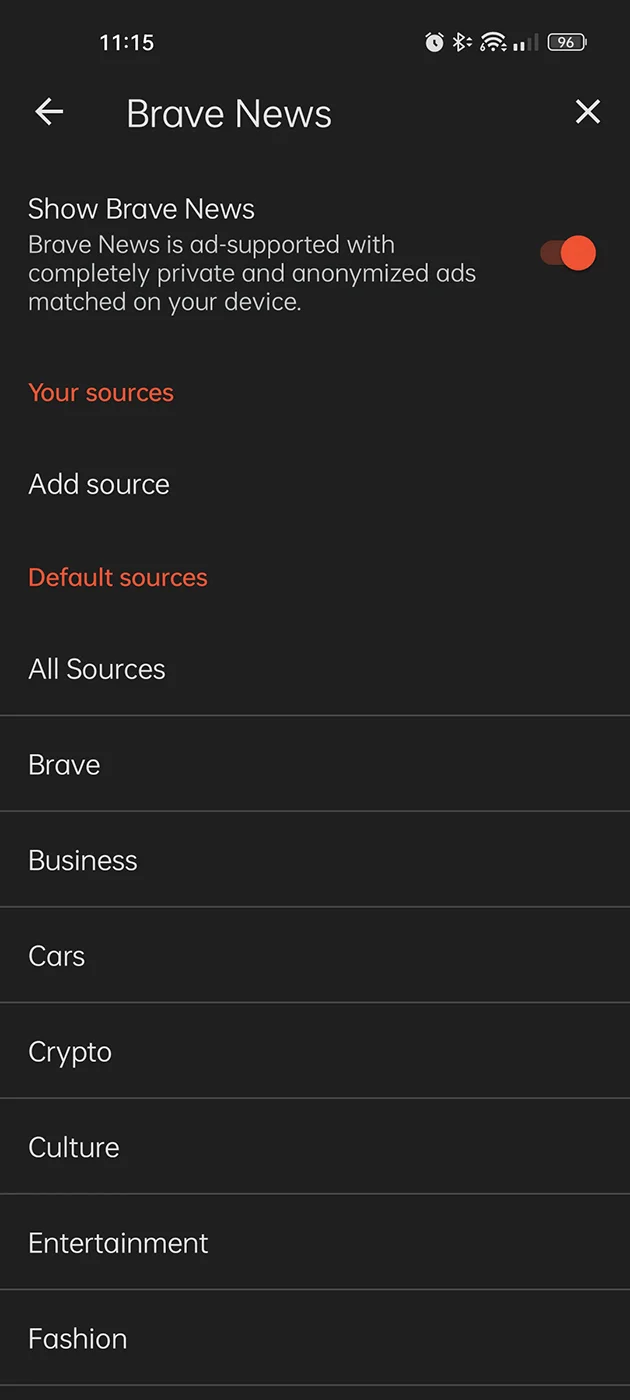 Brave VPN (Mobile)
Also on the mobile versions of Brave, you have access to a built-in VPN. You need to pay a monthly or yearly fee, with a 7-days trial period to test the service beforehand.
I guess it's another way for Brave to make some money, but I don't like seeing these features inside a browser I'm using daily. At least they're not turned on by default.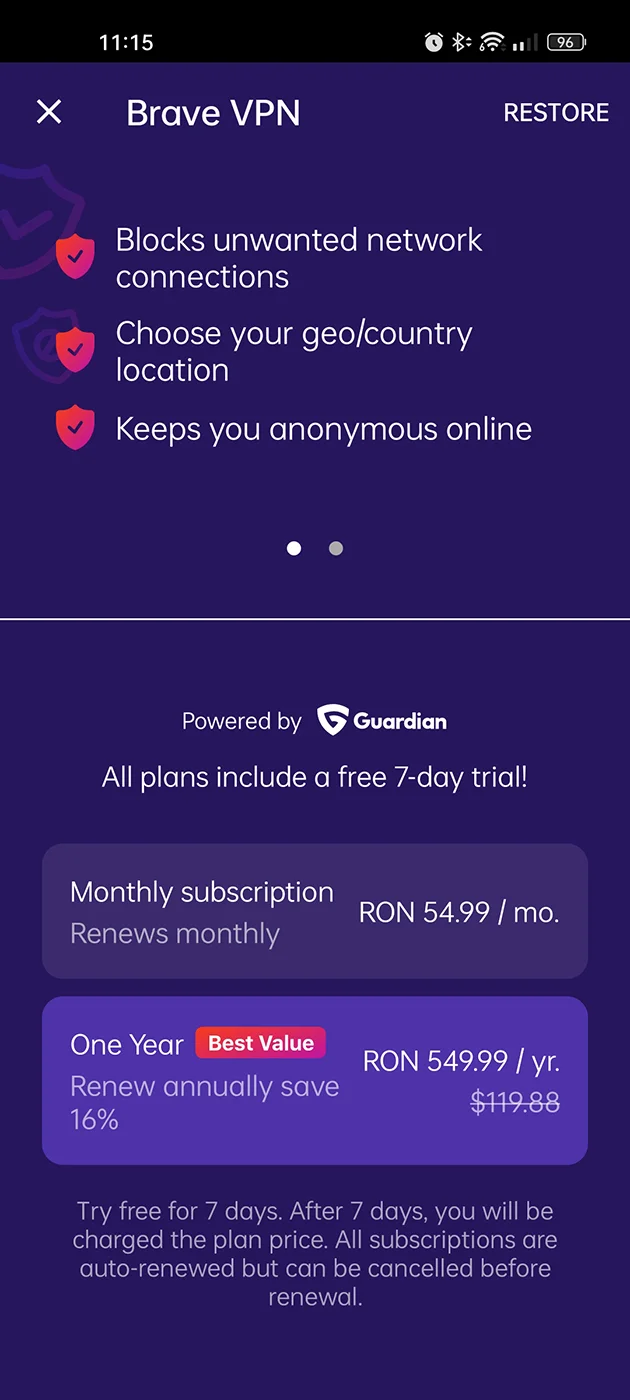 And this is probably the big problem. We want free stuff and we like our privacy at the same time. We always forget that when a product is free, we're the product. It's a bit one-sided to blame Brave for wanting to make some money. Privacy costs a lot and somebody has to pay the cost.
Anyway, for now, I'll keep using Brave because it's the best web browser I've found so far.
What browser are you using and what do you like/don't like about it?
---
A small disclaimer I feel I need to add at the end: I don't hate Google, Microsoft, or other big tech companies. They're companies and they want to make a profit. There's nothing wrong with that. Publishers just like me are funding their efforts with ads, let's not forget. It's wrong when these companies don't take into account users' privacy rights and wishes.
If we don't show we're not willing to let this pass these companies won't change anything. And waiting for the government to intervene is just wishful thinking. So do your part and take privacy seriously. I'm sure companies will find a way to be profitable AND keep your private data where it belongs, only with you.