If you forgot the password you can still recover your Microsoft account, even if there are no secondary login options added to this account.
You will need to fill out the account recovery form with as much information as possible.
If everything checks out, in a few days you'll receive a password reset link that will let you recover access to your Microsoft account.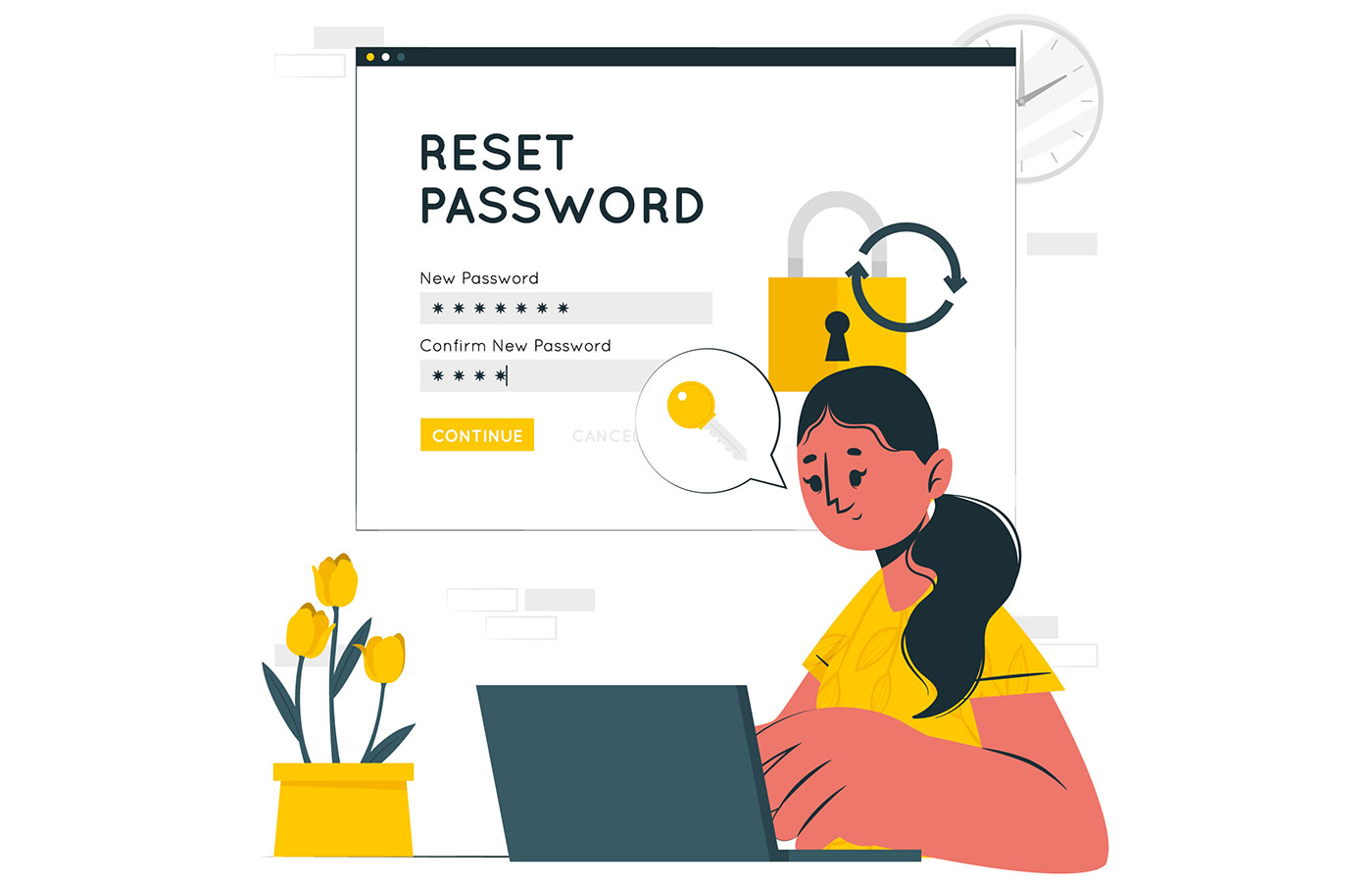 Microsoft accounts are gaining importance, forced or not, so losing access to your online account means you will lose access to all Microsoft's services that you are using.
Potentially, you can't even log in to your Windows computer, if you also forget the Hello PIN. By the way, if you're still using a local account you're safe (learn about differences), as you can use a password reset disk to reset your local account password.
Anyway, if you've set multiple alternate sign-in and verification options in your Microsoft account security settings it's fairly easy to reset the account password. I've shown how it's done from the Windows login screen or directly from the web.
But what if you don't have any secondary login options? Fortunately, there's a way to recover your Microsoft account even in this unfortunate situation. It just takes a bit longer and will test your memory.
Let's see how it's done:
What is the Microsoft Account Recovery Form?
To regain access to your lost Microsoft account there's an account recovery form that needs to be filled with as much information as possible.
After you fill out the form, a semi-automated process will analyze the data you have provided, compare it with Microsoft's records, and it will decide if you're the rightful account owner.
If the answer is positive, in a few hours or days maximum you will get an account reset link to the email address you provided when you first filled out the form.
What Information You Need for Microsoft Account Recovery
Here's what info you have to provide in order to recover your Microsoft account. That's info for the account you want to recover, of course:
Account email, phone number, or Skype username
Another email address where the reset link is sent – it doesn't have to be an email previously linked to the Microsoft account you are trying to recover
First Name and Last name
Birthdate
The country or region where the account was first created
County
Previous passwords that were used with this account (as many as possible)
Knowledge if the account has ever used Outlook/Hotmail, Skype, Xbox, or if you've purchased Microsoft software, products, or subscriptions.
Skype name (not the username)
The email you used to sign up for Skype
Contacts from Skype (first and last name, or account names)
Contacts and email subject lines for Outlook/Hotmail accounts
Console Hardware ID for old and new consoles you've used with an Xbox account
Note: wrong answers don't matter, so don't be afraid to add as much info as possible, even if you suspect it's not correct.
As you can see, it's a pretty long list of items. You don't need to provide all of this info, but the threshold is pretty high, so if you don't provide enough items you'll see this rejection message:

How to Fill the Account Recovery Form and Successfully Reset your Microsoft Password
Let's see how to fill the form located at account.live.com/acsr.
1. First step – provide the details:
Microsoft account you're trying to recover: email, phone number, or Skype username.
Email address where you will be contacted – it can be any other email you have access to.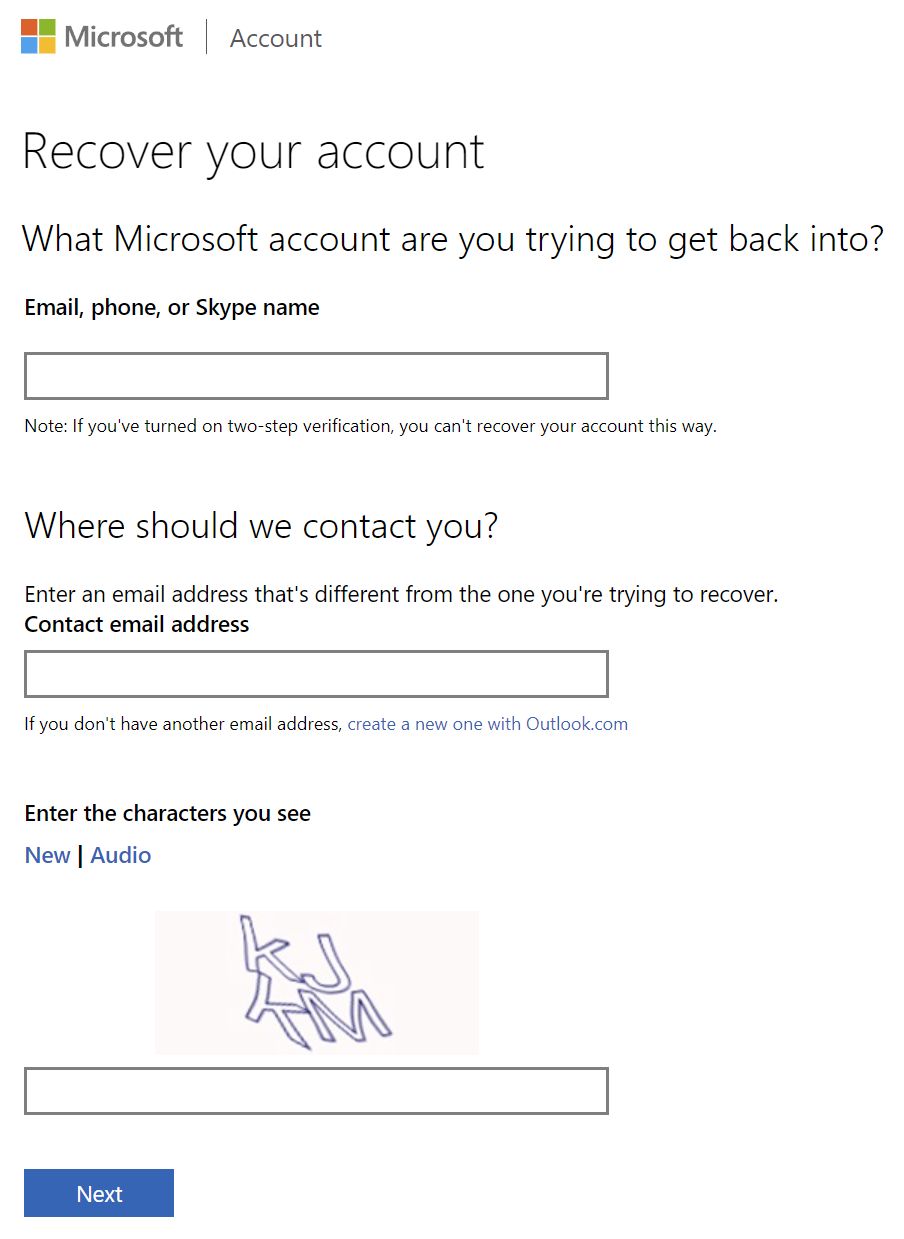 2. Check your email and enter the one-time security code in the next screen.

3. Enter a few more details: first and last name, birth date, geographic information regarding where the account was created.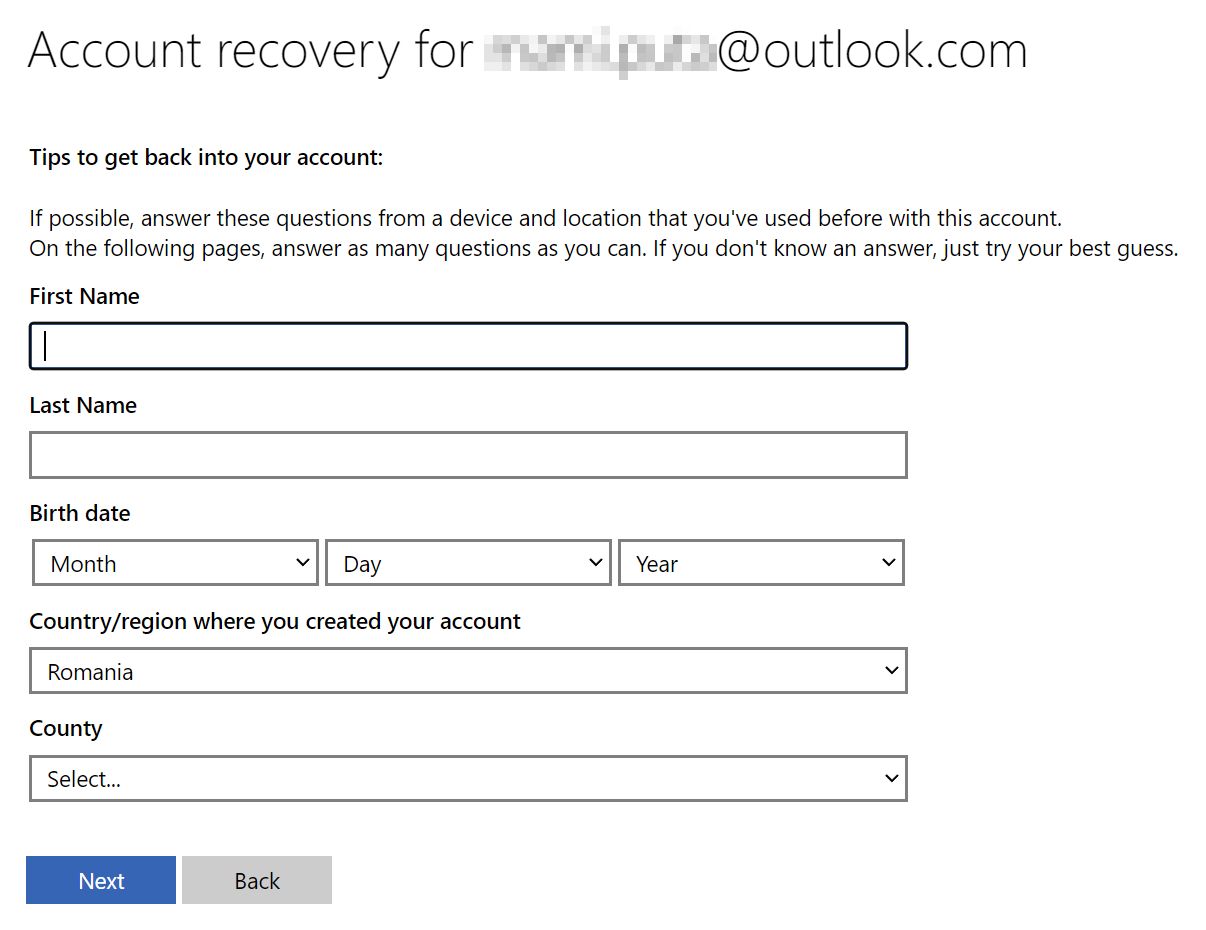 4. Now enter as many old passwords not in use that you can remember. Also let Microsoft know which services you've used or purchased in the past using this account.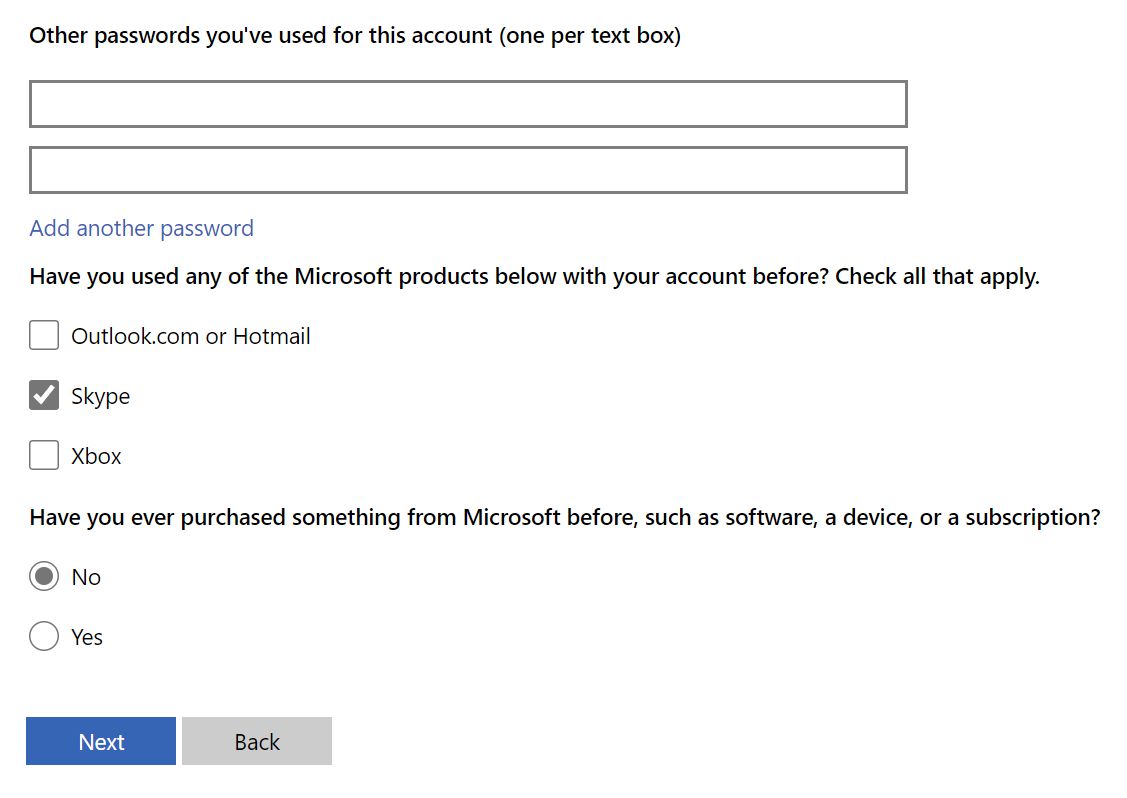 Depending on the info you fill in now, the next steps will ask for additional details.
5. For example, if you said you've used Skype, you will be asked your Skype name, a couple of contacts in your list and if you've paid for Skype phone calls before.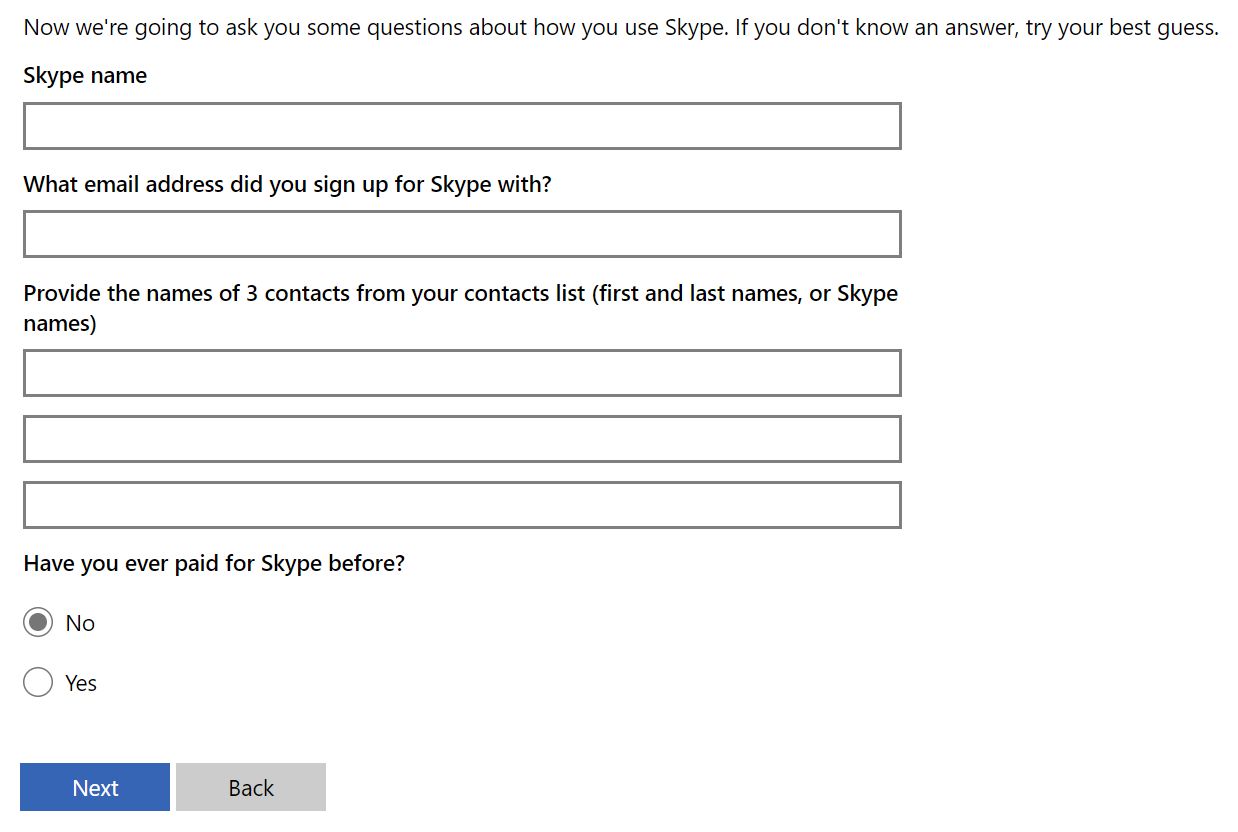 6. Once you're done filling the form all you have to do is wait for Microsoft's response.

7. The first time I've been rejected. To be fair, I've only provided 60-70% of the required info, at most. It wasn't probably even correct.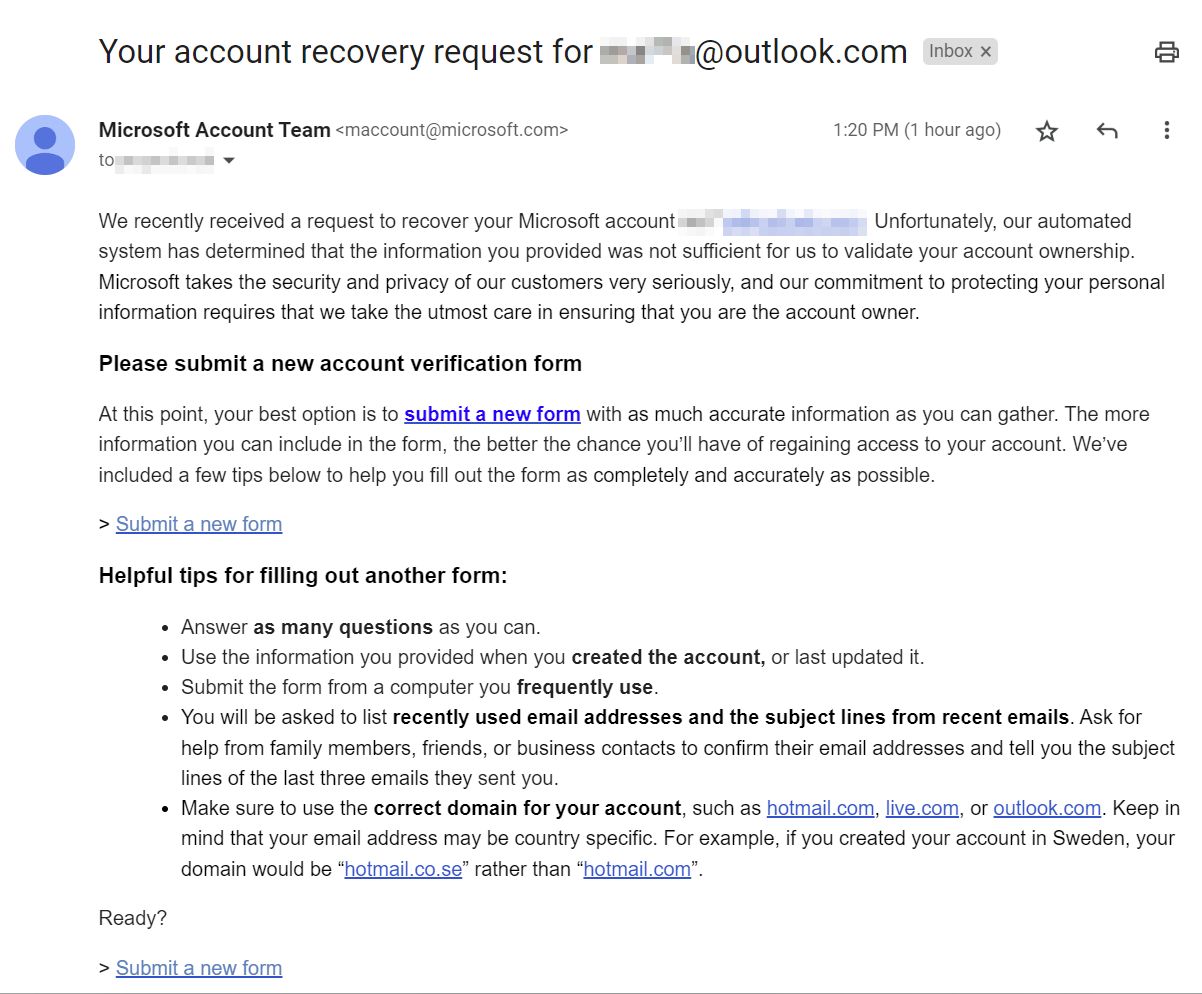 The good news is you can try as many times as you wish. The second try was successful, as I've remembered a few old passwords. These seem to have done the trick.
I've shortly received an email with a password reset link: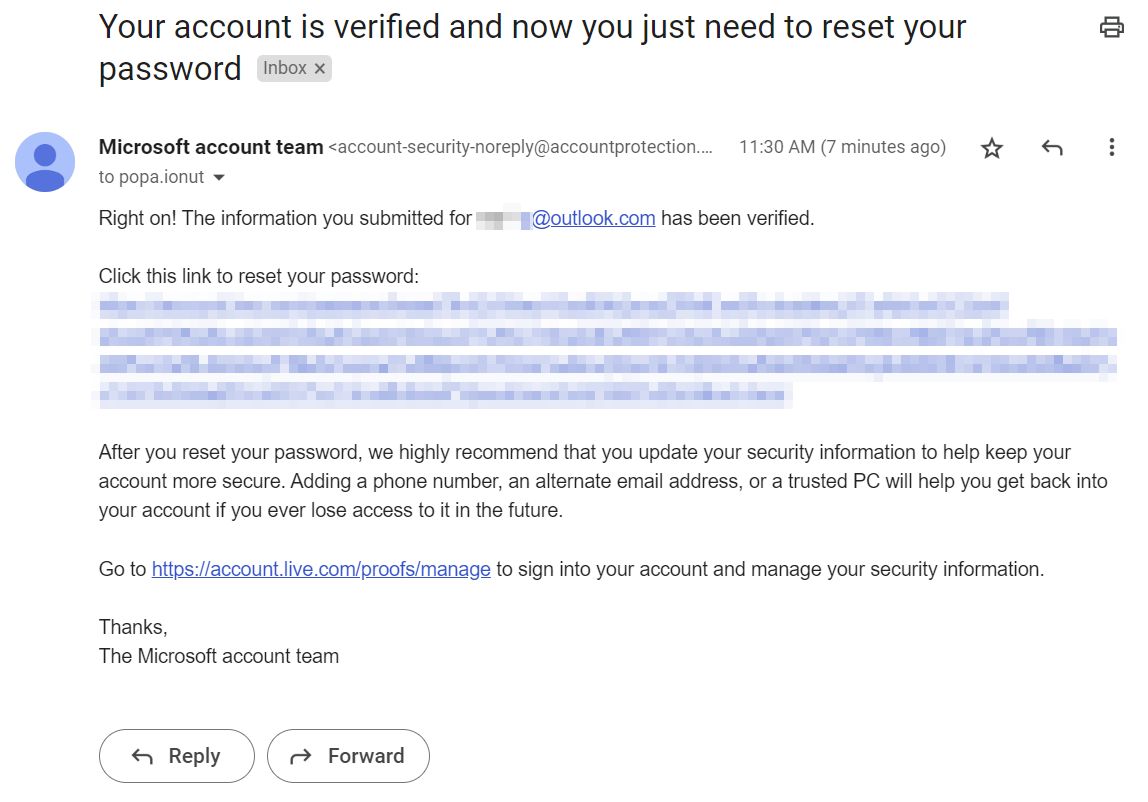 8. Once you click the password reset link you need to confirm again the email, phone, or Skype name associated with the Microsoft account you're recovering. After that you can reset the account password, thus regaining access to your Microsoft account.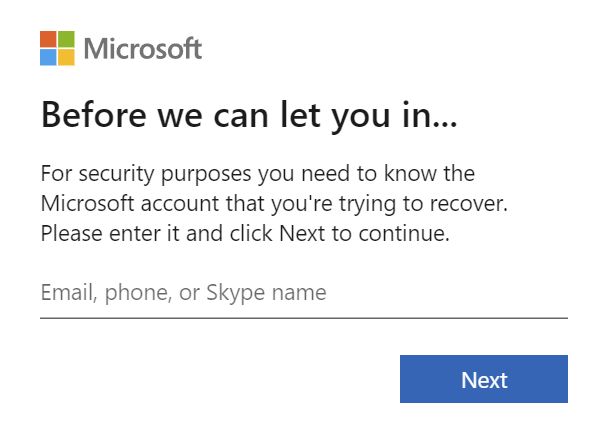 Make sure you remember the new password. Use a password manager if you have to, but don't write it down on a piece of paper. That's asking for trouble.
Also, now it would be a good time to add secondary sign-in and verification options which will keep your account safer and also allow you to easily recover access, if you forget the password again.